WATCH: James Harden meets camel, performs fan-suggested stunts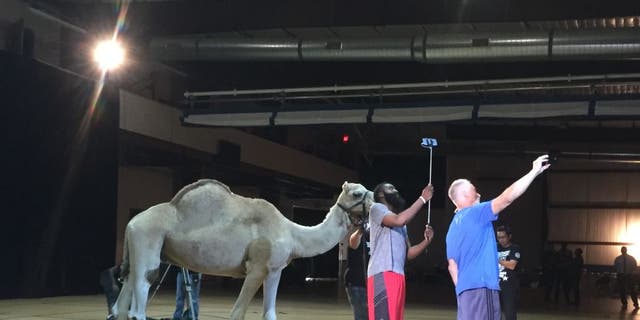 NEWYou can now listen to Fox News articles!
When you're on the way to a video shoot with an NBA star and you're told that a camel will be there as part of the production, it kind of goes in one ear and out the other, because the whole concept doesn't initially make much sense.
But once the car pulls into the parking lot of the facility and someone in the back of the vehicle can be heard excitedly exclaiming, "There's the (expletive) camel," things start to get real, and you immediately understand that you're about to be in for a very interesting experience.
That's how the day began at Foot Locker's "Play My Tweet" event with James Harden, a fun-filled social-media activity that was based around a unique form of fan interaction with one of the game's best players. It worked like this: Fans had a couple of weeks to come up with creative things for Harden to do if he missed various shots. They sent the requests in via Twitter, and if theirs was selected, Harden would be on the hook to perform the act as described.
The ideas that came in ranged from the silly ...
To the embarrassing ...
Or even providing financial support in the form of purchasing someone a car.
There were also a couple of heartwarming moments, with Harden agreeing to meet a young fan who had cried after missing an opportunity to do so in the past, and making a $50,000 donation to throw a party for the veterans of the Veterans Affairs Hospital in Salem, Va.
Harden was more than affable throughout the video production process, and seemed to truly not know what was coming until the host of the festivities explained what was about to go down. Not every professional athlete would be into something like this, because obviously, some guys are much more serious than others, and wouldn't want to be filmed doing what could be considered nonsensical and humiliating stunts. But Harden said the fact that he and Foot Locker have been partners for a while now was part of what enabled him to trust the plan that was in place.
"Foot Locker is a brand that I have an amazing relationship with," he told FOX Sports. "We've been together for a few years now. They come up with these amazing ideas and kind of pitch them to me, and I just kind of go with it, or if I have an idea, I'll kind of throw it back at them. We have a great relationship to where every spot we do, everything we put out -- it catches a lot of people's attention."
None more so than taking a selfie with a camel, which Harden admitted afterward was his favorite skit of the bunch.
"The camel was the one that surprised me," Harden said. "You don't really realize that a live camel is right here in front of your face. That's the first time I've been in front of those, so that was probably the most exciting."
MORE NEWS: Want stories delivered to you? Sign up for our NBA newsletters.