WATCH: Ezekiel Elliott breaks off long TD run with a kick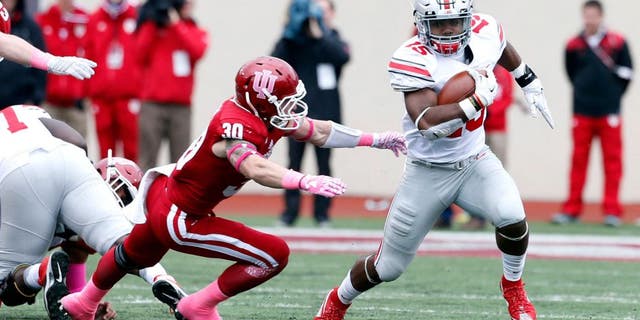 NEWYou can now listen to Fox News articles!
On a day Ohio State's offense struggled again off and on, Ezekiel Elliott came to the rescue.
And the Buckeyes running back did it with some flare.
There was another hurdling of a tackler in the first half, but then in the third quarter he pulled out a new move as he broke off a 65-yard touchdown run that put the Buckeyes on top.
Jones had a huge hole initially to get the yardage he needed to convert a fourth down, but it appeared an Indiana defender might cut him down after a medium gain.
Then Elliott did his best Walter Payton impression with a move that looked an awful look like the Chicago Bears' great's "show pony kick."
The run gave Ohio State a 20-17 lead late in the third quarter in Bloomington.