WATCH: Dolphins pull trick out of Lady Liberty's sleeve for TD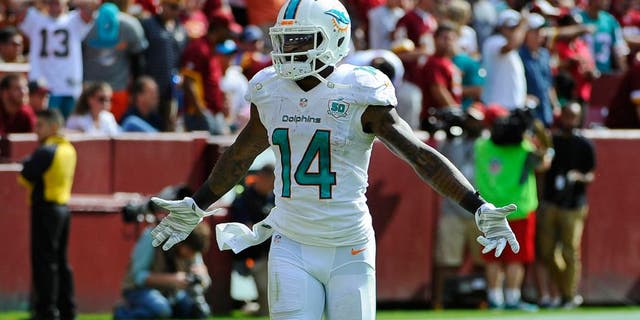 The Dolphins reached deep into their bag of tricks for their first touchdown of Week 6. Brad Mills USA TODAY Sports
The Miami Dolphins had been outscored 37-3 in the first quarter before Sunday, but interim head coach Dan Campbell has already made his presence felt.
On the Dolphins' first drive of the Campbell-era, the offense looked better than it has all season. Lamar Miller touched the ball on four-straight plays, something he hasn't done often in his young career. But it wasn't Miller's legs that highlighted the drive -- it was stud wide receiver Jarvis Landry's.
With just over 10 minutes left in the first quarter, Ryan Tannehill faked a screen to Miller and handed the ball off to Landry on a Statue of Liberty play. Landry took it 22 yards to the house as he rumbled past three Titans defenders en route to the end zone.
Campbell got off to a great start as the Dolphins' new head coach as the offense looked perfect on their first drive of the game. A change at the helm could have been just what the Dolphins needed.
MORE NEWS: Want stories delivered to you? Sign up for our NFL newsletters.