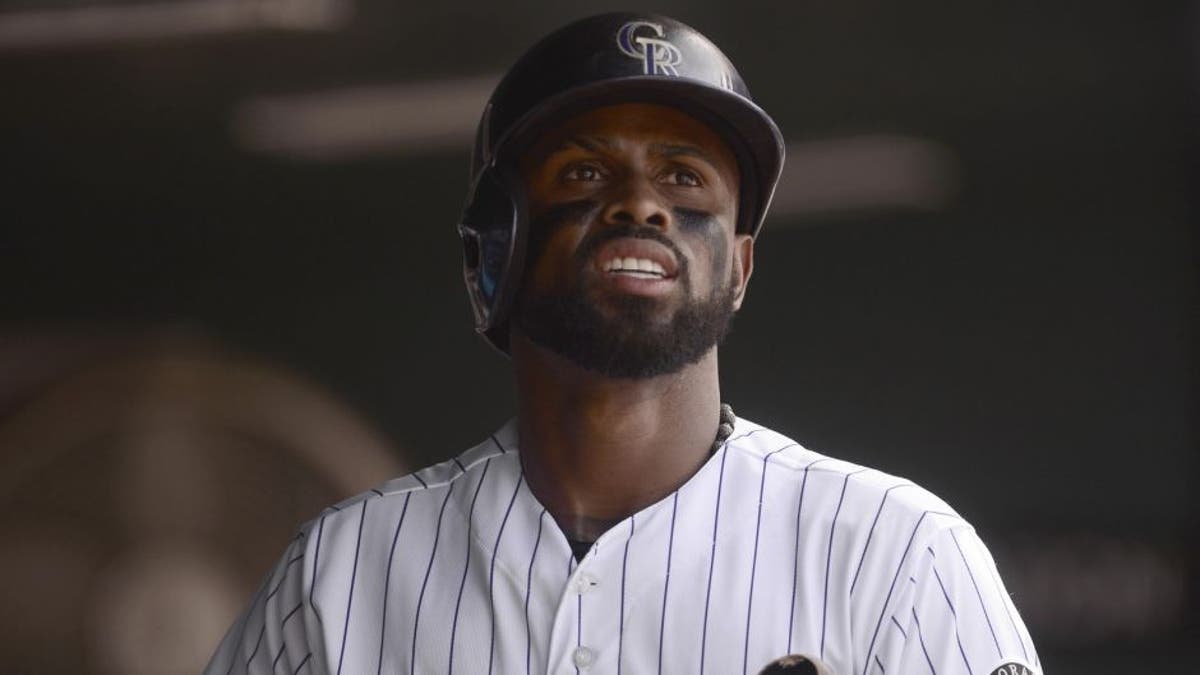 The Rockies' first workout for position players is a week from Thursday. Imagine the public-relations turnaround if Ian Desmond and not Jose Reyes was the shortstop who walked through their clubhouse door.
Reyes, 32, is almost certain to be suspended under baseball's new joint domestic-violence policy, even after pleading not guilty to a charge of domestic abuse in Hawaii. Desmond, who remains a free agent, looms as a logical replacement on a one-year deal.
The Rockies have been in contact with Desmond's representatives, major-league sources say, but any pursuit of the shortstop likely will be linked to baseball's decision on Reyes, who would lose a prorated portion of his $22 million salary if he's suspended.
Reyes' trial date is not until April 4, and baseball does not want to act hastily, lest new information emerge that might influence commissioner Rob Manfred's decision.
Still, how much longer can Manfred wait? Does baseball want Reyes participating in spring training? Do the Rockies want such a distraction?
Reyes amounts to baseball's first major test case; Major League Baseball also is investigating Yankees closer Aroldis Chapman and Dodgers right fielder Yasiel Puig for domestic violence, but unlike Reyes, neither was charged.
The policy states: "The commissioner's authority to discipline is not dependent on whether the player is convicted or pleads guilty to a crime."
It also states: "There is no minimum or maximum penalty ... the commissioner can issue the discipline he believes is appropriate in light of the severity of the conduct."
At some point, Manfred must make a call -- he's not going to wait until April 4, which is after Opening Day. Barring a stunning reversal, the only question with Reyes is how many games he will serve -- and how much money the Rockies will save.
One thing we already know: The Rox are not rebuilding, not after acquiring reliever Jake McGee and signing free-agent first baseman Mark Reynolds, outfielder Gerardo Parra and relievers Jason Motte and Chad Qualls.
Their first-round pick, No. 4 overall, is protected; the selection they would lose for Desmond, who received a qualifying offer, is currently No. 38.
So, give Desmond a one-year, $12 million contract, which would represent a raise over his $11 million salary with the Nationals last season. Yes, the Rockies seemingly could squeeze Desmond and require him to accept a lower salary, but they would not want to antagonize him at the start of their relationship. The Dodgers held similar leverage over free-agent second baseman Howie Kendrick, and they gave him a slight raise in his two-year, $20 million contract.
Desmond, 30, might have other options -- his agents also are speaking with the Rays and White Sox, sources say -- but at this point the Rockies appear to be the cleanest fit.
It's difficult to imagine Desmond's price dropping to the point where the Rays could justify forfeiting their first-round pick, No. 13 overall. The White Sox, meanwhile, are more focused on adding an outfielder through free agency or trade, sources say.
The Sox, like the Rockies, hold a protected pick, No. 10 overall. They conceivably could sign both Desmond and free-agent outfielder Dexter Fowler and sacrifice their next two selections, currently Nos. 28 and 49. But they also might be content to play Tyler Saladino at short until top prospect Tim Anderson is ready, perhaps later this season.
The Rockies also have a highly regarded young shortstop, Trevor Story, who possibly could take over for Reyes. But signing Desmond would buy the team more time with Story, who also has played second and third and could start out as a super-utility man. The Rox could flip Desmond before the July 31 non-waiver deadline if they wished, or even market Story for young pitching.
Desmond's trend lines are not good -- his batting average, on-base percentage and slugging percentage have declined in each of the past three seasons, while his strikeout rate has risen. Still, he rebounded from an awful first half last season with a more representative second half, and he has batted .407 with a 1.098 OPS in 92 career plate appearances at Coors Field.
One other thing: Desmond is viewed as a player of extremely high character, an asset in the clubhouse and community. Considering all that is going with Reyes, the Rockies could use such a player right now, don't you think?