Wade, Durant star in new Twitter beef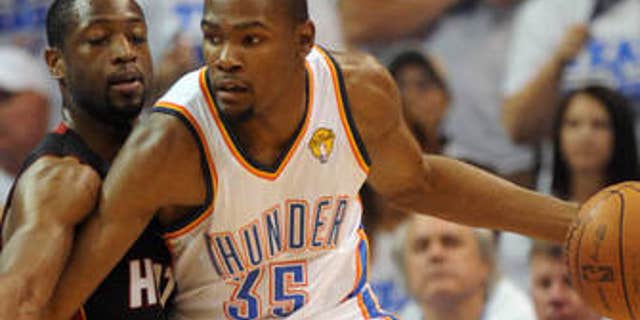 NEWYou can now listen to Fox News articles!
Either Dwyane Wade and Kevin Durant are better actors than we thought or the power of Gatorade goes well beyond the ability to replenish fluids. You remember this? Supposedly, it's make believe.
Well, maybe it's not so make believe. Look at what went down on Instagram on Tuesday.
Kevin Durant said James Harden should replace me in the Top 10...
Note to self* Make his respect your place in history ... again
To which Durant replied:
Show me don't tweet me..
-- Kevin Durant (@KDTrey5) September 25, 2013 This all stems from Durant saying that Harden, not Wade, belonged in Sports Illustrated's list of the top 10 NBA players for the 2013-14 season. LeBron James is No. 1 on the list, Durant was No. 2. Wade was ranked No. 8. Harden, who was traded from the Thunder to the Houston Rockets before last season and became an All-Star, is No. 11.
Surely, this got the attention of the basketball world. As for the rest of the world? Well ... it is September, remember?
Kevin Durant called out Dwyane Wade. Somebody tell them it's football season. #BeefWhenYoureRelevant
-- Peyton's Head (@PeytonsHead) September 25, 2013 Remember, the two did meet in the 2012 NBA Finals. The results:
Durant: 30.6 PPG, 6.0 RPG, 2.2. APG, .548 FG%
Wade: 22.6 PPG, 6.0 RPG, 5.2 APG, .435 FG%
Oh yeah ... Wade: 4 wins, 1 championship