Victor Espinoza, first Latino to win Triple Crown, relishes in 'the best feeling I ever had'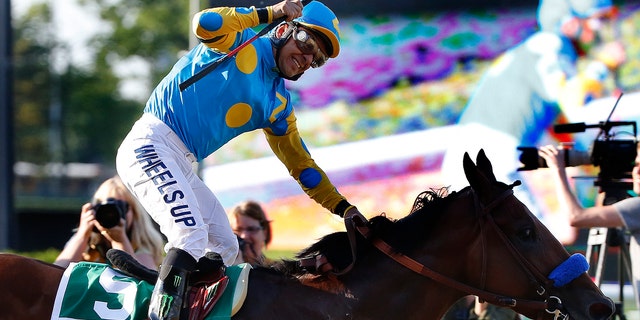 NEWYou can now listen to Fox News articles!
NEW YORK – Victor Espinoza and American Pharoah were a tad slow out of the gate at the Belmont Stakes, but it didn't stop them from making history and ending a 37-year Triple Crown drought.
Espinoza, the first Latino to ever win the Belmont Stakes, the Kentucky Derby and Preakness in the same year, was atop the best horse Saturday and never had reason to doubt it.
It wasn't War Emblem, who stumbled at the start and never recovered in 2002. Nor was it California Chrome, who didn't have anything left by last year's Belmont.
"It's so hard to win this race," the 43-year-old told Fox News Latino. "After last year, if the right horse comes long, it will happen. That's why it's so unique and special. You have to have a special horse to win this race."
"(American Pharaoh) is a special horse," he added.
The only jockey since Affirmed's sweep in 1978 to get two shots at a Triple Crown, let alone three, Espinoza guided American Pharoah to an early lead and just pulled away from there.
"It's just an amazing feeling that you have when it's 20 yards out of the wire and you're three or four lengths in front," he said.
Before the race, Bob Baffert, who trained American Pharoah, had told his jockey in the paddock, "Dude, he is ready. Go ahead, ride him with confidence."
"And he did," the trainer said.
All the way to becoming the 12th Triple Crown winner. It's a lucky number for Espinoza, the jockey noted — he's one of 12 children.
He grew up on a farm outside Mexico City, where he once worked as a bus driver. All those skills he learned about weaving through traffic were never needed Saturday.
Espinoza first started winning at Mexico City's Hippodromo de las Americas. He moved to Northern California in the early 1990s then to Los Angeles, and his career really got going there in 2000.
A year later, he rode Congaree for Baffert in the jockey's first Kentucky Derby, finishing third. The trainer wasn't pleased with how he handled the race and replaced him.
War Emblem, also trained by Baffert, was a pure front-runner and could rally only to eighth. Espinoza had to wait a dozen years for another chance, but California Chrome could manage no better than a dead heat for fourth.
"Two times, I feel like a loser," he said.
Espinoza got another opportunity right away, becoming the first jockey to enter two straight Belmonts in line to win the Triple Crown.
Everything felt right Saturday.
"Warming up he was just class," Espinoza said.
"He walked into the gate, amazing," he added. "He was ready today."
Espinoza will donate his winnings to City of Hope in Duarte, California, a cancer research and treatment center. He'll keep something much more valuable: a place in history. Espinoza appeared on the National Museum of Racing and Hall of Fame's ballot for the first time this year but didn't get in.
Now he owns the title of Triple Crown winner with many more honors sure to come.
Based on reporting by The Associated Press.