Victor Cruz Returns to Where the Salsa Began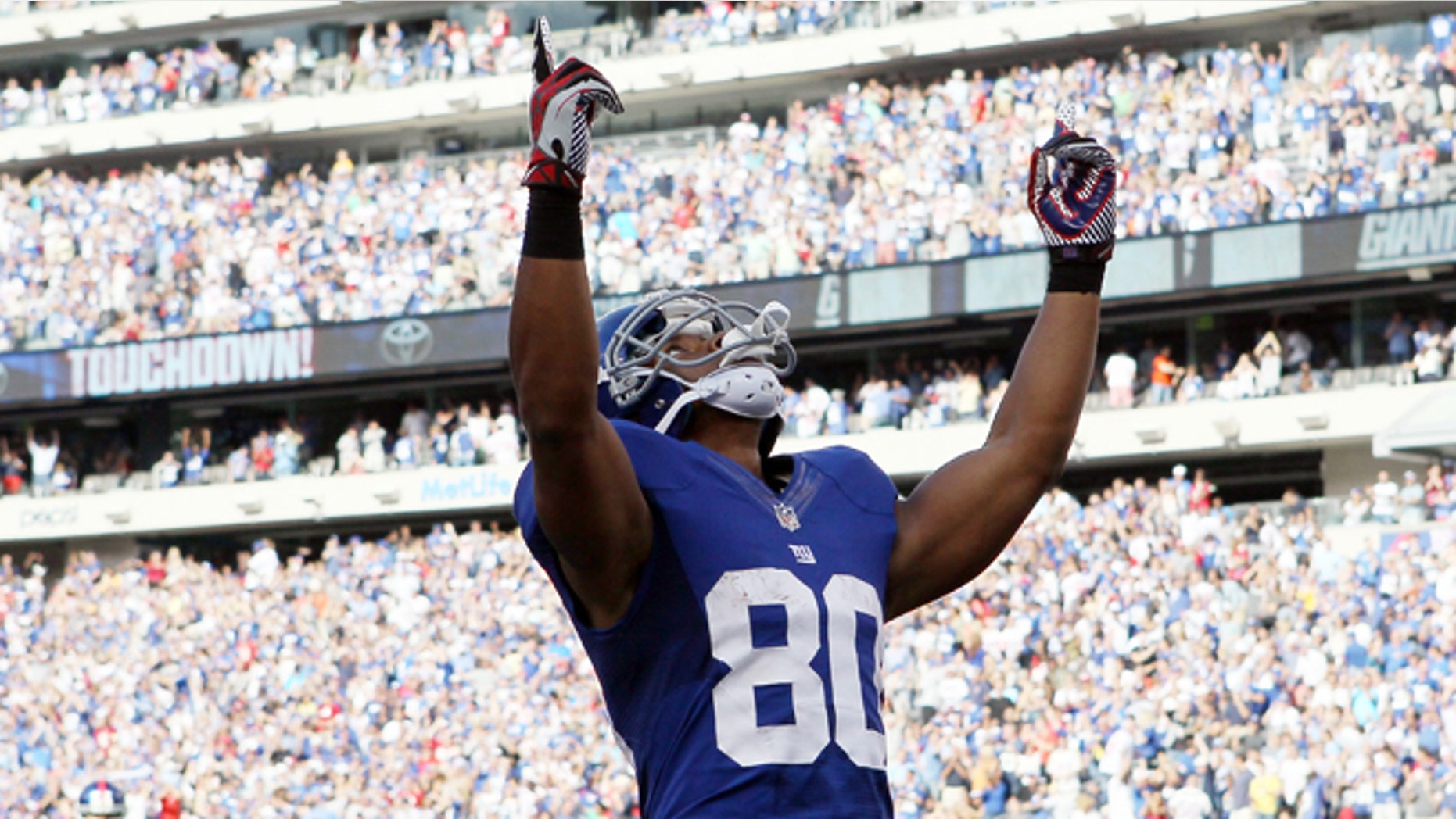 EAST RUTHERFORD, N.J. – Victor Cruz and the New York Giants are heading this weekend to where the wide receiver got his on-field salsa dancing start - Philadelphia.
Believe it or not, it was roughly a year ago that Cruz started his rise to national prominence by catching two touchdown passes in the City of Brotherly Love in helping the Giants post a 29-16 win over the Eagles.
Until that game, Cruz was known mostly for catching three touchdowns the previous preseason in a win over the Jets.
On Sept. 25, 2011, Cruz jumpstarted a season that would see him set a single-season team record for yards receiving by catching TDs of 74 and 28 yards in the Giants' only win over Philadelphia in the past three seasons.
Each TD was celebrated with a rhythmic hip-swaying Latin American dance.
"It's been a lot of salsa since then," Cruz said Wednesday after the Giants practiced for Sunday night's nationally televised game. "It's good to go back to where it all started and hopefully get another one."
Coming into that game, no one knew what to expect from Cruz, who was getting his first significant playing time with Domenik Hixon and Mario Manningham sidelined with injuries.
He's developed into one of the better receivers in this league. He plays both inside and outside, and does well at both. He sure has a nice feel on the inside, as well as on the outside.
His performance was stunning. His 74-yard bomb came on a play where he broke two tackles running down the left sidelined, bowling over cornerback Nnamdi Asomugha on the second one.
The 28-yarder in the second half was just as impressive. He outfought Asomugha and Jarrad Page to make the catch near the goal line and fell into the end zone. He lost the ball after he crossed the goal line but it didn't matter.
"It gave me a lot of confidence," said Cruz, who grew up some 10 miles from the Meadowlands. "I just needed an opportunity, I felt like it. To be granted one in that game was huge for me in my own personal sense. To do good things in that game and to really come out was a great thing for me. I used that momentum going forward the rest of that season."
The performance impressed Giants quarterback Eli Manning in many ways.
."I just saw the playmaking ability and going up to get balls, breaking tackles," the two-time Super Bowl winning quarterback said. "Just having the ability to say, 'Hey, we have to give this guy the opportunity to get the ball in his hands. He can make guys miss, and make some big plays for us.'"
Manning says he makes it a point to tell his young receivers before games that he is willing to give them the chance to make plays. All he wants from them is to fight for the ball and don't let it be intercepted. If they commit a penalty in the process, he doesn't care. Maintaining possession is more important.
"He's done a great job," Manning said of Cruz. "He's worked hard; he's grown a lot, and learned a lot. He had a good game, a couple of big plays that game. As the season went around, he learned and learned, and got more comfortable. He's continued to work hard, he does a great job of just understanding concepts and how to get open versus different techniques."
Eagles quarterback Michael Vick remembers the game as well. The fact he broke his hand hitting the helmet of Giants defensive tackle Chris Canty makes the game stand out, but he also remembers Cruz.
He even joked when asked whether the Eagles were asking themselves "Who was that guy?" after Cruz finished with 110 yards on three catches and his first two NFL scores.
"During the game, not after," Vick said. "Victor Cruz came on the scene and, unfortunately, it was against us. He kind of made his name. That's what guys do. They seize the moment. He turned out to be a fine football player."
Cruz finished the season with 82 catches for 1,536 yards and nine touchdowns. Four of his TDs covered more than 70 yards, making him the first pro receiver to do that in a season since Otis Taylor accomplished it in 1966 with the Kansas City Chiefs of the American Football League.
"Listen, his numbers speak for themselves in production," Eagles coach Andy Reid said. "He's developed into one of the better receivers in this league. He plays both inside and outside, and does well at both. He sure has a nice feel on the inside, as well as on the outside."
Cruz thinks he can improve. He wants to upgrade his route running, read the defenses better and be more consistent catching the ball. His performance also has attracted more attention from opponents. With receiver Hakeem Nicks sidelined against Carolina last week, Cruz drew most of the double teams.
"I guess at this point in my career, it comes with the territory," said Cruz, who has made 23 catches for 279 yards and a TD this season. "It's something I have to adjust (to), and just continue to run my routes. If all else fails, I have to try to get myself open any way possible."
Based on reporting by the Associated Press.
Follow us on twitter.com/foxnewslatino
Like us at facebook.com/foxnewslatino