Vanderbilt Commodores at Florida Gators game preview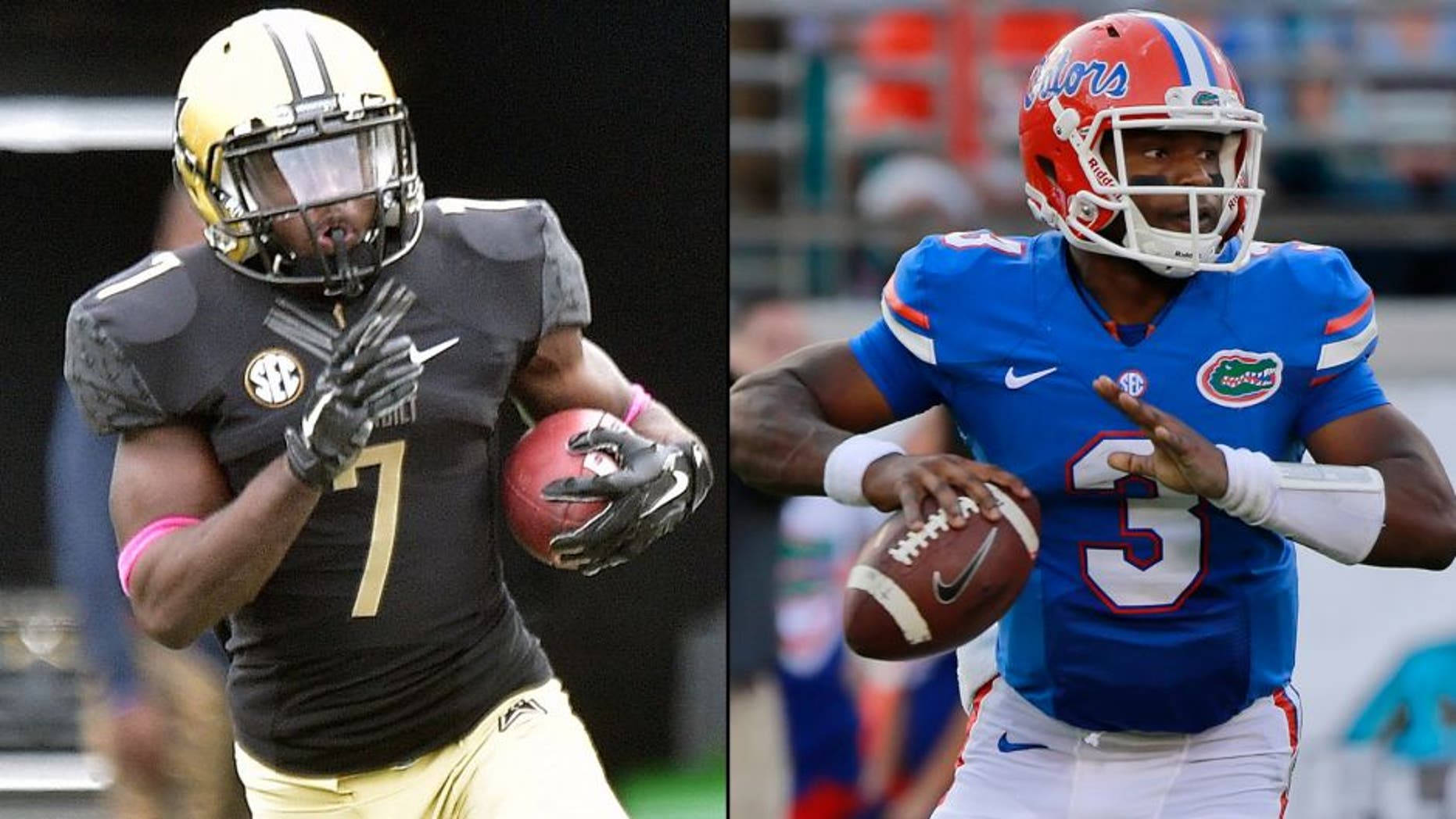 GAINESVILLE, Fla. -- Josh Grady knows what it's like to celebrate on Florida Field.
As a junior at Vanderbilt two years ago, Grady made the trip to Gainesville with the Commodores but was unable to play due to a season-ending knee injury.
He felt no pain after the game as the Commodores snapped a 22-game losing streak to the Gators in a 34-17 victory.
"To us, beating Florida was our Super Bowl," Grady said. "Even though I didn't get to play in the game, when we were able to beat them that was like winning a national championship for us."
Two years later and Grady is one snap away from being Florida's starting quarterback, serving as the backup to starter Treon Harris.
The fifth-year graduate student, a Tampa native, transferred to Florida for his final season of eligibility and has served as a veteran presence on Jim McElwain's first Florida team.
Grady is enjoying the experience and looks forward to the potential Saturday of another on-field celebration at The Swamp. If the Gators defeat Vanderbilt, they clinch the SEC East title.
"I know a lot of people picked us fifth to start the year in the East, but [Coach] always preaches restoring the order,'' Grady said. "That's something that we're definitely planning on doing coming Saturday."
The Gators are coming off a convincing 27-3 victory over Georgia that put them in position to clinch their first outright division title in six years with a win over the Commodores.
McElwain told the players this week to embrace the opportunity and stay focused on perhaps more meaningful games down the road.
"We've got a lot ahead of us,'' he said. "We aren't looking towards Atlanta, because if we do, we won't get there. This is an opportunity to see how far we've come as an organization. It's become more than just getting your belly rubbed at this point."
Yes it has. Belly rubs are nice, but championship rings are better.
Let's take a closer look at the Florida-Vanderbilt game:
THREE STORYLINES
-- The Gators entered 2015 with an 11-13 record over the past two seasons and a lot of doubts about how good they would be. Turns out Florida is better than almost everyone expected and can clinch their first SEC East title since 2009 with a victory over the Commodores. At this point, the Gators can still accomplish a lot more than a division title.
-- Sophomore quarterback Treon Harris makes his first start at home since he replaced Will Grier as the starter three weeks ago at LSU. Harris is 25 of 51 for 426 yards, three touchdowns and no interceptions the past two games.
-- Vanderbilt remains mathematically alive in the SEC East and seeks to spoil Florida's homecoming for the second consecutive trip to Gainesville. The Commodores snapped an 11-game SEC losing streak two weeks ago by defeating Missouri.
THREE PLAYERS TO WATCH
-- Freshman receiver Antonio Callaway has quickly made his mark, becoming the first true freshman receiver in school history with three 100-yard receiving games in a single season. Callaway and quarterback Treon Harris have good chemistry, so look for Callaway to get some balls thrown his way Saturday.
-- Gators coach Jim McElwain said on his Thursday radio show that walk-on kicker Neil MacInnes, a pre-dental student at UF, will play Saturday. MacInnes was one of 216 people who signed up for tryouts after the Gators lost Jorge Powell to a season-ending knee injury against LSU. MacInnes kicked for two seasons at Chamberlain High in Tampa. Gators starting kicker Austin Hardin has struggled this season.
-- Vanderbilt sophomore linebacker Zach Cunningham, a prized recruit under former coach James Franklin, has blossomed in Commodores coach Derek Mason's 3-4 defense. Cunningham leads SEC linebackers with 10.5 tackles-for-loss and three forced fumbles.
THE QUOTE FILE
-- "They actually mentioned us. That's a step in the right direction. Now I do believe Florida should be in that conversation every single year." -- Gators head coach Jim McElwain on UF's first appearance in the College Football Playoff rankings
-- "We'll find out at the end of the year. You've got to close the deal. Do we have the parts? Yeah, I think we do, but we'll see." -- UF defensive line coach Chris Rumph on whether Gators have a championship defense
-- "The way we attack practice, the way we attack our workouts, everybody knows what it's like to lose to almost your whole schedule. Nobody wants to feel that way anymore." -- Gators cornerback Vernon Hargreaves III on team's turnaround
-- "There's been a lot of positives that have came out of it. You can look at the negatives that happened last year but there's been a lot of fun moments this year and a lot of things that have sort of come full circle that I'm glad I've been able to be a part of." -- Gators tight end Jake McGee on missing last year because of an injury
-- "If I get a ball thrown on me in practice, he's livid. He sees more in me than I probably see in myself. He just wants the best for me.'' -- Sophomore cornerback Jalen Tabor on teammate Vernon Hargreaves III
INJURY REPORT
The Gators are in relatively good shape. McElwain said after Wednesday's practice that offensive lineman David Sharpe (foot) was doubtful and offensive lineman Martez Ivey (knee) was probable. In addition, redshirt freshman offensive lineman Travaris Dorsey (undisclosed), who has missed the last three games, is expected to be available.
10 QUICK HITTERS
-- Florida freshman running back Jordan Cronkrite is suspended for the first half due to a targeting penalty against Georgia.
-- Gators head coach Jim McElwain can become the third coach in SEC history to lead his team to the SEC Championship Game in his first season if Florida wins, joining LSU's Les Miles (2005) and Auburn's Gus Malzahn (2013).
-- McElwain can also match former Gators head coaches Steve Spurrier (1990) and Ron Zook (2002) for most SEC wins in his first season (six).
-- Florida is 19-2-1 all-time against Vanderbilt at Florida Field, and 10-2-1 on homecoming.
-- The Gators own a plus-13 turnover margin, which leads the SEC and is second in the country behind Houston (plus-15).
-- Kelvin Taylor's eight rushing touchdowns in conference play are the most by a Florida running back since Fred Taylor, Kelvin's father, had nine in 1997.
-- Gators senior defensive lineman Jon Bullard is tied for fourth in the conference with 10.5 tackles-for-loss.
-- Vanderbilt running back Ralph Webb, a Gainesville High product, ranks seventh on the SEC in rushing (693 yards, four touchdowns).
-- Commodores quarterback Johnny McCrary has thrown 12 interceptions, which ties Ole Miss' Chad Kelly for most in the conference.
-- Gators receiver Antonio Callaway and Alabama's Calvin Ridley are the only two freshmen FBS receivers with at least two games of 110 yards receiving and at least one touchdown.
THE OTHER SIDE
Second-year Vanderbilt coach Derek Mason has the Commodores playing well defensively, but they are near the bottom of the league in offense. Mason lost his first 11 SEC games before the Commodores defeated Missouri two weeks ago. They lost 34-0 at Houston a week ago and a victory over the Gators would be the highlight of their season. Here is Mason discussing Saturday's matchup with Florida, his first trip to The Swamp as a head coach:
BOTTOM LINE
The Gators have a chance to celebrate more than just a homecoming win on Saturday if they defeat Vanderbilt. This Florida team has been full of surprises and a victory Saturday adds the biggest yet: an SEC East title. First-year coach Jim McElwain has pushed all the right buttons and this week spoke a lot about his team staying grounded with a trip to Atlanta on the line. The Gators have shown an ability to stay in the moment and should be celebrating a championship late Saturday afternoon.