US sailors fail to medal at Olympics for first time since 1936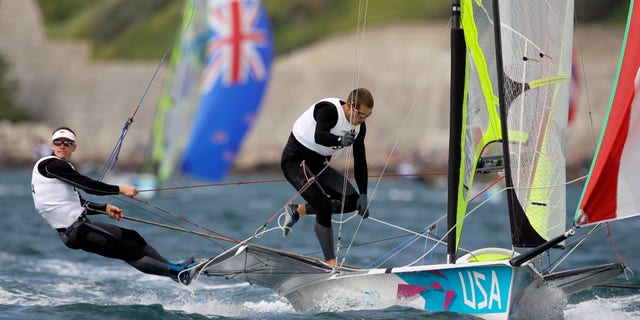 LONDON – The United States was knocked out of the chase for Olympic sailing medals for the first time since 1936 when women's match racing skipper Anna Tunnicliffe was beaten in the quarterfinals by Finland on Wednesday.
Tunnicliffe, who was born in England and moved to the United States when she was 12, was the only remaining American with a chance for a medal.
Tunnicliffe wiped away tears as she spoke of the disappointing results. She won the gold medal in the Laser Radial in 2008 and was among the favorites in the three-woman match-racing class.
Dean Brenner, the outgoing chairman of the U.S. Olympic Sailing Program, said there's "no way to spin it" after the Americans failed to place anyone in the top three in 10 classes. Three classes are still sailing but the American crews failed to reach the medals round.
After taking a gold and silver at Beijing, the Americans came in with hopes for three or four medals.
While the Americans underperformed, the Australians continued to pick up gold medals.
The 49er crew of Nathan Outteridge and Iain Jensen sailed three laps of honor to collect the gold medal they had clinched two days earlier.
With two golds in hand and two other crews sailing well, the Aussies could win more sailing gold medals in the London Games than the well-funded British team.