Uruguayan Soccer Star Luis Suarez Named Player Of The Week In Global Poll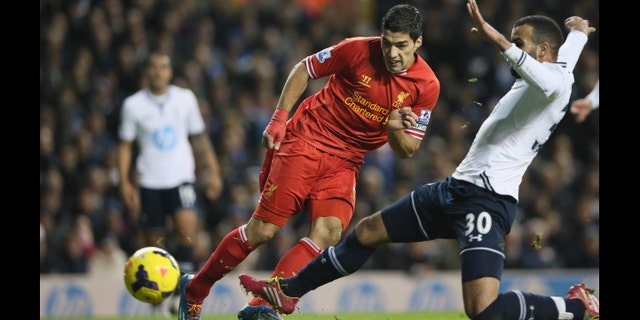 LONDON (AP) – Luis Suárez of Liverpool earned top player honors in this week's Associated Press global soccer poll, while Manchester City won the team vote.
Suárez, the Uruguayan star who was runner-up last week, topped the poll for the second time this season.
Liverpool beat Tottenham 5-0 at White Hart Lane, but was 21 points away from first after City's victories against Champions League titleholder Bayern Munich and English Premier League leader Arsenal.
Despite getting snubbed by a child in the handshake line before the match, Suárez scored twice against Tottenham, taking his tally for the season to 17 in 11 games, and teammate Jordan Henderson was ninth in the poll after scoring and producing a dominant midfield display in Steven Gerrard's absence.
"It may seem slightly strange to have two Liverpool players in this list, but their performance against Tottenham really was that good," Julian Bennetts of Hayters news agency in England said. "Luis Suárez and Jordan Henderson tore their hosts to pieces."
City twice rallied to beat Munich 3-2 at Allianz Arena, the result securing a place in the second round of the Champions League where it plays Barcelona. City also beat Arsenal 6-3 in another relentless attacking performance.
City also had two make the top 10: Defensive midfielder Fernandinho, who scored twice against Arsenal, was fourth, and David Silva, who scored in both games, was seventh.
"Fernandinho played a major role in such a big game, not only because he scored a double, which is unusual," Aurelio Capaldi of RAI Sports in Italy said. "He showed what a brilliant player he is: Hard worker, intelligent, capable of reading every situation and generous. One of those players who is there when the battle is on."
Neymar was second to Suárez, having scored five times in Barcelona wins over Villarreal and Celtic. Neymar had a hat trick against Celtic.
Former City striker Carlos Tévez was third after his first hat trick for Juventus in its 4-0 thrashing of Sassuolo.
Rounding out the top 10 were fifth-placed Diego Costa, Mario Goetze, David Silva, Gonzalo Higuaín, and 10th-placed Danny Welbeck.
Atlético was third, Barcelona fourth, Bayern Munich fifth. Pope Francis' favorite team, San Lorenzo, which won the Argentine league's first-half tourney, came in tenth.