Upon further review: Packers vs. Chargers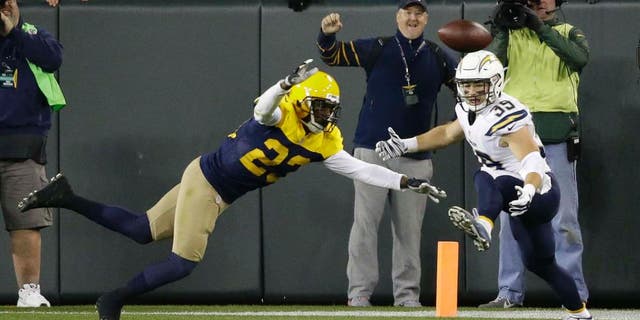 NEWYou can now listen to Fox News articles!
The formula for the Green Bay Packers so far in 2015 had been, for the most part, stellar play from Aaron Rodgers, a good enough rushing attack and a solid, underappreciated defense.
Well, that went out the window against the very pass-happy San Diego Chargers.
Rodgers was good, not great; the run game was barely used, but still managed to see its first 100-yard rusher; and Green Bay's pass defense was torched for 503 yards by Chargers QB Philip Rivers.
Yet, somehow, Green Bay escaped with a 27-20 victory at Lambeau Field. A win that quite honestly might be hard to explain when looking at the final statistics. But we'll do our best.
The recap of Sunday's game:
SUNDAY SCHOOL
-- The Packers hadn't had a 100-yard rusher all season. James Starks, who had 77 combined rushing yards over the previous three games, was an unlikely choice to be the first to top that mark, but aided by a 65-yard run he did just that, compiling 112 yards on only 10 carries. Starks got the start at running back as usual starter Eddie Lacy, who head coach Mike McCarthy indicated is still slowed by injury, received only four carries (gaining only three yards). As a team, the Packers only had 17 rushes -- and that includes two by Aaron Rodgers.
-- The wide receiver depth was tested after Ty Montgomery had to leave the game following an ankle injury. Jeff Janis stepped in with two big catches (he had a team-high 79 yards), but the Packers wideout only had six of the 16 catches. Cobb was largely invisible, with just two grabs for 38 yards and Montgomery also had two receptions, for 11 yards. This team really needs a healthy Davante Adams.
-- Besides Adams, Morgan Burnett, Nick Perry and B.J. Raji were all sidelined for this game. Raji figured to be a big loss as San Diego figured to try and get its running game going, but former Wisconsin Badger Melvin Gordon was benched after fumbling twice and the Packers held the Chargers to 60 yards on 21 carries (2.9 average).
-- Green Bay did not have an answer for Keenan Allen. The Chargers wide receiver was targeted 15 times and had 14 catches for 157 yards before he had to leave with a hip injury, forcing him to miss much of the fourth quarter.
-- If you didn't think Aaron Rodgers already wasn't one of the best quarterbacks of all-time, he passed the 30,000-yard passing mark in his career Sunday, becoming the quickest in NFL history to reach that milestone. The previous record holder was Johnny Unitas.
DULY NOTED
-- James Starks bounced off a blocker then cut to the right on his 65-yard touchdown run, but give assists to Bryan Bulaga and Jeff Janis for nice blocking on the play. Janis was way downfield warding off the final would-be tackler. That run was the longest by a Packer since 2008.
-- After Montgomery got hurt, former Wisconsin Badger Jared Abbrederis returned a kickoff for 30 yards, his first touch in an NFL game.
-- Early in the game, Green Bay used both Cobb and Montgomery in the backfield with Starks and Lacy on the sideline.
-- As mentioned Lacy only had four carries. On one in the fourth quarter, he fumbled with T.J. Lang recovering. That could have been a big momentum switch if San Diego recovered as the Chargers had just cut Green Bay's lead to 24-20.
--- James Jones with a touchdown, of course.
-- The Packers hadn't allowed 400 yards passing since Sept. 8, 2013 at San Francisco. And then they did it in a big way. San Diego QB Philip Rivers set records for an opposing player for attempts (65) and completions (43) and his 503 yards tied Ben Roethlisberger for second-most passing yards.
WHAT IT MEANT
Green Bay remained unbeaten, matching Carolina (which is now 5-0, as the Panthers already had their bye) in the NFC, thus putting them in great position for a first-round playoff bye. There are still 10 games to play, of course, and the Packers will play six of those on the road, but things are looking good thus far.
PLAYER OF THE GAME
When you allow over 500 yards of offense it is hard to pick someone from the defense so the pick here is quarterback Aaron Rodgers, who wasn't lights out (16 of 29 for 255 yards), but he made the big play when he had to -- his escape of a sack and flip to Jeff Janis was a key play -- and didn't turn the ball over.
DON'T FORGET ABOUT ME
OK, we have to mention rookie cornerback Damarious Randall, who had the game-winning pass deflection on San Diego's fourth-down play in the game's waning moments. Overall, Randall had seven tackles and two passes defensed.
THAT MOMENT
Easy to say the game-winning deflection on San Diego's last play, but that was all set up by Datone Jones stuffing Danny Woodhead on the previous play. The Chargers had the ball at the 2 and tried to sneak a run out of a shotgun formation, but Jones was all over the play tackling the San Diego running back for a 1-yard loss. Being at the 3, instead of say the 1, forced San Diego to pass and Green Bay knew it, making it a little easier to set up a defense.
THIS NUMBER
7.6 -- average yards per play for the Packers. Yes, San Diego threw the ball around left and right (and middle) all day, but Green Bay was more efficient with its plays by more than a yard per play (the Chargers averaged 6.2 yards per play). The Packers averaged 7.8 yards per rush and 7.4 per pass, compared to San Diego's 2.8 and 7.2. Green Bay might not have run as many plays as San Diego -- in fact, they had 40 fewer plays -- but this is why they were able to score more points.
THEY SAID IT
"You talk about grit, that's our team right there." -- Green Bay head coach Mike McCarthy
"That was an awesome game." -- San Diego quarterback Philip Rivers to Green Bay quarterback Aaron Rodgers during the postgame handshakes on the field
"I turned around and seen there was daylight, so I kept running and there was more daylight than I thought." -- Green Bay running back James Starks on his 65-yard touchdown run
WHAT'S NEXT
Green Bay has a much-needed bye week -- getting Davante Adams back to full health might be needed even more than ever -- before heading to Denver to play the Broncos in a battle of unbeaten on prime time on Nov. 1. Denver will also be coming off a bye week, so neither team will have an advantage there. This game was set up to be for Peyton Manning passing Brett Favre in career passing yards, but Manning has looked all of his 39 years old this season and won't pass the Packers Hall of Famer in this one.