Union representing USWNT players files response to US Soccer lawsuit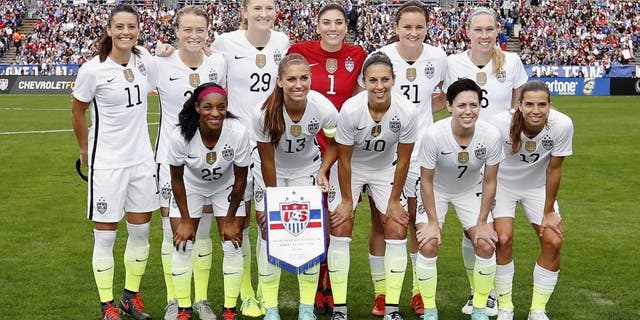 The U.S. women's national soccer team players were shocked last week when U.S. Soccer filed a lawsuit over the parties' disputed labor agreement, but their lawyers have come back with a massive counter attack.
The union's legal team has now been joined by one of the biggest guns in sports and anti-trust law -- a sure sign that the U.S. women's national team's switch to more aggressive counsel is intended to leverage the team's success and massive popularity.
In a motion filed Monday in federal court, Jeffrey Kessler -- a partner at Winston & Strawn whose sports law practice specializes in high-profile anti-trust cases -- issued a scathing rebuke to U.S. Soccer. Kessler, who has sued the NCAA on over the amateur status of student-athletes, asked the court to dismiss U.S. Soccer's motion. Kessler charged that U.S. Soccer stonewalled the Women Players National Soccer Team Association for seven months over before rushing forth a lawsuit on Feb. 3.
"The USSF's motion is really an emergency motion for an expedited briefing schedule. However, no emergency exists, no motion has been filed, and no basis exists for expediting the briefing schedule of some yet-to-be-determined motion. USSF has known since at least July 2015 that the WNTPA's position is that no collective bargaining agreement ("CBA") with USSF is in place. Yet, USSF sat on its hands for over seven months and now rushes to the courthouse claiming an emergency exists. This Court should not countenance such disingenuous behavior," Kessler said.
"Perhaps most disturbing, in an effort to support its request for an expedited motion schedule, USSF's motion is filled with blatant inaccuracies, misrepresentations, and misleadingly incomplete quotations from the relevant record," he added.
If there was any reason to believe that U.S. Soccer and the Women Players National Soccer Team Association were going to celebrate the 2015 Women's World Cup victory with a mutual spirit of cooperation in these anticipated labor negotiations, all bets are now off.
Kessler, who joins WPNSTA executive director Richard Nichols, issued a blistering response to U.S. Soccer's suit. Kessler said the court should dismiss the suit because U.S. Soccer is not entitled to an expedited hearing.
The legal showdown comes as the players union is seeking to negotiate a new deal with U.S. Soccer. The federation, however, disputes the union's contention that the memorandum of understanding that has been in place since 2013 is not contract, and that the players union can walk away from that agreement. U.S. Soccer maintains that the memorandum of understanding is in place until December 2016.
The U.S. women's team is in Texas preparing for the CONCACAF Olympic qualifying tournament, with their opening Group A match on Wednesday against Costa Rica.
U.S. Soccer said on Monday that it would not comment on the union's response.
An initial status conference is set for April 4.
The Associated Press contributed to this report.