UFC: Hector Castro's Rise as MMA Manager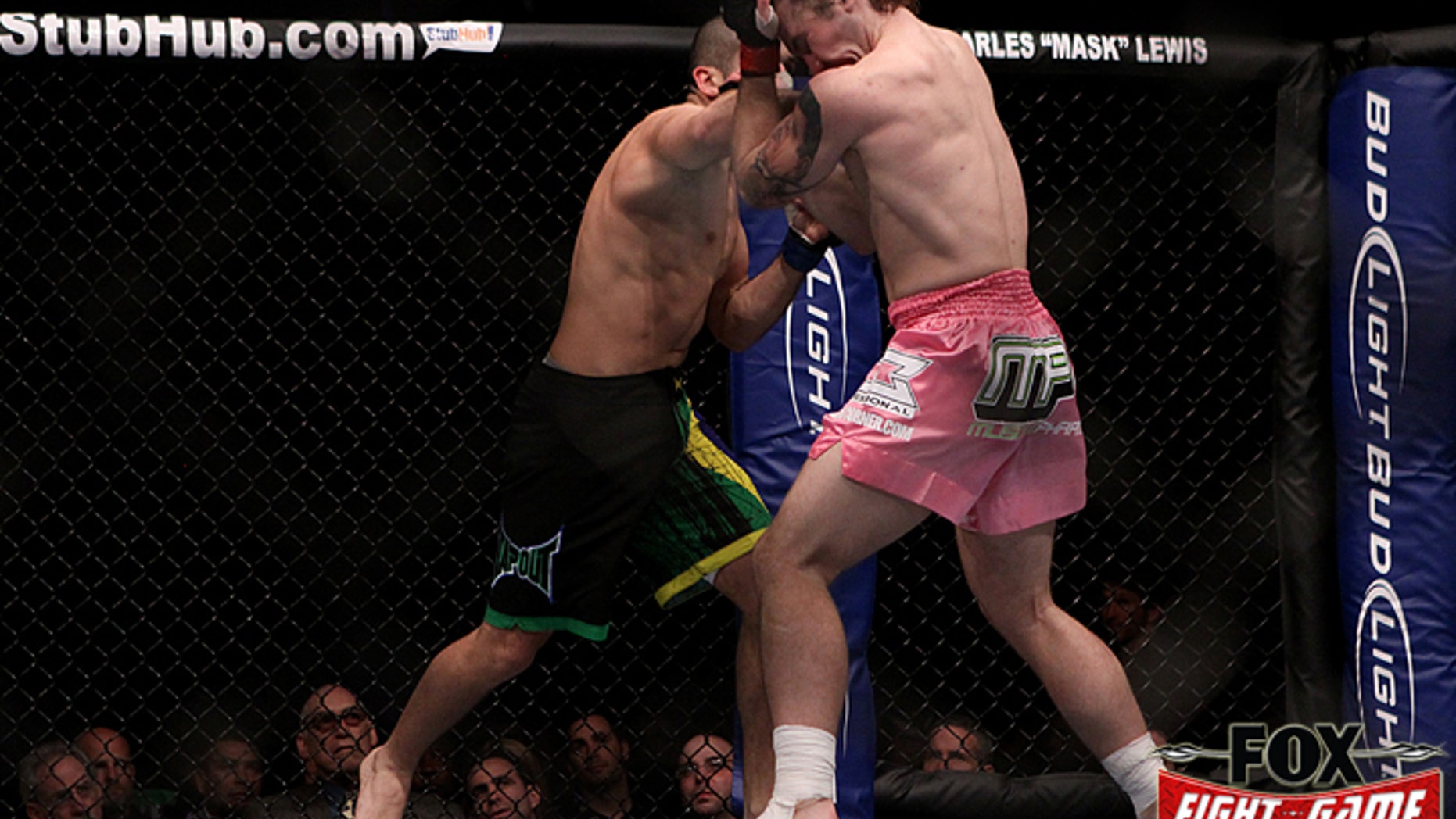 Until a few years ago Hector Castro's life was far removed from the bright lights of Las Vegas and the glamor of the UFC. His days were split between working for his family's flooring company in New Jersey and maintaining a website that dealt in fantasy sports. Today he is a fully fledged MMA insider, with a burgeoning web empire and an ever expanding roster of fighters he personally manages. Not bad for man who spent most of his life blissfully unaware of MMA to begin with.
"I wasn't an MMA fan, that's the the funny part," recalls an amused Castro. "I did karate when I was younger and liked martial arts but I wasn't really aware of the UFC. My wife Alicia was in Iraq between 2004 and 2005 in the National Guard and while she was away I would hang out with my friends and watched a couple of fights.
Working for a fantasy sports company, Castro saw that the 18-34 year olds visiting the site were the same sports fans who were becoming increasingly interested in the burgeoning MMA scene. He began to toy with the idea of moving into a sport he knew as much about as an average fan, but one that was infinitely more exciting than the fantasy sports he was involved with.
What convinced him to make the jump? His wife of course.
"I thought it [the UFC] was cool but I didn't think she was going to like it when she got back [from Iraq]. But she comes back and it turns out all the fights are free over there and thats all they did just watch the fights. I already had my opinion on MMA but that really convinced me to switch from fantasy sports."
Castro's next move was to convince the owner of the fantasy website to sponsor an MMA fighter. And so UFC 92 would become Hector Castro's first foray into the world of MMA with the sponsorship of a local New Jersey fighter Mike Massenzio. "Even though Mike [Massenzio] lost I spoke to several people in the industry and flew out to Vegas to see the fights and met a bunch of people out there. I realised the market potential and decided to leave fantasy sports behind and move into MMA."
When I became a manager, all the guys I knew from journalism gave me the help I needed because as a journalist I had promoted their fighters for a long time and worked with them and now they tried to help me and return the favor which is great.
Setting up a website by the name of MMADiehards Castro set about making MMA his full time job. The site provided news and features on a sport that Castro had begun to completely immerse himself in. After the website, came the Ground and Pound podcast. "It was about trying to get some contacts in the industry and it was my full time job for around two years. But then I decided to step away from the journalism side of things and move into managing."
But Castro's fortunes turned even rosier when he met David Makdessi brother of UFC fighter John Makdessi and founder and owner of a new MMA apparel company Fear the Fighter. "David owns Fear the Fighter and I offered my services. He had everything in place but did not have many MMA connections at the time so when I came on I filled that void."
Just less than four months old, Fear the Fighter already has the likes of Frankie Edgar, Dan Hardy, Sara McMann and Stipe Miocic signed to their clothing line.
"The fighters these days don't get paid much unless they're the really top dogs so most of their money comes from sponsorship," explains David Makdessi. "My brother is a UFC fighter and me and Hector have the same vision and passion for fighters. We don't view them as a mere stepping stone to bigger things."
When Makdessi decided to pay his fighters despite the cancellation of UFC 151, Castro was in wholehearted agreement.
Today Castro manages a roster of eight fighters including UFC's Louis Gaudinot and John Makdessi as well as Bellator's Lyman Good as well as Strikeforce's Sara McMann. But Bellator's Zach Makovsky was Castro's first and he recalls how his passion in defending a fighter's interests was the reason for signing the former Bellator champion.
"I had a friend who had a small apparel company and he was looking to sponsor a fighter," remembers Castro. "Zach was the champion of Bellator at the time and I called him to ask who his agent was. He said he didn't have one. I said 'no problem, how much is it for a logo because I have someone who wants to sponsor you.' and Zach just said 'I don't know. I've never done this before'. So right then and there I realised that this guy is the champion of Bellator but doesn't have anybody to do this for him."
"When I became a manager, all the guys I knew from journalism gave me the help I needed because as a journalist I had promoted their fighters for a long time and worked with them and now they tried to help me and return the favor which is great."
Today, Castro is a regular at ringside and even his once doubtful parents are impressed. Having told them a few years ago he was embarking on a career in MMA doubts understandable doubts were expressed, something Castro look back on fondly.
"Convincing my parents that I was walking away from the family business to pursue a career as a journalist in MMA, that's wild!" They were not happy about that. It took a lot of explaining because MMA was not as big as it is now, but as time went on it was easier. I would fly to a fight and we sat ringside and I got text messages from my mom saying 'We see you!', and I think from there on my family could see it was a big deal even if they don't quite understand the industry. If you had told me three or four years ago that I would be doing this, I would have laughed in your face. But I've been lucky and blessed."