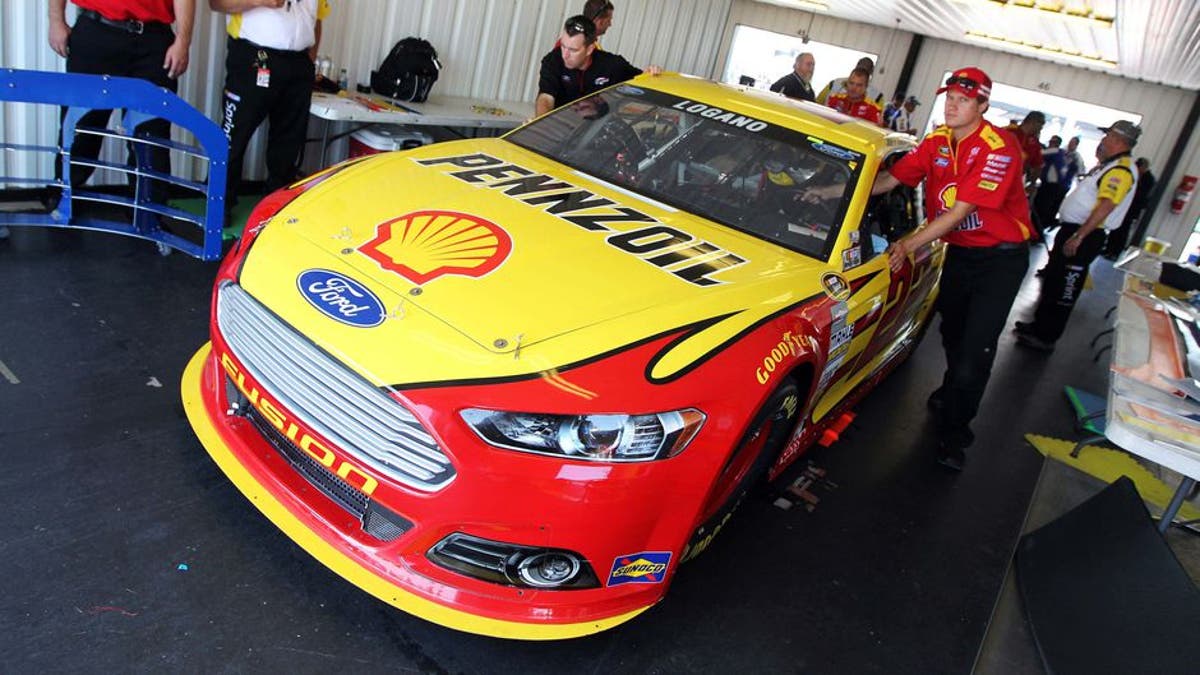 There are a couple of different ways that you can look at the latest Team Penske crew chief suspension du jour, this one being Joey Loganos crew chief Todd Gordon, who NASCAR parked for two races and fined $50,000 for illegally doctoring up the rear suspension on Loganos race-winning Richmond car from last weekend.
As a reminder, Team Penskes other Monster Energy NASCAR Cup Series crew chief, Paul Wolfe, was suspended for three races earlier this year for wait for it flunking NASCARs Laser Inspection Station after the Phoenix race.
In addition to Gordon getting tossed, Logano and team owner Roger Penske were docked 25 driver and car owner points, respectively, and Logano earns the dubious distinction of being the first driver to get an encumbered win meaning it does not make him playoff eligible and if he does make the playoffs, he doesnt get the five playoff points he should have gotten for winning Richmond.
OK, you are now officially up to speed on the situation.
Here are the two ways of looking at it: Penske is cheating up its cars. Period. How else do you explain both Penske crew chiefs getting suspended for violations in the first eight races of the year? They cheated, they got caught. And if your team gets caught multiple times, in my opinion, the penalties should get progressively more severe.
It looks terrible for NASCARs credibility to have one-third of the races in 2017 won by a team that has been caught red-handed cheating up both cars. It makes this sport look like pro wrestling.
And now, second way of looking at it: Cheating has been part of NASCARs culture since the very first Strictly Stock race on June 19, 1949, in Charlotte, when race-winner Glenn Dunaway was disqualified for having illegal bootlegger rear springs on the back of his car.
Since that time, weve had nitrous oxide, soaked tires, undersized bodies, oversized engines, hidden gas tanks, removable weights and who knows what else. You name it, crew chiefs have done it. In fact, in 2002, I wrote a book about it called Cheating: An Inside Look at the Bad Things Good NASCAR Winston Cup Racers Do in Pursuit of Speed.
Crew chiefs get paid huge sums of money to make their cars go fast, not to play by the rules.
Tuesday, I had dinner with some of the participants in the famous 1992 NASCAR All-Star Race won by Davey Allison. On hand were such luminaries as Kyle Petty, Robin Pemberton, Larry McReynolds, Michael Waltrip, Marcus Smith and Mike Joy, among others.
After dinner we heard some great cheating tales one guy talked about finishing second with a car that was 375 pounds under minimum weight, another talked about secretly bending NASCAR templates to fit his car, not the other way around. I heard tales of champions who soaked tires, how one team cheated up its fuel cell to win the Daytona 500 and a couple examples of guys showing up at the track with cars that were half a foot longer than they should be to try to gain an aero advantage.
This is nothing new, people.
NASCAR makes the rules, crew chiefs try to get around them.
Junior Johnson once told me that back in the day, they only weighed the cars before the race. Rule book said what the car had to weigh before the race, Johnson told me. Didnt say nothing about what it had to weigh during the race.
So when Johnsons driver started the race, each of his four rims had 100 pounds of lead welded to the inside. The first pit stop tended be long, but for the rest of the race the car was 400 pounds lighter than everyone else.
Eventually, of course, NASCAR caught on and started weighing the cars after the race. By then the crew chiefs were on to the next new trick.
Which brings back to Team Penske getting caught manipulating the rear suspension so their cars corner better.
So, what do you think? Cheating SOBs or business as usual?
I think you can make defensible arguments for both viewpoints.
And I also think the two Penske Fords are going to roll very, very, very slowly through the NASCAR inspection stations for the rest of the year. Which, all things considered, is only fair.