Twins' Berrios producing machine-like numbers on the mound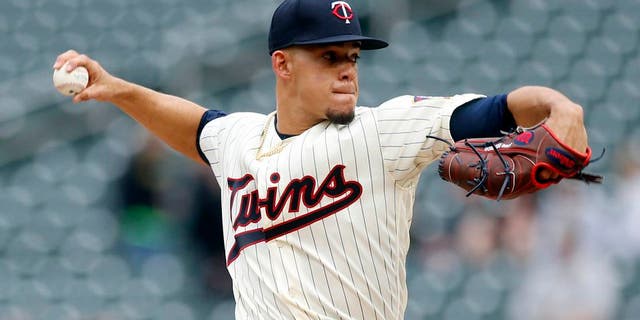 They call him The Machine. La Maquina.
And after a disappointing rookie campaign in 2016, 22-year-old starting pitcher Jose Berrios is starting to show Minnesota Twins fans why he's earned that nickname.
Berrios spent the first month of this season dominating opponents for Triple-A Rochester (3-0, 1.13 ERA, 39 strikeouts). He was called up for his season debut on May 13 against the Cleveland Indians.
Berrios had never lasted longer than six innings in his big-league career. But he looked like a completely different player and allowed just two hits, one walk and one run in a career-best 7 2/3 innings.
La Maquina somehow found another gear in his next start.
Berrios, pitching the nightcap of a doubleheader against the Rockies, fanned 11 and walked one hitter in 7 2/3 innings. He made Colorado, a team that scores the third-most runs in MLB, look foolish from top to bottom with a powerful fastball and an offsetting curveball.
Berrios became the 11th Twins pitcher to have 11 strikeouts and allow zero runs in a start -- the first to do so since Francisco Liriano in 2010 -- and the 29th occurrence overall in franchise history. Two-time Cy Young award-winner Johan Santana did so eight times in his Twins career.
What can make the start more impressive? His youth. It was the 101st time since 1913 that a pitcher 22 years old or younger tallied 11+ whiffs, allowed zero runs in at least seven innings and only the 19th time since the turn of this century.
Additionally, his start against Colorado is only the 38th time since 1913 that a pitcher 22 years old or younger lasted over seven innings and allowed zero runs, two or fewer walks and fanned at least 11 hitters.
Rockies veteran Ian Desmond was impressed with Berrios performance. Desmond compared him to the late Jose Fernandez, the two-time All-Star and MLBs 2013 Rookie of the Year who tragically died in a boating accident last fall.
If youre curious, Fernandez did it twice and Liriano did it once. And they both allowed three hits in those starts -- Berrios allowed only two, just the 11th young pitcher to have a game with 7+ innings, 11+ strikeouts, 2 or fewer walks and 3 or fewer hits allowed since 1913.
Berrios is the only Twins pitcher this season to have multiple starts last past the seventh inning. Ervin Santana, despite his impressive stats, has worked the rubber in the eighth inning only once: a shutout of the Chicago White Sox on April 15.
If he keeps this up, La Maquina might want to consider changing his nickname to Estrella de Gemelo -- the ace of the Twins.
Follow Tom Dierberger on Twitter