TUF semi-finalist Julian Erosa wins split decision at finale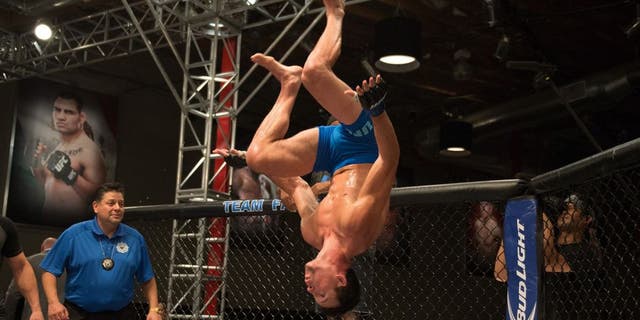 LAS VEGAS -- TUF finalists Marcin Wrzosek and Julian Erosa fought hard and close for three rounds, Friday, in a hard-to-score bout. In the end, Erosa finished stronger in the third and final round, and it was enough to earn a split-decision win.
Scores were 29-28 (twice) and 28-29 for Erosa. He improved his record to 15-3, overall, while "The Polish Zombie" saw his career mark dip to 10-4.
In the first, Erosa used his length well, on the feet. Before long, however, Wrzosek got inside and hurt his taller opponent with an overhand right to the head. Wrzosek followed up with a takedown but soon got swept by Erosa off of a guillotine choke grip.
Wrzosek would defend that and a following D'Arce choke grip, and return to his feet before the round ended. In the second, Wrzosek got on top again, early and then landed a huge left hook to the head once they were back on their feet.
He scored two more takedowns before the third, and ended the second period on top, throwing strikes. In the third, Erosa let it be known that he intended to change the pace of the fight.
He came out winging punches and Wrzosek returned fire. Erosa landed a flying knee to the head and then scored his own takedown.
Wrzosek got back to his feet, but only to eat a big uppercut to the head from Erosa. Another flying knee to the head and takedown scored for Erosa, with under a minute left.
Erosa locked on another D'Arce choke attempt, but Wrzosek defended, and got back to his feet. The fight ended with Wrzosek shooting for another takedown.