Tuesday, May 2: Tampa Bay Rays at Miami Marlins game preview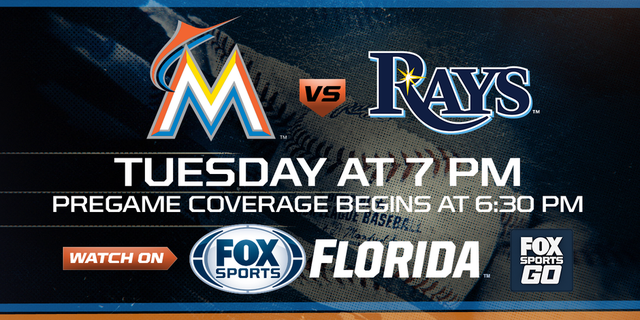 TV: FOX Sports Florida
TIME: Pregame coverage begins at 6:30 p.m.
MIAMI -- Edinson Volquez, signed in the offseason to replace the late Jose Fernandez as the ace of the Miami Marlins rotation, has yet to produce a win in five attempts.
Volquez (0-3, 4.44 ERA) hasn't been sharp, but he will get another chance on Tuesday night when the Marlins play host to the Tampa Bay Rays.
Right-hander Alex Cobb (1-2, 4.66) will start for the Rays.
Perhaps Volquez should rely on his team's excellent defense as Miami (11-13) will try to even the series with Tampa Bay (13-14) at one game apiece.
The Marlins led the majors in April with a .993 fielding percentage, making a league-low six errors. Miami's infielders made just two of those miscues, which is especially impressive since the Marlins played most of the month without starting third baseman Martin Prado, an excellent defender.
"It's fun to watch our guys -- we catch the baseball," Marlins manager Don Mattingly said Monday. "I think a lot of that goes to (infield coach Perry Hill) and the work he does in spring training.
"He is meticulous with details and fundamentals, how to catch the ball, how to get it out of your glove, footwork. He has great rapport with those guys. They respect the way he teaches."
Volquez, however, has walked 14 batters in 24 1/3 innings, and there is no defense for ball four.
Several Rays players have given Volquez a hard time in previous matchups, including infielder Richie Weeks (.368 batting average and two homers in 19 at-bats).
Volquez is 3-1 with a 3.65 ERA in six career starts against Tampa Bay. However, he lost his only appearance against the Rays last year, giving up eight runs (seven earned) in five innings.
Cobb is 2-1 with a 2.33 ERA in three career starts against the Marlins. On June 2, 2014, his only start at Marlins Park, Cobb lost, allowing three runs in six innings.
This season, Cobb has been plagued by the long ball. That is a trend that goes back to last year, too, as Cobb has allowed at least one home run in six of his past seven starts.
Cobb doesn't have much history with any of the Marlins starters, facing none of them more than six times and giving up just two hits in 18 at-bats.
Still, Cobb hasn't won a game since he beat the New York Yankees on April 5 in his first game back from Tommy John surgery.
"That was special for Alex," Rays manager Kevin Cash said after Cobb's first game back from his operation. "It was great to see him do his thing. He looked good."
Cobb hasn't looked as good since, allowing at least four runs in each of his next three starts.
Part of Cobb's problem has been durability. He has missed at least six weeks in each of his past four seasons and has had ailments that include a concussion after taking a line drive to his head, a left oblique strain and surgery to correct an issue with thoracic outlet syndrome.
The Rays, though, know how good Cobb can be based on what he showed from 2012 to 2014, when he won 32 games and had ERAs under 3.00 twice. In 2014, he made 17 quality starts in 25 appearances.