Tuchel has Borussia Dortmund aiming for new heights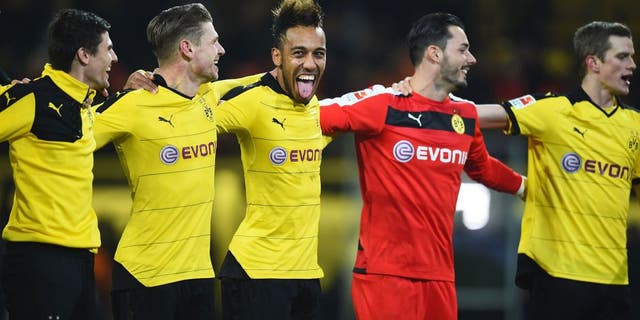 NEWYou can now listen to Fox News articles!
Just over six months into the Thomas Tuchel era and Borussia Dortmund is on track to smash all of its immediate targets by the end of the season. Primarily, a return to the UEFA Champions League following a year's absence is imperative for the club to stay internationally competitive.
Dortmund is in commanding position to return to the Champions League, with 38 points from 17 games heading into the second half of the season. That positions them six points ahead of third-place Hertha Berlin and 11 points clear of fifth-place Leverkusen and the ensuing battle between Hertha, Borussia Monchengladbach, Leverkusen, Schalke and Wolfsburg for the final two Champions League places. Considering Dortmund's rapid decline under Jurgen Klopp last season and the financial blow of missing out on Champions League revenue, the progress under Tuchel is one of the league's notable successes.
As sporting director Michael Zorc often noted throughout the first half of the season, Dortmund's performance in the Hinrunde is comparable to that of a championship-winning team in other European leagues - in season 2011/12, by comparison, the club had just 33 points by Christmas and still went on to win the second title under Klopp.
Had it not been for some disappointing slip-ups - notably 2-2 at home to Darmstadt - the eight-point gap at the top could have been severely reduced. But among factors like a weaker squad than Bayern, it's Dortmund's propensity to flop against the Bundesliga's middle pack that rules them out of title contention. Second place, though, would still be considered a great achievement by the club's executives, whilst German Cup glory or success in this season's highly-competitive UEFA Europa League would be the cherry on top of Tuchel's first season.
Dortmund's 42-year-old coach followed the same career path as Klopp - Mainz to Borussia Dortmund - but has built on top of the foundations the current Liverpool boss left over his seven-year spell. Tuchel's precise combination play in attack and more possession-oriented approach has complemented the sharp counterpressing tactic which the players were familiar with from Klopp's tenure.
"We worked really hard in both games and created lots of goalscoring opportunities and deserved to win," said Tuchel in Dubai where Dortmund spent the winter break. "We should have scored more goals and should have also defended better in one or two moments of play. We have to work on this back in Dortmund."
Most of January's incessant transfer coverage has been fixed around Dortmund's core players. Pierre-Emerick Aubameyang, the recently-crowned Footballer of the Year in Africa, is repeatedly linked with English Premier League sides, despite signing a contract at Signal Iduna Park through 2020 in July. Most recently, Julian Weigl's future has been up for discussion with Manchester City, who will almost certainly be coached by Pep Guardiola next season.
But despite the Premier League's financial extravagance, the lure of Dortmund is still strong for international players. The club is financially competitive, boasts one of the most intense home supports in Western Europe, with an average league attendance of more than 80,000, and is even stronger with Champions League football on the schedule.
There's a simple reality for English teams circling the club for the next top talents: Dortmund doesn't need to cash in on its assets. The club hasn't reeled in cash for an important first-team player since Mario Gotze left for Bayern Munich in 2013. In Aubameyang and Mkhitaryan, for example, the club was more attractive to each player in comparison to England or Spain.
The financial inequality with the German champions Bayern Munich remains a cause of concern, but as the globalization of the Bundesliga continues, the side from the Ruhrpott will likely become even more competitive. That could be evident this month if the yellow-and-blacks decide to stump up the cash for prodigious Ukrainian winger Andriy Yarmolenko.
Excluding extra attacking depth, Tuchel's squad is largely set for the remainder of the season. Marco Reus returned to fitness in the winter camp, but left-back Marcel Schmelzer picked up a knock in the last sessions in Dubai. Zorc's superb dealings last summer has perhaps constructed the spine of the club's team for several more years. Weigl has been a sublime addition, for example, while Gonzalo Castro is starting to deliver the kind of dynamic performances which made him a sought after asset at Bayer Leverkusen. Aubameyang's 18 goals in 17 matches and Mkhitaryan's 11 assists have also proven to be a brilliant combination.
If Dortmund's upward mobility stays on the path set by Tuchel, the club could legitimately strive to be a regular in the latter rounds of the Champions League. But mounting a credible challenge to Bayern Munich is certainly much closer in sight, especially with the turnover in coach next season and the potential instability that could bring to the current league-leaders.
Starting with an away test at Borussia Monchengladbach on Saturday (9:30 a.m. ET, FS2), the second six-month window in Tuchel's Dortmund career could be pivotal in building a squad which could credibly push Bayern Munich for the title next season. So far, Dortmund can be comfortable in the fact that one of Germany's brightest coaches has them on the right path.