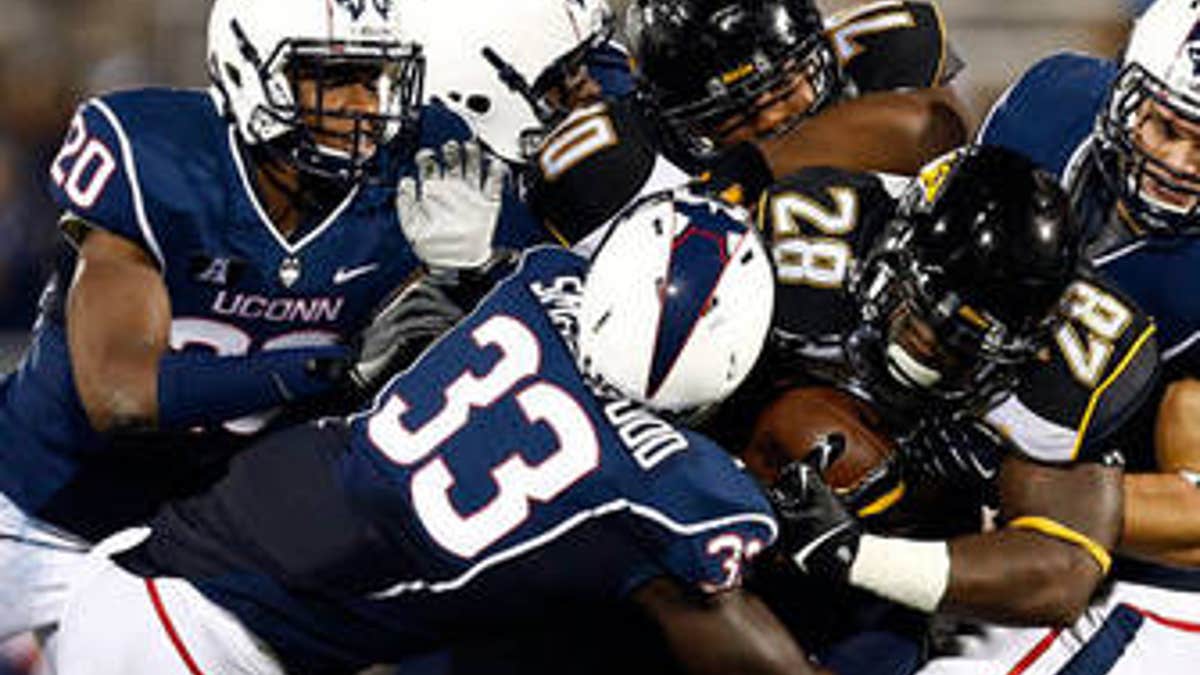 A season-opening victory. A first-ever win over an FBS school.
The Tigers of Towson had it all Thursday night after pulling off a 33-18 upset at UConn -- except cheerleaders to root them on.
You see, Towson's championship cheerleading program has been suspended for the academic year over hazing allegations .
Hazing is no joke. Florida A&M's famed marching band is only now returning to the field after a member died during hazing two years ago.
"Hazing in any form will not be tolerated at Towson University. We hold high expectations for all of our students and their conduct as leaders, both on and off campus," Deb Moriarty, Towson's vice president for student affairs, said Thursday in a statement. "Out of concern for students' privacy and their rights to due process that includes their right to appeal the suspension, it would be inappropriate for the university to comment further."
A zero-tolerance policy against hazing is understandable. But the whole team?
Jim Lord, executive director of the American Association of Cheerleading Coaches and Administrators, said "I have never heard of a whole team getting suspended."
Towson returns 15 starters from a team that went 7-4 a year ago, barely missing the playoffs after winning its final four games. The Tigers had been 0-6 against FBS teams before Thursday night.
''I'm sure in the eyes of some, this will be considered very, very big,'' Towson coach Rob Ambrose said. ''But we've played good competition before. We've played well but couldn't get a win. In the history of this, I suppose one day people will one day look back at this as very large thing. But the family in this locker room, we have goals. And for us to reach our goals we had to win.''
The Associated Press contributed to this report.