Tony Romo still mindful of surgically repaired back after regular offseason: 'We're fluid each week'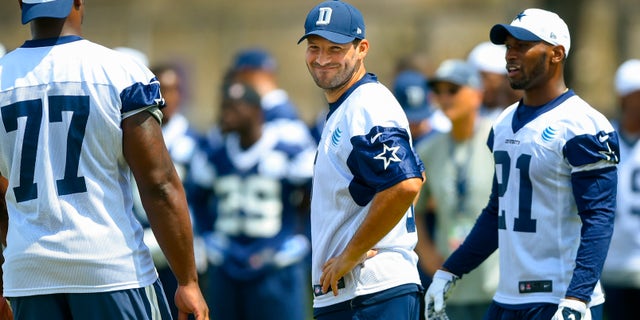 OXNARD, Calif. (AP) – Tony Romo still takes it easy on his surgically repaired back even though he had a normal offseason for the first time in three years.
The Dallas quarterback probably always will.
Stretching exercises here, a day off there — it's all part of the routine for the 35-year-old Romo coming off one of the best seasons of his career. And one thing about this routine, he's always prepared to change it.
"We're fluid each week," Romo said. "It's training camp. So you're going to throw a lot of balls. And you're going to be out doing a lot of stuff. You've got a morning thing you throw at and then you have meetings all day. It adds up each day over and over again."
A younger Romo — and the one before two back surgeries in eight months in 2013 — didn't have to worry quite so much about which way his body should turn for certain throws.
He was so far behind after missing his second straight offseason last year that Romo actually had to be mindful of plays he might not be ready to make several games into the regular season. He's that much further ahead a year later, but will still skip plenty of practices at camp.
Romo had his first planned day off Wednesday — five days after an unscheduled break because of a sty in his left eye. He'll probably take another one before the preseason opener at San Diego on Thursday night.
Last year, he generally never went more than two days without a break at camp.
"We're not going to have this 'Look at the calendar. You're on, you're on, you're off,'" coach Jason Garrett said. "We're not going to do that in advance, and to be honest with you, we didn't do that completely last year. It was a little bit of feel."
Romo had a procedure to remove a cyst just before offseason workouts started in 2013. When a herniated disk knocked him out of the season finale against Philadelphia that season, Romo was merely an offseason observer as he recovered from the second surgery.
Despite how far behind he was going into training camp, Romo still had the most efficient season of his career, thanks in part to NFL rushing champion DeMarco Murray easing the load on him. He had a career-best 113.2 passer rating with 34 touchdowns and nine interceptions.
Murray left for the NFC East rival Eagles in free agency, but owner Jerry Jones says Romo's threat as a passer is one of the reasons he believes the Cowboys can keep the running game going.
"What I'm seeing out here is Tony Romo at his best," said Jones, who made Romo the first $100 million player in franchise history with a six-year extension at $108 million in 2012.
"I can't remember a time when I thought he was playing any better, looked any better, made me feel any better, made our coaches feel any better as far as his execution and what he needs to do for us to win."
Romo matched his career low for a full season with nine interceptions last year, and he's never protected the ball better over two seasons than he did in 2013-14.
While he says experience matters most, Romo doesn't dismiss the notion that injuries made him more of a thinker and less of a gambler, which was his reputation early in his career.
"I may have still ended up at the same point that I am right now," Romo said. "But I've also analyzed a few things I may not have with the technique of throwing in some capacity because I had just a lot of time to study it and then some, so that helps."
Garrett isn't sure there's much difference in Romo once the regular season rolls around.
"It's not like he's ever been a runner," the coach said. "He's always been someone who can have a great feel in the pocket, can move around and find some space.
"Every so often you'd see him run and make a play with his feet. But it was more about his ability to extend plays, keep his eyes up and throw the ball down the field."
Like us on Facebook
Follow us on Twitter & Instagram