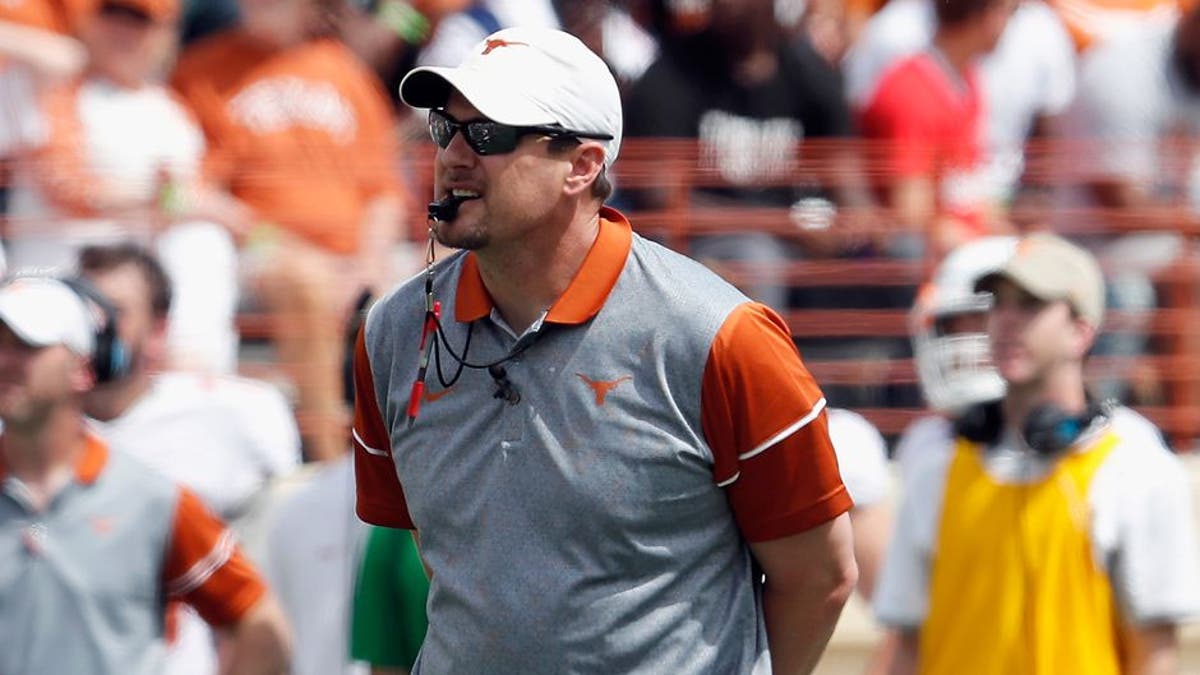 AUSTIN -- The one-million dollar question or more specifically, the $1.323 million question is how does Tom Herman fix Texas football?
That's why there's so much intrigue these days around the Longhorn football complex and so when you enter the Moncrief-Neuhaus Athletic Center and wade through all of the old trophies, it's not surprising to run into Herman proudly showing off what from a distance looked like some sort of arcade game to a couple of his young Longhorn quarterbacks in the UT players lounge. The players are mesmerized by Herman's new toy. OK, it's not a toy. He's unveiling one of the Longhorns new lockers. The doors glow in the dark. On top, there is even a 43-inch flat screen that is showing that player's (Texas wide receiver Jerrod Heard) highlights on a wheel as opposed to a simple nameplate. Inside where the helmet rests, is a fan to help dry it and reduce the chances of MRSA. Those are just a few of the features of the all-stainless steel locker. Total cost per: $10,500.
Pictures of the new Longhorn football lockers went viral Friday not long after they hit social media. Many on Twitter lamented that despite the high-end perk, college athletes still don't get paid. Or that last year Texas lost to lowly Kansas for the first time in 78 years. Or that this was a new high or low to the college football arms race. Such snark didn't matter to Herman. He got exactly the response he was hoping for.
"The only reaction I care about to be honest is our players and our recruits," Herman told FOX Sports on Tuesday. "I don't care about Twitter's reaction or whatever social media's reaction is. Our players and the recruits absolutely loved it. The recruits, especially those that have been a lot of places around the country, have said, 'Coach, there's nothing even close to it around the country.'
"So, mission accomplished on that one."
Herman arrived in Austin this winter after the Longhorns had come off three successive seven-loss seasons most in school history. It's been eight years since they finished in the Top 15. That comes after Mack Brown had led them to 10 consecutive Top 15 seasons. Worse still, it's been almost a decade since Texas has had an O-lineman taken in the NFL Draft and the Longhorns have only had eight players drafted in the past four years (that's one fewer than UConn in that stretch) with only D'Onta Foreman projected to get selected this year.
Getty Images/Tim Warner
A former Mack Brown graduate assistant at UT in 1999-2000, Herman was the hottest name in coaching in 2016. In two seasons as head coach at Houston, he led the Cougars to a 22-4 record that included an eye-catching 6-0 record against Top 25 opponents. Before that, he was the offensive mastermind that helped spark Ohio State to a national title. Herman's proven to be a brilliant game-planner, and his teams are at their best on the biggest stages. Consider this: Dating back to his days at Ohio State, his teams have won the past 11 games in which they were underdogs and actually won seven of those 11 by double digits. Herman was also the play-caller in 2011 when Iowa State shocked then-No. 2 Oklahoma State. Along the way, Herman's shown he has the pulse of the young athlete in the 21st century as well as for navigating social media. And that's why the Texas locker story is compelling.
To a lot of folks and that includes some other college coaches it sounded excessive, if not downright absurd, that a locker would have a giant TV monitor or the glow-in-the-dark doors. Herman's rationale on the latter stemmed from the fact that other programs had recently done glitzy upgrades, too, and they had white locker doors. "I said, 'Make em glow.' They told me, 'Coach, that technology doesn't exist right now.' I said, 'Well, if you want our business you'll figure it out.'
"I've learned a lot about lockers. We'd just redone the locker room at Houston one year ago. Obviously, we didn't have solid-surface doors there. We learned a little bit about what A&M had and what Penn State had and what Oregon had. I knew that was the cleanest, sleekest, sturdiest way to go was a solid-surfaced door. We needed something to make ours look different from those programs when the doors were shut, and not just look different, but better. The glowing doors with the television, with the color-changing Bevo head at the bottom, and the stainless steel have set this locker apart from anything that's ever been built."
James Weiss, the VP of sales for Longhorn Lockers, says the company spent about 108 man hours engineering, designing and building those Avonite doors for the Texas project. "There is nothing else on the market like it."
Texas' facilities, which were among the best in college football back when Herman was a graduate assistant, had been surpassed in the past decade as TV money flooded into Power 5 programs. Barbershop rooms in the football facility along with virtual reality rooms, waterfalls and jumbotrons for the indoor complex aren't uncommon anymore.
"Texas is one of the most prestigious schools, and we're kinda out of date right now," said safety P.J. Locke, a one-time Oregon commit. "This facility was one of the greatest back then but then everyone upgraded and we stayed here. Herman is this new-school guy and he has to get facilities back on top."
Senior defensive tackle Poona Ford was wowed by the new locker and is convinced it matters in recruiting today. "At my high school, every male sports team shared a locker room in that one field house, and if I see that coming out of high school, I'm thinking, 'Dang, that's pretty sweet.' That could be the reason why they commit here," Ford said.
Getty Images/Tim Warner
But could that really be a reason why one player would pick Texas over A&M or OU?
"Yeah," Ford said. "Everything matters."
The Longhorns certainly could use the jolt. UT wasn't ranked among the nation's top 25 recruiting classes in 2017. In February, the Horns managed to sign just one of 247Sports top 20 in-state prospects, the No. 20 guy, QB Sam Ehlinger, who is from Austin.
"We're going to make these facilities state of the art and as first-class as we can," Herman says, "There will be no reason from a facility standpoint for a recruit to want to go somewhere else."
For those looking for an explanation about why Texas football has been in a tailspin, there's been much talk about a program that was drowning in entitlement and had become soft, which is probably the worst thing you can say about a college football program. Asked about people seeing the new lockers and saying this is just feeds into that perception of entitlement, Herman didn't mince words.
John Gutierrez-USA TODAY Sports
"A I don't care, but B I think they'd rather us be soft with really good players than soft with really bad players, right? We're not gonna be soft. We gave our guys at Houston more in 23 months than probably any other non-Power 5 school has ever given a program in that time, and the last thing you would call that team is soft. And we're not gonna be soft here. You need good players. The finest facilities in the country attract really good players. Soft isn't anything about what they get and the gear they get. Yeah, they have a Kevin Durant backpack instead of the standard Nike backpack. So? That's mind-blowing to me that people would say that because you have nice things, you're soft. No, you're soft because your culture is soft."
Those inside college football have long said Herman is one of the sharpest minds in the game. The 41-year-old Herman, who spent three seasons learning under Urban Meyer, is often blunt, but clearly he has a keen sense for what matters and what doesn't in regard to winning college football games. Texas, of course, hired him to drag its proud program out of a ditch. After all, the players seemed to love his predecessor Charlie Strong but he didn't get results. Or at least didn't get them at Texas fast enough.
"My constituency is not the public," Herman said. "My constituency is our players and the recruits, our former players and the coaches of the great state of Texas. As long as they know what our program is about and how we combat softness every day, then I can sleep easy. Do you wish that the casual fan would dive deeper and put the pieces together the way they need to? Certainly, but this is one of the 1,000 things you wished the casual fan would do differently or better or more accurately. You can't concern yourself with that because they're gonna get wrong more often than not."
John Gutierrez-USA TODAY Sports
Herman believes the way to overcome the glitz of winning the recruiting game as well as the myriad of other distractions that can derail a football team is with the grind of his program's Plus-Two philosophy. More than anything, though, he is adamant about how critical it is to remaining consistent and hammering home the message of accountability for both players and staff in terms of organization, motivation and culture building.
"It's exhausting," he said. "You gotta keep your thumb on them, all day, every day through their coaches and me personally. I don't know if the players like me yet, but that's O.K. 'cause I'm really, really hard on 'em. If you say sprint 10 yards in a drill, and at Texas we go plus-two everything, so in reality, they're sprinting 12 yards. Then once you let that first guy go 11 yards and you don't blow 'em all back and make a big deal and call 'em lazy, then it gets easier to do the next time, and the next time and then the next time. I've said this before, everybody says you're making a mountain out of a molehill, yeah, I know. You're damn right I am because every small, tiny, little (expletive) thing matters."
Locke said the players have bought into Herman's mantra. "He's changing our mentality, giving the extra effort," he said. "It's about plus-two. Even as a player, you hate to hear that you're entitled because you're at Texas. As leaders of the team we try to rally up the guys and we gotta put the T (for toughness) back in Texas."
Getty Images/Tim Warner
Herman employed his Plus-Two philosophy at Houston. It was similar to what they did at Iowa State on Paul Rhoads' staff, but it was plus-one. "I always said if everybody in America is doing plus-one than we'd better do plus-two," Herman said. "It definitely came to be religion at Houston and it's that way here.
"I heard Steve Spurrier say that if you're gonna be great at something, you either have to do something completely different than the rest of the world or you gotta do the same thing only much better. For me, nobody's re-inventing football. We just have to do it better than everybody else. Doing our drills plus-two is a start of that."