Toews leading Hawks with words and deeds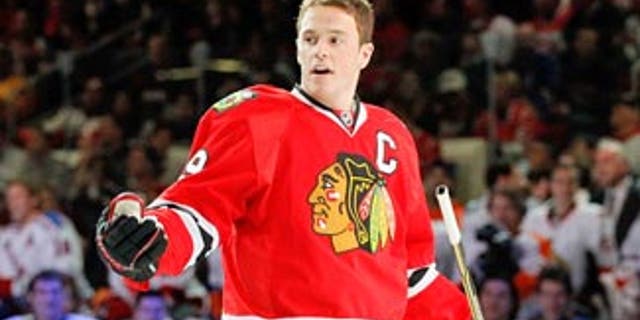 In a race as tight as the battle to make the playoffs in the Western Conference has been this season, a single point could end up making the difference between a team having the opportunity to compete for the Stanley Cup and spending the balance of its spring on the golf course.
For that reason, Jonathan Toews' goal with 38.5 seconds remaining Sunday in Washington was a critical one for the Chicago Blackhawks. Although they went on to lose 4-3 in overtime to the Capitals, they stole a point when they easily could have come away empty.
The Blackhawks were on the power play and had pulled goalie Corey Crawford for a 6-on-4 advantage. From the blue line, Duncan Keith blasted the puck wide of the right post and it caromed out to the left side of the net where Toews was positioned. He managed to squeak a shot through Capitals defenseman Dennis Wideman and goalie Braden Holtby to even the score.
Toews didn't get the nickname "Captain Serious" for nothing, though, and hardly was in the mood to celebrate the timely goal.
"When we get that chance to get back in the game, there's no reason to be satisfied with one point," he said. "That's two overtime losses in the last couple of games. We can't be happy with just getting one point in each of those games. If you look at the games ahead and we keep getting to overtime, it doesn't do us any good. It's just about getting beyond that point of satisfaction and finding a way to win."
The Blackhawks did just that in their most recent game, and predictably Toews was an important reason why. He scored what turned out to be the winning goal and added an assist in a 6-3 victory against the Sharks.
"(The second period) dictated the outcome of the game, so it was good for us," Toews said. "Especially when they made it 5-3, we came right back and got the sixth goal."
Toews is now tied for eighth in the NHL with 30 goals and is seventh in scoring with 71 points, putting him in the discussion for the Hart Trophy, awarded each year to the League's MVP.
His leadership in helping the Blackhawks navigate difficult terrain as they aim to defend their Stanley Cup championship has been as invaluable as the statistics he's compiled. Chicago entered Tuesday's action fourth in the West with 84 points after spending a stretch this season outside the top eight.
"Last year throughout the regular season, it seemed like a breeze right into the playoffs," teammate Patrick Kane told The Sporting News. "This year has been up and down. It's good to have that leadership. It's (Toews) and a lot of other guys in here, too. But he leads the way."