TJ Dillashaw works to perfect his weight-cutting process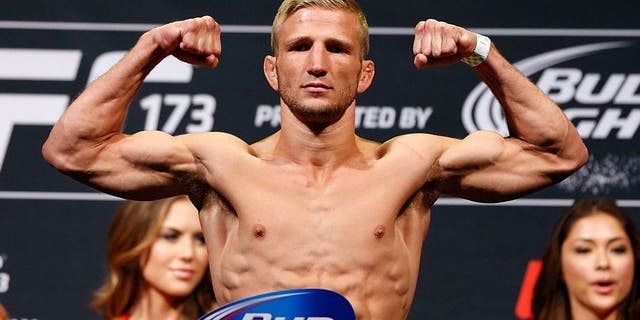 NEWYou can now listen to Fox News articles!
Former bantamweight world champion TJ Dillashaw has competed in combat sports requiring him to make specific weights since he was a child. Yet, the 30 year-old tells FOXSports that he didn't really start to learn how to make weight the right way until he started working with Michelle Ingels and Paulina Discepolo Indara of Perfecting Athletes a few fights ago.
"As a wrestler you're always aware of your weight and always have to cut but I realize now that I used to do things a bit wrong, in the past," he says, ahead of his UFC 200 title-challenger elimination rematch against Raphael Assuncao.
"I didn't really understand how to eat and drink properly, throughout the year. I made it harder on myself than I needed to, back in the day. Now, Michelle and Paulina have helped me really be precise, and healthier."
Ingels and Indara say they customize programs for athletes like Dillashaw and Chris Weidman, who they've also worked with, that are holistic, healthy, and effective because they focus on overall health and tailoring to hormonal needs. "The program is multi-faceted," Michelle says.
"Because of my background in endocrinology, we use nutrition to help the body work better, and smarter with less effort. We use food that helps build healthier hormones as well as lean out, and make whatever weight you need to, without detracting in anyway. The goal is to never have someone suffer."
Paulina says that Perfecting Athletes works with performance athletes by meeting them where they are. "All of our athletes have us around as often as they need," she says.
"Some athletes need every meal and every snack prepared for them. Some athletes just need us to check in with them once a week. It all really depends on what they need. We can go anywhere to be on-site, we consult over emails, with phone calls, any way we can."
Michelle and Paulina emphasize that their goal is to do more than have athletes simply lose weight. They are keenly aware that performance athletes don't just need to be at a certain weight, but also then need to subsequently compete.
"Everyone can make weight on 500 calories a day, but then they cannot perform well. Or, it leads to tendon damage, ligament damage, muscle tears and fatigue," Paulina continues.
"The challenge is getting athletes to prepare so they won't make poor decisions."
To that end, Perfecting Athletes tries to get fighters to adopt a perspective that values overall health, not just numbers on a scale. They also work to avail fighters of the notion that being bigger, means they are better.
"Absolutely," Michelle says.
"We set parameters of what weight athletes should walk around at. We want them to always be fight-ready. We try to have a certain percentage of your fight weight that you should never be over. We never want to have to do something drastic and dramatic.
"We also have good-tasting food. We let athletes celebrate once in awhile. We want them to be healthy all the time and feel good."
Paulina, herself a lifelong martial artist and Brazilian jiu-jitsu purple belt, says that they are starting to become successful at helping fighters realizing that long-term health should be a consideration, and that being the bigger person on fight night doesn't necessarily mean they'll be at an advantage.
"It is about health, not just about this one, next fight," she explained.
"We want them to avoid kidney issues, joint problems, and to have a full and long life, not just in sport.
"Athletes also come to us and tell us about teammates who may be 30 pounds heavier than them and are doing big numbers with power-lifting. They are huge. Sure, they can lift 300 pounds, five times, but how well can they move five pounds, 300 times? You may need to throw 300 punches in a fight. If all you do is get big and strong to lift 300 pounds a few times, that's it, you're done afterwards.
"It is not about the size but about utilizing what you have. That's why we can have a very lean guy dropping guys in the ring, going up a division and dropping guys. His opponents say they've never been hit like that before. You need to have a program that can help you make weight but also sustain activity and output without getting too fatigued. You want to be fresh in the 10th round, if you're a boxer, like you were in the first."
Fortunately for readers who are trying to meet fitness and athletic goals but who may not be able to hire Perfecting Athletes as their personal coaches, Michelle and Paulina have just published two complimentary books detailing just about every step and element of their approach and program.
The first book is Perfecting Athletes: The manual for making weight and feeling great. That one is filled with "guidelines for when to eat, what to eat, how, why and what it's going to do for you," Michelle says.
The second book, The Perfecting Athletes Ultimate Guide to weight-cutting and rehydration, is for those who have followed the nutrition program of the first book but still need to safely drop a bit of water weight to compete. "If you've been following the program and still have a few pounds to go, the second book is a guide to doing it in a way that protects your organs. It is so you can lean-out but still be clear during interviews, look good during photo shoots and sleep well during fight week. It's for if you get called up to fight at the last minute," Michelle says.
Both books "go hand-in-hand," according to Paulina. Given the many new weigh-in rule changes for MMA athletes, of late, on top of how normally brutal the process is for fighters, it's a good bet that there are others looking to get the same type of help the likes of TJ Dillashaw and Chris Weidman have been using to make weight and fight well.