TJ Dillashaw exits Team Alpha Male to join new team in Colorado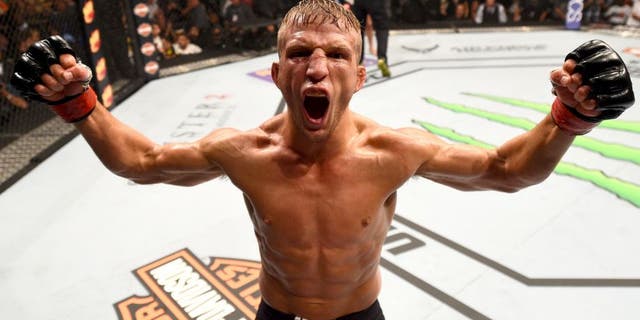 NEWYou can now listen to Fox News articles!
UFC bantamweight champion TJ Dillashaw has officially split with Team Alpha Male to join a new team being formed in Colorado at the MusclePharm facility in Denver.
Dillashaw exits the team after spending part of his last training camp in Colorado working with former Team Alpha Male head coach Duane "Bang" Ludwig. Now Dillashaw will be a full-time resident in Colorado, while still working with Ludwig as well as, training with the new team being assembled in Denver.
The news of Dillashaw's departure was first reported by Combate and subsequently verified by additional sources to FOX Sports on Tuesday.
According to sources, Dillashaw informed Team Alpha Male this week that he would be leaving the team to join the new gym being put together in Colorado with several more UFC fighters expected to join him in the coming weeks.
MusclePharm has a 40,000 square-foot facility in Denver where many fighters have held training camps in the past, including Quinton "Rampage" Jackson as he prepared for his title fight showdown with Jon Jones in 2011.
Dillashaw has been part of Team Alpha Male since his entry into the sport after being recruited out of college by former WEC champion and team leader Urijah Faber. Dillashaw became the team's first UFC champion when he defeated Renan Barao last year to win the bantamweight title.
Now Dillashaw leaves Team Alpha Male for his new team in Colorado as he prepares for the next defense of his title in January against former champion Dominick Cruz in Boston.
Dillashaw's exit could finally open the door for a potential showdown with Faber after the two fighters have avoided each other for years while both competing in the bantamweight division.
Faber has stated he would rather not face Dillashaw unless the champion asked for the matchup, but now that they are no longer teammates and training partners this could change the possibility of the fight coming together at some point in the future.