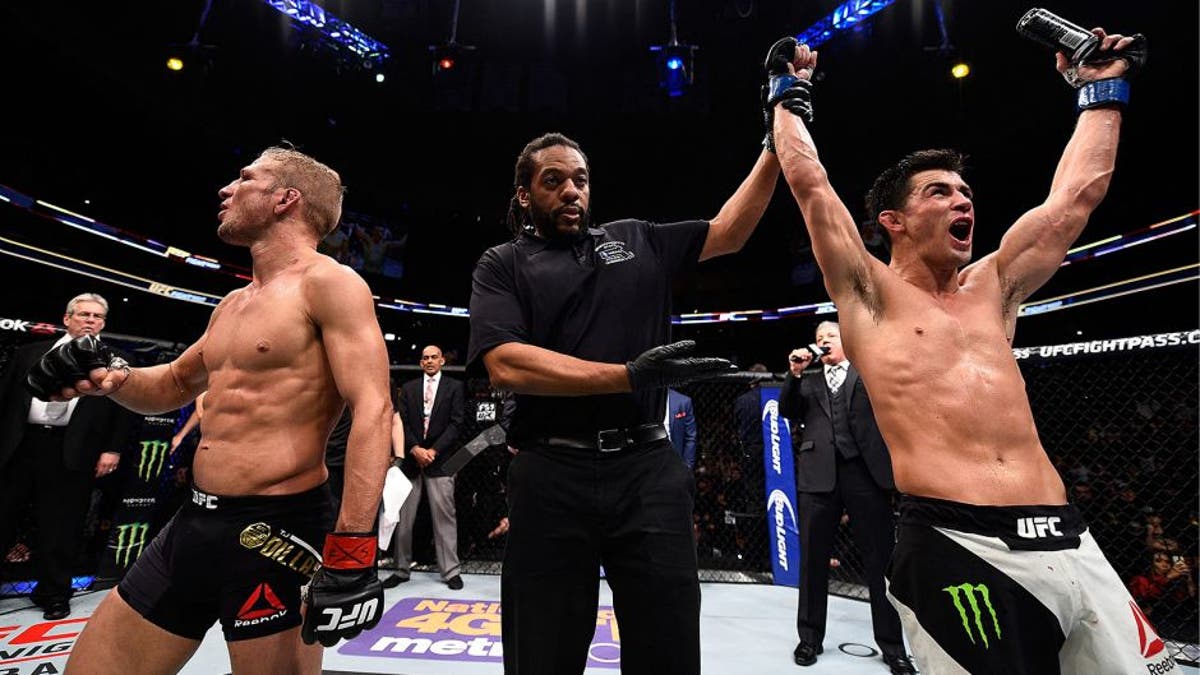 It's still not easy for TJ Dillashaw to hear himself referred to as "the former UFC bantamweight champion," now days after he lost a close, split decision to Dominick Cruz in Boston.
Dillashaw gave Cruz credit for his incredible comeback after nearly four years away due to injury, but after rewatching the fight on his way home, he was more convinced that ever before that he should have left that night with the title still around his waist.
"Congrats to Cruz for enduring everything he has and being able to come out and perform at his best, true respect for his determination and athletic ability," Dillashaw wrote on Instagram on Tuesday.
"Finally got a chance to watch the fight on my flight home today and after watching I'm even more confident I won that fight! Even the two rounds I was initially giving to him were much closer when I rewatched it, to be fair I gave my self three rounds but have no problem saying I won four rounds."
Dillashaw isn't trying to take away from Cruz's win as much as he's angry at himself for not making a stronger case during the fight that he should have walked out victorious.
Considering the fighters were virtually dead even throughout the contest in strikes landed and damage done, it was not an easy fight to score so Dillashaw understands that part of the result.
Still, Dillashaw believes deep down that he should still be the bantamweight champion today.
"I know everyone has their right to their own opinion but as I laid in bed the last two nights not able to sleep thinking how I lost that fight baffled me," Dillashaw said. "Not saying that it was a robbery because I knew that it was a close fight and have no one to blame but myself for leaving it that f--king close.
"Did not fight my best and definitely things I could have done different."
One part of the matchup that Dillashaw took issue with after seeing the fight on television was the commentary provided by Joe Rogan that night.
Dillashaw felt the veteran color commentator was biased in his call and Rogan showed favoritism towards Cruz throughout the fight.
"Joe Rogan might need to go back and watch it again to hear how biased he was commentating, I agree with you it was a good close fight but think you picked Cruz before the fight started," Dillashaw stated.
As disappointed as he was by the result, Dillashaw ultimately just wants the chance to avenge the defeat and reclaim the bantamweight title that he held and defended on two previous occasions.
As of now there's no word on when Cruz might be able to return to action while dealing with a foot injury, but Dillashaw hopes he's done enough to earn an automatic rematch when he does.
"Please Cruz, don't retire," Dillashaw said, "And give me that shot so I can get back what I believe is mine."