Tigers try to complete three-game sweep of Rays Wednesday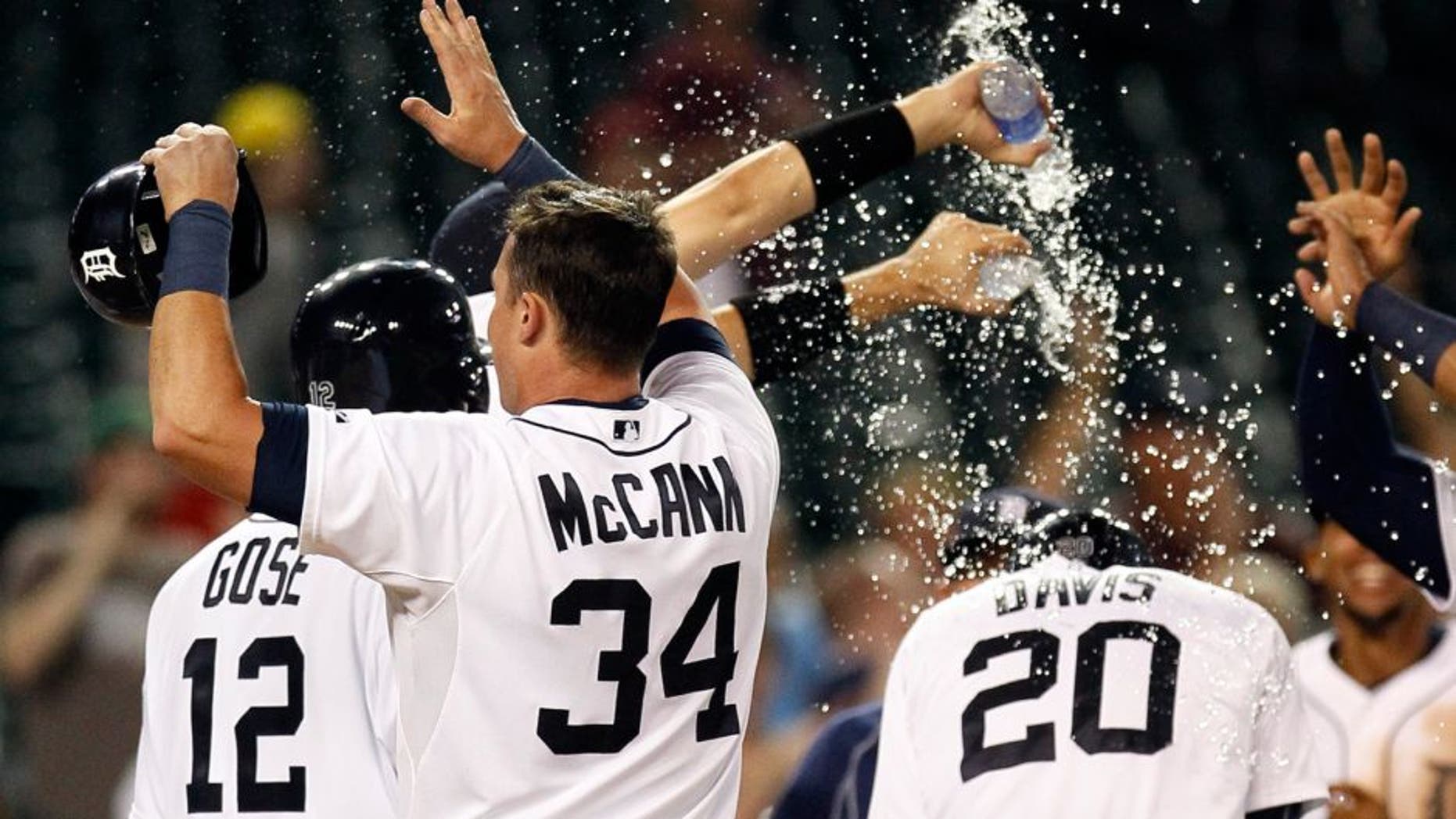 Pitching continues to fail the Tampa Bay Rays when they need it most, and Jake Odorizzi has contributed to that problem for longer than the club's six-game slide.
Another loss Wednesday night in Detroit would complete a three-game sweep, but the Tigers' starter has been even less effective than Odorizzi.
Detroit (64-74) won 8-7 Tuesday in 13 innings to send the Rays (67-71) to their third straight loss and fifth in six games. Tampa Bay's starting staff, which ranks third in the AL with a 3.68 ERA, has a 6.54 mark in the last six to drop the club 6 1/2 games back of Texas for the second wild card.
The poor pitching has wasted Evan Longoria's .409 average with four home runs and nine RBIs in those games, while J.P. Arencibia is at .440 in his last eight.
Detroit's arms have actually been worse with a 6.97 team ERA in 15 games, which helps explain why it won consecutive games for the only time over a 5-13 span.
The Tigers are now seeking a third straight home win for the first time since May 20-22, as well as a 4-2 homestand to give them their first stay over .500 since going 4-3 against the Chicago Cubs, Cleveland and Cincinnati from June 9-16.
Victor Martinez was out of the lineup for a second straight game with flu-like symptoms, but Rajai Davis homered for the third time in the series and J.D. Martinez also connected for his 36th. Dating to 1969, only Miguel Cabrera (four times), Cecil Fielder (twice), Dean Palmer, Darrell Evans and Martinez have surpassed 35 homers for the Tigers.
It was Davis who was the center of attention with the homer, a walk-off sacrifice fly, three strikeouts, a dropped routine fly ball with the bases loaded and being a part of four replay reviews.
"Everything is just blurry right now," Davis said. "I can't say that I've ever been a part of anything like that before, or even seen anything like that before."
Odorizzi (6-8, 3.35 ERA) hasn't won since July, going 0-2 with a 4.71 ERA in his last seven starts. The losses have come in his last two, and he gave up five runs and three hits - all home runs - with two walks in 6 2-3 innings of Friday's 5-2 defeat at the New York Yankees.
"Three hits, five runners, and they all scored," Odorizzi told MLB's official website. "That was the storyline. Just an odd night, but we'll move on."
That last victory July 28 came at home against Detroit as Odorizzi surrendered a run and six hits with eight strikeouts in six innings to get to 1-1 with a 2.84 ERA in two career starts in the series. J.D. Martinez is 3 for 6 against him, but Alex Aliva is 0 for 5 with three strikeouts.
Kyle Lobstein returned from the 60-day disabled list in Friday's 8-1 home loss to Cleveland and gave up six runs and eight hits in 4 1-3 innings for his fourth loss in as many starts. Lobstein (3-6, 5.02) hadn't pitched since May 23 due to left shoulder soreness and has an 8.53 ERA and .358 opponent batting average on the losing streak.
"Not very good," Lobstein said. "I fell behind too many hitters and gave them too many pitches to hit behind in the count."
The last four starts have all come at home, dropping the left-hander to 2-7 with a 5.37 ERA in 11 career starts at Comerica Park.