Tiago Splitter transitioning into familiar frontcourt role with Hawks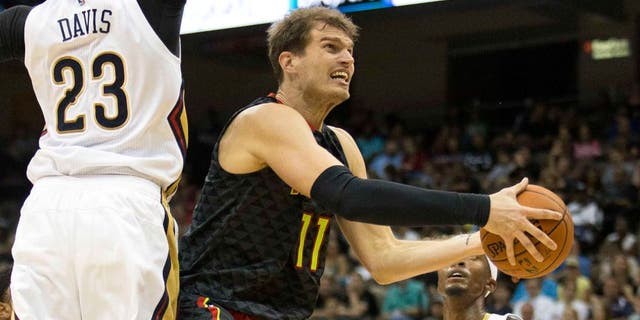 NEWYou can now listen to Fox News articles!
ATLANTA -- Tiago Splitter's past and present collided in a first-quarter defensive possession on Wednesday night. The former Spurs center entered the game and immediately found himself posted up against Tim Duncan, his former teammate and close friend, a position he'd filled on countless occasions in practice but never before in an official NBA game.
Three possessions later, Splitter once again found himself on the defensive as Duncan and Manu Ginobili attacked off the pick-and-roll for an easy runner in the lane. How many times had Splitter seen that combo, defended that exact play at the Spurs' practice facility in northwest San Antonio?
"Well, a lot," Splitter said with a smile after Atlanta's 100-86 preseason win. "Manu's great at doing that. He's one of the best in the pick-and-roll and it's hard to defend them."
After five successful seasons with the Spurs, including three conference finals appearances and one NBA title, Splitter is settling into his new role as the Atlanta Hawks' top reserve big man. The adjustment period was abbreviated due to the Mike Budenholzer's presence -- Splitter's former assistant coach who carried familiar schemes and concepts East with him -- but seeing his former teammates and coaches made for quite a different experience.
Splitter finished with three points and six rebounds in 18 minutes on Wednesday, occasionally flashing the hustle plays that earned him his high-quality reputation and made it so difficult for Spurs coach Gregg Popovich and general manager R.C. Buford to part with him in an early-offseason trade.
"You won't find him on an ESPN clip, for sure," Popovich said of Splitter, "but you'll find him on the winning side of the ledger."
The Spurs have made such decisions before in order to stay ahead of the Western Conference curve. The 2011 NBA Draft, which eventually brought future NBA Finals MVP Kawhi Leonard to San Antonio, was a particularly difficult one for Popovich and the Spurs front office. In order to land the No. 15 overall pick, the future Hall of Fame coach and Buford were forced to send point guard George Hill, Pop's self-appointed favorite player, to the Pacers.
The Splitter trade struck a similar cord -- an under-the-radar player that had grown into an integral piece of the Spurs' success -- and the move to create cap space did not come without hesitation.
"It was very difficult," Popovich said at Wednesday's shootaround. "When someone is with you for a while you get close to the family. That's the business side of the situation that shows its ugly head once in a while. If we wanted to add the talent that we added, you had to do something. You can't pay everybody."
San Antonio needed cap space, and moving Splitter's $8.5 million contract was the practical choice. It created the necessary room to land four-time All-Star big man LaMarcus Aldridge in the league's largest offseason free-agent splash.
In hindsight, the Hawks-Spurs transaction seems obvious. Budenholzer entered free agency wielding cap space with a specific need for frontcourt depth and size. On multiple occasions Budenholzer, who also serves as Atlanta's president of basketball operations, expressed his intent to shore up the team's defensive rebounding -- and a familiar name was available. The deal went down on July 1, the first day of free agency.
Popovich described it a "perfect fit for both parties."
Splitter's contract runs through the 2016-17 season at $16.75 million, a presumed bargain for the Hawks, who now feature one of the league's deepest and most versatile front lines.
"(The Spurs) always told me to do the little things, things that do not show up in the stats or is not beautiful in the highlights. You try to do everything you can to win games," said Splitter, who scored three points and grabbed six rebounds against his former team. "Sometimes it's doing that. Sometimes it's scoring 40 points. Sometimes it's rebounding 20 rebounds. Those little things count, too."
Versatility is a common theme found in Splitter evaluations, often times disguised in such clichés like "little things" and "dirty work." He sets quality picks, understands spacing, makes smart passes, defends multiple positions well and, in Budenholzer's words, is able to put constant pressure on the rim.
Limited by a calf injury last season, the 6-foot-11 big man averaged 8.2 points and 4.8 rebounds in 52 games last season -- his least productive campaign since his rookie season.
Box scores tell partial tales, though. Splitter is a difference-maker when healthy, particularly on the defensive end.
Looking back at San Antonio's back-to-back NBA Finals runs in 2013 and 2014, Splitter was a primary factor in two consecutive top-three NBA defenses. Opponents shooting percentages and offensive efficiency plummeted when he was on the floor:
| | | | | |
| --- | --- | --- | --- | --- |
| SEASON | OPP. eFG ON | OPP. eFG OFF | OPP. ORTG ON | OPP. ORTG OFF |
| 2012-13 | 46.9 | 49.0 | 98.5 | 104.4 |
| 2013-14 | 46.0 | 49.2 | 96.8 | 105.1 |
| 2014-15 | 47.7 | 48.7 | 100.4 | 102.9 |
His defensive contributions were less significant last season, but even with the calf issues he posted the Spurs' best net rating and San Antonio posted a 25-10 record with Splitter in the starting five.
"Tiago is somebody that can guard 4s and 5s. He's had experience in the playoffs guarding some of the best shooting or stretch or perimeter-oriented 4s that can play inside: LaMarcus Aldridge, Dirk Nowitzki or those guys," Budenholzer said. "So Tiago's versatility defensively is going to allow us to utilize Paul and Al different ways on the defensive end of the court."
The Hawks' self-proclaimed need for frontcourt depth is not just lip service to the Splitter acquisition. Atlanta finished 22nd in defensive rebounding percentage last season. The team's bench was exposed at times in the playoffs -- despite the team's first-ever appearance in the Eastern Conference Finals -- and it was clear that Horford and Millsap needed help.
To wit, when Atlanta's starting frontcourt shared the floor during the playoffs, regardless of perimeter complements, the team scored more than 15 points per 100 possessions more than the opposition. It was the team's No. 1 indicator of lineup success: Were Horford and Millsap on the floor? Atlanta's top three five-man lineups included the All-Star combo. When Horford or Millsap sat, the Hawks' net rating fell off, at best, by nearly 10 points per 100 possessions.
The addition of Splitter aims to correct this drop-off.
"Watching him over the past few years with San Antonio, he's been on championship teams," Millsap said. "He knows how to win games. He knows how to contribute to a team, a winning team. We know what he brings to the table."