Thunder F Kevin Durant averaging 36 points while All-Star Russell Westbrook heals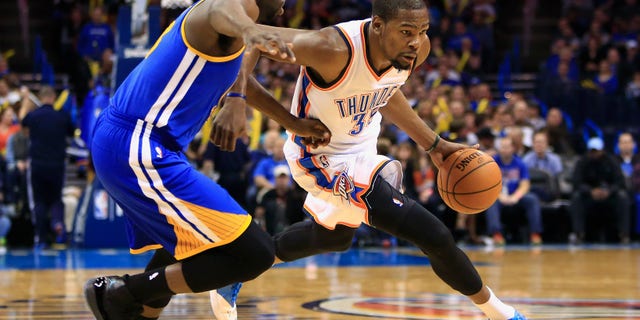 OKLAHOMA CITY – Kevin Durant is putting up points like never before, and that's quite an accomplishment for a three-time NBA scoring champion.
The 6-foot-9 forward couldn't have picked a better time to raise his level of play for the Oklahoma City Thunder. In 13 games since All-Star point guard Russell Westbrook was sidelined after surgery on his right knee, Durant has averaged 35.8 points.
Durant scored a career-high 54 points in a 127-121 win over Golden State last Friday, a performance that brought "MVP!" chants from the crowd.
Durant has pushed his league-leading scoring average to 30.6 points per game.
He will have one of his biggest stages yet when the Thunder host Portland on Tuesday night in a game between two of the league's top teams.