Throwback Closers One Of Baseball's Biggest Early Season Surprises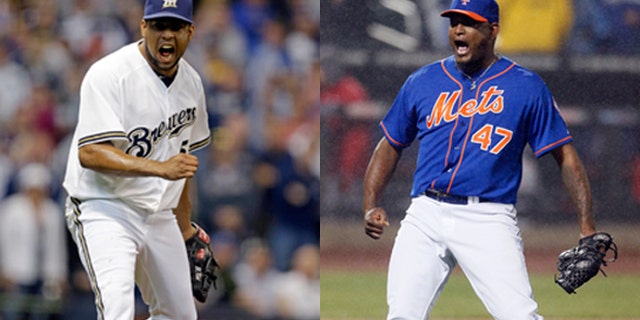 ASSOCIATED PRESS – Francisco Rodríguez has two saves, José Valverde has one — and no, this isn't a flashback to 2009.
It's just another weird week on the early-season carousel of closers.
The fickle nature of relief pitching is on full display again this April, with the Milwaukee Brewers and New York Mets among several teams scrambling in the late innings.
"Definitely it was a surprise," Rodríguez said after his opening day save for Milwaukee. "Hopefully I can go out there and get the job done every time the manager asks for me."
Jim Henderson was expected to close for the Brewers, but manager Ron Roenicke said he was struggling with his stuff coming into the season. Rodríguez had only 13 saves over the previous two years, but K-Rod has pitched well so far in 2014.
Meanwhile, with Bobby Parnell out with an elbow injury, Mets manager Terry Collins turned to the 36-year-old Valverde, who looked finished when the Detroit Tigers dropped him in the middle of last season.
"José — one thing about closers, that game can always be interesting — but I've been told by a lot of guys this guy just believes in what he does," Collins said. "He challenges people to swing the bat."
Even veterans such as Joe Nathan and Jonathan Papelbon are off to rough starts, and with Mariano Rivera in retirement, it looks as if Atlanta's Craig Kimbrel and Kansas City's Greg Holland have taken over as the game's dominant closers.
And the gap between them and everyone else may be widening.
___
Here are five things to watch around the majors this week.
JETER RETURNS HOME: Derek Jeter takes the field for what will be the retiring shortstop's final home opener at Yankee Stadium on Monday. New York hosts Baltimore three times before a four-game series against the rival Boston Red Sox.
MAKING A SPLASH: The Diamondbacks weren't thrilled when some Los Angeles players jumped into a swimming pool at Chase Field to celebrate clinching the NL West title at Arizona last season. The Dodgers return to Phoenix to start a three-game series Friday.
BILLY BALL: Speedy Reds leadoff man Billy Hamilton is having a tough time getting up and running. Cincinnati installed Hamilton as its center fielder after his eye-catching debut last September, when he stole 13 bases in 14 attempts.
But if Hamilton is going to play regularly, he'll have to get on base, and so far this year he's 0 for 12 with six strikeouts.
The Reds play a three-game series at St. Louis before hosting three against Tampa Bay.
SOMETHING FISHY?: Yes, that really is Miami sitting atop the NL East with a 5-2 record. José Fernández and Giancarlo Stanton have been excellent, but how long will the Marlins be able to stay in contention?
Miami began the season at home against Colorado and San Diego, but visits this week to Washington and Philadelphia may provide more of a test.
SLOW START: Done in by terrible starts the last two years, the Los Angeles Angels are 2-4 so far this season. Josh Hamilton's 11-for-22 start is encouraging, but Los Angeles doesn't want to fall too far behind in the AL West race. The Angels start a two-game series at Seattle on Tuesday.
STAT OF THE WEEK: The Detroit Tigers were the last team to lose a game when Baltimore knocked them from the ranks of the unbeaten Sunday. How much does Detroit's distinction really matter? It's hard to say.
Since 1995, when the postseason expanded, the last remaining unbeaten team at the beginning of the season has gone on to make the playoffs 15 of 28 times, according to STATS. That includes years in which more than one team tied for the honor of being the last to drop a game.
The best start in that span belongs to the Kansas City Royals, who won nine straight in 2003. They ended up going 83-79 and finished third in the AL Central.