This sleeping giant will emerge for the Vikings in 2015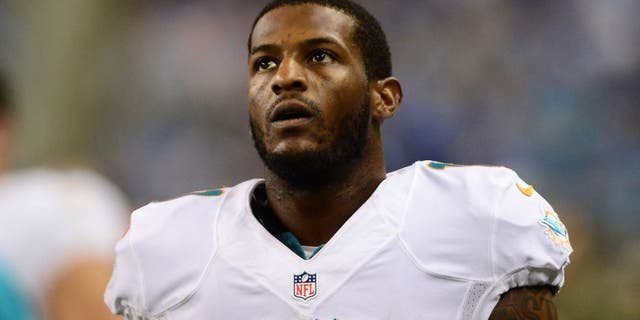 NEWYou can now listen to Fox News articles!
Who is the Minnesota Vikings' most important player when it comes to fielding a dynamic offense this season?
There's quarterback Teddy Bridgewater, of course. After an encouraging rookie season, some optimism is swirling around the Vikings' quarterback situation for the first time in a long time. Bridgewater's experience will allow him to command more of a leadership role in 2015.
All-Pro running back Adrian Peterson is back, too. He missed 15 games last season and has been waiting to make his comeback. At 30 years old, Peterson is still widely considered the league's best rusher, and he's eager to keep that common sentiment afloat as long as possible.
Hopefully, you haven't forgotten about Mike Wallace.
Wallace has been hiding under the radar for the past two seasons with the Miami Dolphins, but he's still the same speed demon who starred for the Pittsburgh Steelers. He may need to remind Vikings fans of that fact, but that's nothing new for him.
"I always feel like I got something to prove, Miami or no Miami, but even more so coming from that," Wallace told Brian Hall of FOX Sports North last month. "I think I had a pretty decent year last year. It didn't end the way I wanted it to, obviously. But we could always get better. I think this is a better place for me, more opportunity to do the things that I'm good at."
Wallace's stint with the Dolphins was less than spectacular. He signed with the team in 2013, expecting to reach a new level of stardom in South Beach. Instead, the receiver fell short of 1,000 yards each of the last two seasons, as he and Miami quarterback Ryan Tannehill could't seem to click.
Wallace's production never reached the levels he experienced in Pittsburgh. During his first two NFL seasons, he was a downfield rocket who averaged more than 20 yards per reception. In 2011, the former third-round draft pick made his only Pro Bowl appearance.
Comfort goes a long way when it comes to keeping a star pass-catcher happy. The Steelers were able to put Wallace in a successful situation, while the Dolphins were not. Already, it sounds like the Vikings are well on their way to creating an environment in which Wallace can thrive.
"The guys are real cool," Wallace told FOX Sports North. "The coaches, I love Coach (Mike) Zimmer. Fired up and everything, just like Coach Norv (Turner) but a little different. My coach (wide receivers coach George Stewart), I think I have the greatest group of coaches on the team all together, just the people I have to be around is fun. They keep it exciting every day."
Even though Wallace's yardage numbers took a hit while in Miami, his scoring statistics remained impressive. He caught 15 touchdown passes as a Dolphin, and last season he tied a career-high with 10. When the Vikings traded for the 28-year-old earlier this offseason, they had no doubt about him as a scoring threat.
"He's a playmaker," offensive coordinator Norv Turner said of Wallace, via Vikings.com. "The more guys you have that can make big plays and score touchdowns -- he caught 10 touchdowns last year. I laugh when people talk about [how] he wasn't successful in Miami. He was a very productive player and did the things they asked him to do."
Wallace, who's approaching 50 career touchdown catches, will try to reestablish himself as one of the league's most threatening wideouts this season. Finally content in a balanced offense, paired with a promising passer and ready to replicate past success, there's nothing stopping the receiver from enjoying his best year to date.
Minnesota has acquired a sleeping giant in Wallace, and he's bound to emerge in 2015.
Photo Credit: Andrew Weber/USA TODAY Sports