The people's choice: Here's who folks want to play RB for Oklahoma State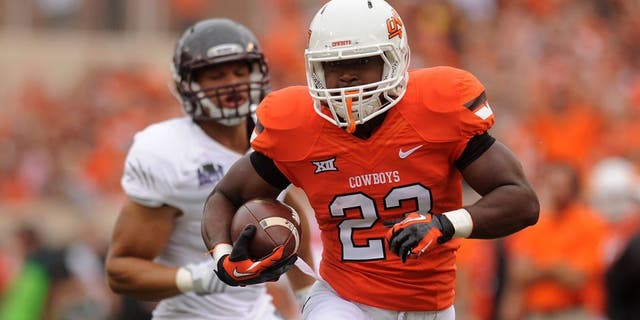 Rennie Childs has struggled to seize the starting running back role for the Cowboys. Mark D. Smith The Daily Oklahoman
On a per rush basis, backup quarterback/situational asset J.W. Walsh has been Oklahoma State's best runner so far. It's a nice contribution to get from an unlikely place, but the Cowboys could be much more formidable on offense if they had more success running the ball in the traditional way.
Rennie Childs has struggled gaining traction, as has Chris Carson. So who is the people's choice to play running back for the Pokes?
That would be Raymond Taylor.
The walk-on scored two touchdowns against Texas Tech and looked outstanding doing so. Take a look at The Daily Oklahoman to see why Taylor might be OK State's best option moving forward.
(h/t Daily Oklahoman)