The Other Football: Group wants Kofi Annan to lead FIFA reform committee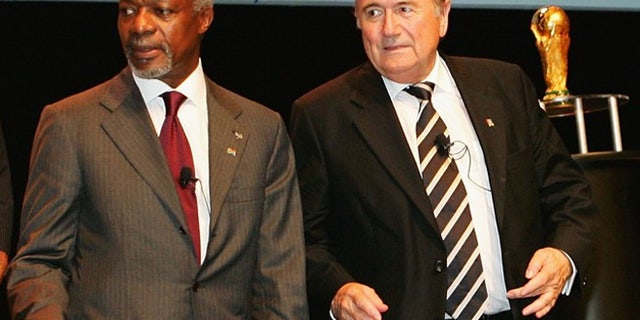 It's like having the fox guard the henhouse – at least if you want to listen to one of the most prominent groups fighting for reform at FIFA. "Reform FIFA Now," has raised the odd idea of having former U.N. Secretary General, Kofi Annan, lead an independent reform process at soccer's governing body, FIFA.

The call for Annan's inclusion into the sport came the same day that FIFA's executive committee announced February 26, 2016 as the date for its presidential election, which will see the end of Sepp Blatter's controversial, nearly 18-year reign.

Reform FIFA Now co-founder, Jamie Fuller, said this week during a news conference in Zurich that "We are calling for Kofi Annan to come into this mess and take control of the reform process," according to Reuters news agency.

Adding to the calls for Annan's inclusion to lead a reform process at FIFA was Tim Noonan of the International Trade Union Confederation (ITCU) who told reporters at the press conference that his organization had spoken to Annan and that he was open to listening to "receiving a proposal." Noonan noted that "the initial contact had been made." Reuters reported.

Noonan's ITCU had led the way in exposing Qatar's retched labor laws which have seen the deaths of hundreds of migrant laborers whose slave-like working conditions have been exploited to build Qatar's World Cup infrastructure.

Some experts believe that if FIFA were to ask Annan to join such a reform committee it would be self-serving. One such person is Nile Gardiner, a United Nations expert and director of the Margaret Thatcher Freedom Center at the Heritage Foundation in Washington D.C.

"FIFA is very much like the U.N. in many respects, both organizations need to be fundamentally reformed and made more accountable and transparent," he said. "So for the FIFA status quo, it's easy to see why they would welcome (him) with open arms because Kofi Annan simply would not be up for the task of changing the culture within FIFA."

Gardiner told Fox News Latino that the idea of having Annan is a strange one given his less than successful time while leading the world body.

"I think that Kofi Annan, despite his less than dazzling track record, remains admired by the elites of big international organizations," he said. "FIFA needs a figure who is willing to implement far reaching reforms including basic transparency and accountability and there is no evidence whatsoever that Kofi Annan is able to deliver on that."

But Ted Westervelt, a soccer analyst who runs the website soccerreform.us, thinks Annan's resume could be a plus.

"I think that the best person to run a reform effort at FIFA would be someone who is completely independent of FIFA, and yet had a pretty good idea about international structures and obviously the game itself," he said. "Kofi has some connections, from what I understand, and perhaps he's not the greatest guy for the job, but it's tough to find someone who fits that mold perfectly."

Westervelt said that former Republican Presidential candidate Mitt Romney might be a good candidate given his independence from FIFA and his previous success in sports. Romney notably resurrected the 2002 Winter Olympics in Utah after he came to save it from a corruption scandal.

"A lot of people would put his name forward because of what he did for the U.S. Olympic committee and say that he's the right guy to straighten this out," he said.

Westervelt mentioned Michael Garcia, the U.S. lawyer and former federal prosecutor FIFA hired to investigate claims of corruption over the 2018 and 2022 World Cups in Russia and Qatar. Garcia resigned in disgust at the handling of his report by FIFA officials in December 2014.
If Garcia is not interested then fine, but he should be publicly asked first by FIFA. Many say someone of Garcia's stature and independence, and not Kofi Annan's, will secure that it's not politics as usual at FIFA.