The <i>Other</i> Football: FIFA playing a not-so-beautiful game in corruption scandal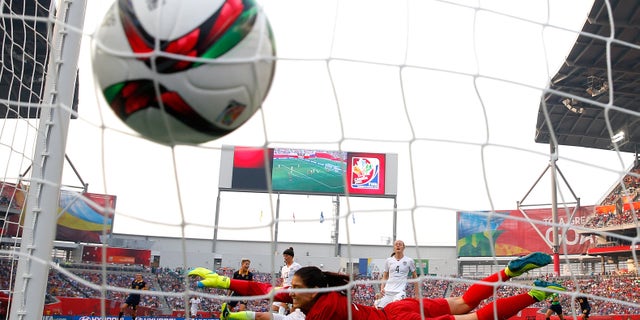 As far removed as FIFA headquarters in Switzerland and the corruption charges levied against the global soccer governing body may seem to be from youth soccer here in the United States, the fallout could well adversely affect the game for our youngsters.
If the reaction on my turf on New York City's Staten Island is typical of those across the country for US Youth Soccer's three million-plus registered players, the allegations will strike a lot closer to home than we may like.
"The scandal undermines our efforts," Anthony Mauriello, director of coaching at SJST Soccer on Staten Island, told Fox News Latino. "We teach that success can be obtained through hard work and dedication. These lessons are forgotten when unethical actions are brought onto the pitch."
US Youth Soccer registration rose by only about 200,000 from 2013-2014, and while many of us in the soccer trenches think it could have gone up by more, Mauriello said he did not expect youth participation to suffer as a result of the FIFA scandal.
"Thankfully, [the kids] do not understand and just want to play," he said.
But those who get what has been unfolded within FIFA – coaches and parents – might take a different approach.
"Youth coaches take pride in their teams and volunteer countless hours developing players in order to get them to the next talent level," Mauriello said. "If coaches lose faith, then the game may lose those who are willing to develop our youth."
Over at the Silver Lake Soccer Academy, also on Staten Island, the president, Frank Cannizzaro, said the FIFA scandal should be seen as an opportunity.
"We need to address the scandal with our players and make them aware of right versus wrong because, at various times in their lives, they will need to choose between the right path and the wrong path," he said.
"We want them to work hard and to play fair in pursuing soccer goals and any other goals they establish in life," he added. "Unfortunately our society is plagued by corruption , where people fail to honor these values. And the FIFA scandal is just another poor example for our kids."
The players for the team that I coach in the Staten Island Youth Soccer League – the under-9 Panthers – had some thoughts on the scandal.
"They are doing bad things by stealing money from the fans," one of my lads, Leeran (as with all the kids quoted here, his last name is withheld), told me after our 2-2 draw Sunday against the Hurricanes.
His teammate Angelo said, "All the money they get back should go to support youth leagues."
Jacob – who happens to also be my 8-year-old – chimed in, "All of us kids want to be professional players, but hearing that FIFA did something very wrong is upsetting because they are making soccer look bad."
Pure philosophy poured from the lips of 9-year-old Shane De Lacy, player for Staten Island's Holy Child F.C.
"They call it 'the beautiful game' for a reason – because it's the poor and rich," he said. "It's a game they can play together. If they are taking away funds that could help the poor play soccer, you can't really call it the beautiful game anymore."
You can't get more poignant than that!
Video of the week
Awesome back heel volley from Croatia's Mateo Kovacic in his country's 4-0 win against Gibraltar.
From the wires
The Mexican Soccer Federation is investigating national team coach Miguel Herrera and two players over politically tinged tweets sent the day of the country's recent elections.
The federation said in a statement issued Monday night that it will evaluate whether Herrera, striker Oribe Peralta and midfielder Marco Fabian violated its code of ethics, which calls for "maintaining a neutral position on matters of a religious or political nature."
Local media reported that they face possible fines.
Herrera, affectionately known by his nickname, "the Louse," is famous for his exuberant sideline displays during last year's World Cup in Brazil.
But he drew a backlash for tweets backing the Green Party, which ran a slick advertising blitz and was fined millions of dollars for violating campaign laws.
"Don't forget to vote, let's go with the Greens," and "The Greens fulfill" their promises, Herrera said Sunday on Twitter. Green is traditionally the Mexican national team's color, but the "The Greens Fulfill" was a party campaign slogan.
Electoral law forbids campaigning by parties on election day, but Green Party officials said they had nothing to do with Herrera's tweets or a series of very similar messages sent by a variety of television and music stars.
Herrera was defensive about the tweets at a news conference Sunday, after the national team lost 2-0 in a friendly match with Brazil.
"I'm a human being, I'm a normal Mexican citizen, with statements that I can make in social media," Herrera said. "It's simply a personal situation."
Peralta, who plays professionally for Club America of Mexico City, sent tweets urging Mexicans to vote using the hash tag #PonteDeVerde, which translates as "wear green" and was used by others to promote the party. "I want a #GreenMexico!" he tweeted Sunday.
Fabian, of Guadalajara's Chivas, retweeted Herrera and also posted one of his own using the #PonteDeVerde tag.
The Associated Press contributed to this report.