The <i>Other</i> Football: From the high to the low, the Copa América has had it all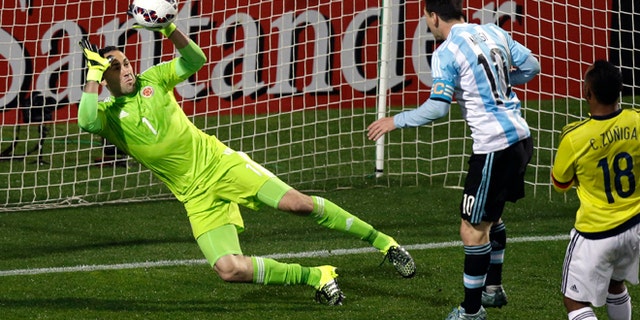 Going into this week's Copa América semifinals and finals we've so far seen some amazing goalkeeping, terrible penalty misses, tattoos, weird haircuts, an unorthodox prostate inspection and high ratings for new tournament broadcaster, the Qatari company, beIN Sports.
Saves by Colombia goalkeeper David Ospina in its quarterfinal loss to Argentina have to be contenders for the best of the tournament, if not the decade. Ospina's fist big effort kept Argentina out with a great double save – first a Sergio Agüero shot that he went to the ground to stop, parrying it into the air right to an oncoming Lionel Messi, who headed the ball at a seemingly open goal, but for Ospina, who shot up off the ground and turned the ball away.
Ospina's best save came towards the end of the game when he managed to tip a Nicolas Otamendi shot off a corner kick into the post to avoid what had looked to be the sure game-winner.
All this in a week when Ospina's English team, Arsenal, signed outgoing Chelsea goalkeeper Peter Cech! Wonder if Cech now regrets going to Arsenal? And if Arsenal regrets signing him after Ospina's prodigious display?
Thanks to Ospina's heroics, the game went to a penalty shootout, but this time the Colombian goalkeeper's magic wasn't enough. Argentina' s Carlos Tevez slotted in the 14th penalty of the shootout, making it a 5-4 sudden death victory.
Excitement aside, I just don't know how Colombia's Luis Muriel and Jeison Murillo missed their penalty kicks so badly: both sky-rocketed their shots over the goal in what looked like American Football extra-point kicks.
Call me a puritan, but what's up with the crazy amount of tattoos and bizarre hairstyles on display this Copa?
Peru's Paolo Guerrero offers a good example of both, with his mop-head and too much body art. It shows just how much influence David Beckham has had on the game – both on the field and off at the hair and tattoo parlors.
Arriving home from work, after avoiding any mention of the quarterfinal game between Chile and Uruguay, I sat down to watch it on my DVR.
Thankfully, I had sent my kids to bed by the time the 60-minute mark was upon us, as what unfurled next would bring great shame on host nation team Chile.
The red card that Brazilian referee Sandro Ricci showed to Uruguay's Edison Cavani for, it seemed, a push that downed Chile defender Gonzalo Jara was only half the story.
As the replay of tournament broadcaster beIN Sports proved to anyone who'd doubted their eyes, Cavani had reacted to Jara's finger having just pressed its way into his hindquarters.
Cavani's "shove" had taken the form of the lightest of touches, but Jara – who'd acted with such determination just moments earlier – fell down like a swatted fly and in doing so got Cavani sent off.
Reports in Germany said his present employer, Bundesliga team Mainz, made it clear Jara can be had if an offer comes in for him.
Fox Sports quoted Colombia coach José Peckerman as saying that Jara's actions had tarnished the image of the sport in front of a global audience.
"Football is a sport that the whole world watches," he said. "There are certain rules that must be respected."
Argentina coach Gerardo Martino called it "shameful."
For his troubles, Jara will now miss the next two games for Chile, which rules him out of his country's semifinal match against Peru. Jara was reportedly fined a measly $5,000 by CONMEBOL, the organization that oversees the Copa América.
Here's hoping for a great rest of tournament, and a tip of the hat must go to beIN Sport commentators Phil Schoen and Ray Hudson for keeping us all so well informed and entertained.
The ratings don't lie – the channel's latest viewing numbers according to Nielsen have them at nearly 14 million overall viewers for its Spanish and English channels during the group stages of the tournament.
Video of the week
Watch the drama of the Argentina v. Colombia penalty shootout:
From the wires
Bradley Wright-Phillips started the comeback with an early second-half goal, and the New York Red Bulls stormed past New York City FC 3-1 on Sunday.
Last year's Golden Boot winner made it 1-all in the 47th minute, ending his six-game scoreless drought with a left-footed volley.
Chris Duvall added another for the Red Bulls (6-5-5) in the 52nd minute and Matt Miazga capped the scoring with a header in the 73rd — each their first career MLS goals.
Thomas McNamara gave expansion NYCFC (4-8-5) the lead in the sixth minute, setting up his own half-volley with a chest trap off Andrew Jacobson's header.
The Red Bulls had their first three-goal performance of the season and snapped NYCFC's three-game winning streak in a featured matchup of MLS Rivalry Week. It was only the second meeting between the teams.
European club stars Frank Lampard and Andrea Pirlo were in attendance at Yankee Stadium along with an official sellout crowd of 48,047. NYCFC confirmed that Lampard's debut will be in a July 12 matchup with Toronto FC. And Pirlo's presence fuels the recent speculation that he will be signing with the club later this week.
Like us on Facebook
Follow us on Twitter & Instagram