The Hitlist: The Top 5 Moments from UFC 192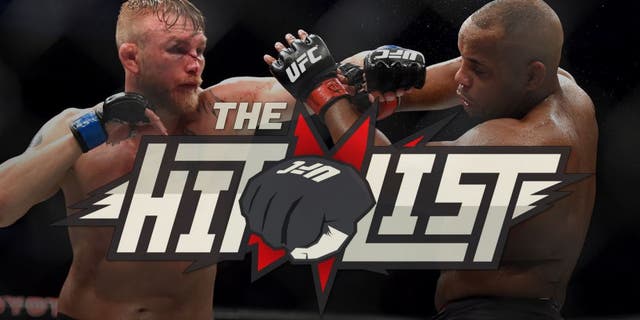 NEWYou can now listen to Fox News articles!
One of the year's deepest cards turned out to be even better than promised, Saturday in Houston. Daniel Cormier showed guts, and Alexander Gustafsson gave a challenging effort worthy of gold even as he felt short in the judges' eyes.
Read on to find out our five favorite moments from the UFC pay-per-view card, and then let us know yours on Facebook and on Twitter!
Gustafsson's wrestling
We've already written why, despite another title decision loss Alexander Gustafsson has earned the right to be considered a true champion. That's something he'll carry with him to his grave, like all champs, and it has to do more with internal fortitude than his vast skillset.
However, goodness gracious the kid has a great skillset. A few years ago, the way to beat the dangerous striker was to take him down and submit him, if you could (the way his future teammate Phil Davis did).
Since at least 2013, however, Gustafsson has been a complete fighter. That includes some of the best defensive and offensive wrestling in the sport of MMA.
Gustafsson took Jon Jones down repeatedly in their title fight two years ago, and defended lots more from the then-champion. Saturday, Gustafsson won the wrestling battle against Daniel Cormier - the two-time Olympic wrestler.
Gustafsson was scooped up and slammed in the first round, then kept Cormier at bay for the rest of the fight in the grappling department, while scoring two takedowns of his own.
Fighters like Gustafsson and retired former welterweight champion Georges St-Pierre show what can be done with dedication and hard work. Neither were wrestlers from childhood as Cormier and Jones were (or Matt Hughes, Josh Koscheck and many GSP opponents), yet they worked on their wrestling until they became as dangerous as anyone in the UFC.
Daniel Cormier finishing hard
In the first round of his UFC 192 title defense against Alexander Gustafsson it appeared as though Daniel Cormier may run through the challenger. Cormier took Gustafsson down and controlled him on the mat with a smart and perfectly executed strategy.
Then, things got real hard for Cormier. He was taken down, dropped with strikes, bloodied, and he's pretty sure he broke his foot.
Still, the champion fought on and fought well. In fact, heading into the fifth round, it appeared as though the fight may be up for grabs.
Both men fought gamely in the final period, but it was Cormier who pressed just a bit harder and who was a bit more active in the fifth. However you scored the fight, Cormier showed that he wants to hang on to his belt badly, and that he's capable of doing so.
Rose Namajunas' return
On Saturday, the young former title challenger finally got to compete again for the first time since losing a strawweight-championship fight to Carla Esparza in 2014. She had a tough task in doing so against her friend and dangerous striker Angela Hill.
Namajunas looked smooth and unburdened, just as she and her team had hoped she would be, and nimbly transitioned from position to position in their fight until she locked on a finishing hold. Folks insist on calling Namajunas a striker, and she's got ability on her feet to be sure, but she's downright nasty on the ground.
Namajunas is still very young and should take her time climbing the 115-pound title mountain, but her submission abilities make her a threat against anyone in the division, right now. No one can afford to slip against Rose Namajunas.
No one.
Julianna Pena vs. Jessica Eye
This was a great fight in large part because both women showed that they could survive and excel in the other's area of strength. Pena stood and struck with Eye and found success.
Eye wasn't afraid to grapple on the feet or the ground with Pena, and even threatened with submission attempts. In the end, Pena got the nod, but Eye should still be considered a top contender.
Pena is rough on her feet, still, but she's a lot smoother than she was in her previous fight, in April. She can do damage on the ground against anyone, though.
After her decision win, Pena called out champion Ronda Rousey, again. She may not be ready for the Rowdy One, but frankly, no one is.
If Pena keeps on winning, she'll force people to consider her a title contender soon enough. Until then, she's just got to keep on being herself, even if that means advocating for women in a sport and world where they are undervalued and underpaid.
Jon Jones telling the world he wants back in
To be clear - actions speak louder than words. To that end, Jon Jones has already shown that he is motivated to return to fighting by staying in shape in between fights, suspensions and court dates.
However, it was good to see him express interest in fighting again on social media after UFC 192. Because it was Jones, he did it in a corny, self-absorbed, and juvenile way (shirtless selfie videos, immediate deletions, etc.), but when Jones complimented Cormier on his heart and said he's missing competition on social media, it was still noteworthy.
Here's hoping Jones really is motivated not just to fight again, but to fight the little daily battles he'll need to in order to change himself and his life so that he doesn't yet again get in his own way again and take away his ability to do so.