The Dennis Rodman Diaries: A Brief History Of One NBA Great's Weirdest Moments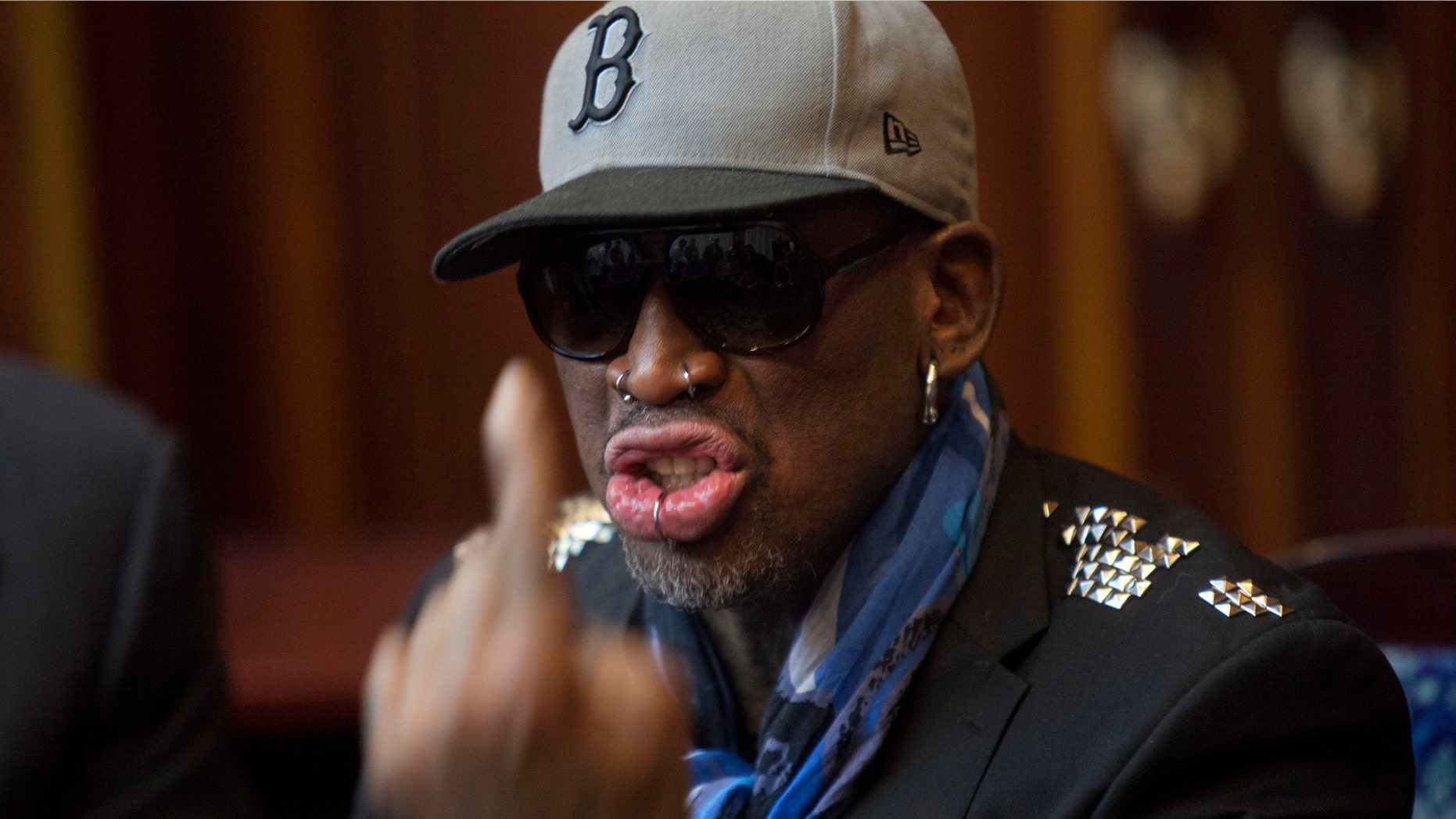 NBA Hall of Famer Dennis Rodman is in North Korea this week with a group of former pro basketball stars to play exhibition games against the rogue state's national squad to celebrate the birthday of strongman Kim Jong-un. From declaring in 1987 that Larry Bird was "overrated" because he was white to wearing a wedding dress to promote his 1996 biography "Bad as I Wanna Be" to saying that North Korea "isn't that bad" on Tuesday, Rodman has never shied away from the outrageous.
Here are some of our favorite moments in the public life of the man they call "The Worm."
May 1987 - "I think [Larry] Bird is way overrated," the Detroit Pistons forward tells reporters. When asked why he's so highly regarded, Rodman answers, "Because he's white."
Apr. 1993 – In an attempt to get himself traded, Rodman begins taking his shoes off on the Pistons bench, sometimes reading a magazine. He is fined repeatedly by the team for his behavior.
Apr. 1994 – Rodman, then with the San Antonio Spurs, announces that he and girlfriend Madonna are in Atlanta shopping for a house. Not remotely true, publicists for both stars rush to say.
Aug. 1996 – Rodman makes a publicity appearance at Rockefeller Center in New York dressed in a peroxide blond wig and a $10,000, floor-length wedding dress.
Jan. 1997 – Rodman kicks a courtside TV cameraman and is suspended for 11 games.
Mar. 10, 1997 – Rodman begins a mercifully brief, largely unsuccessful second career as a professional wrestler.
Mar. 22, 1997 – Rodman collects a triple crown of Golden Raspberry Awards – for Worst New Star, Worst Supporting Actor, and Worst Screen Couple (along with Jean-Claude Van Damme) for his terrible performance in "Double Team."
June 1998 – The Chicago Bulls beat the Utah Jazz in the NBA Finals, giving Rodman his fifth championship ring. Three with Chicago, two with Detroit.
Nov. 1998 –Rodman marries actress Carmen Electra at the Little Chapel of Flowers in Las Vegas while visibly drunk. It's Rodman's second marriage, Electra's first. Neither wore a wedding dress; Rodman opted instead for something that resembled a blue military uniform.
Apr. 1999 – After 6 months, Electra files for divorce for "irreconcilable differences," which doesn't prevent them from continuing their relationship sporadically in the months that follow.
ov. 1999 – Rodman and Electra are arrested in a Miami hotel for misdemeanor battery of each other after a domestic dispute. Each is released after posting $2,500 bail.
Mar. 7, 2000 – Rodman plays his final NBA game for the Dallas Mavericks, scoring 2 points and pulling down 15 rebounds. The next day, Dallas releases him. "I think it's an injustice because I'm me, Dennis Rodman," he tells reporters. "It's like being blackballed. I've done so much for this league and people want to see me play. I don't get it."
2005 – Rodman poses naked for a PETA ad campaign against wearing fur, the first man to do so.
May 2009 – Rodman's erratic behavior on "Celebrity Apprentice" leads family and friends, including his former coach Phil Jackson, to stage an intervention for alcohol abuse. This, in turn, leads to further reality TV appearances in the third season of "Celebrity Rehab With Dr. Drew" and the second season of "Sober House."
2012 – Divorce court filings indicate that Rodman owes $860,000 in child support to his estranged third wife, Michelle Moyer.
Feb. 2013 – Rodman makes his first trip to North Korea, where he becomes one of the first Americans to meet Kim Jong-un. Rodman declares him "a friend for life."
Jan. 2014 – He makes his third trip to North Korea, taking with him a squad of former NBA players that includes Kenny Anderson, Charles Smith, Vin Baker and Cliff Robinson to play exhibition matches in honor of Kim's birthday. Questions about an imprisoned American, Kenneth Bae, prompts an explosion from Rodman. "I don't give a rat's ass what the hell you think," he tells a reporter.