The definitive Michael Phelps bio: All you need to know about the greatest Olympian ever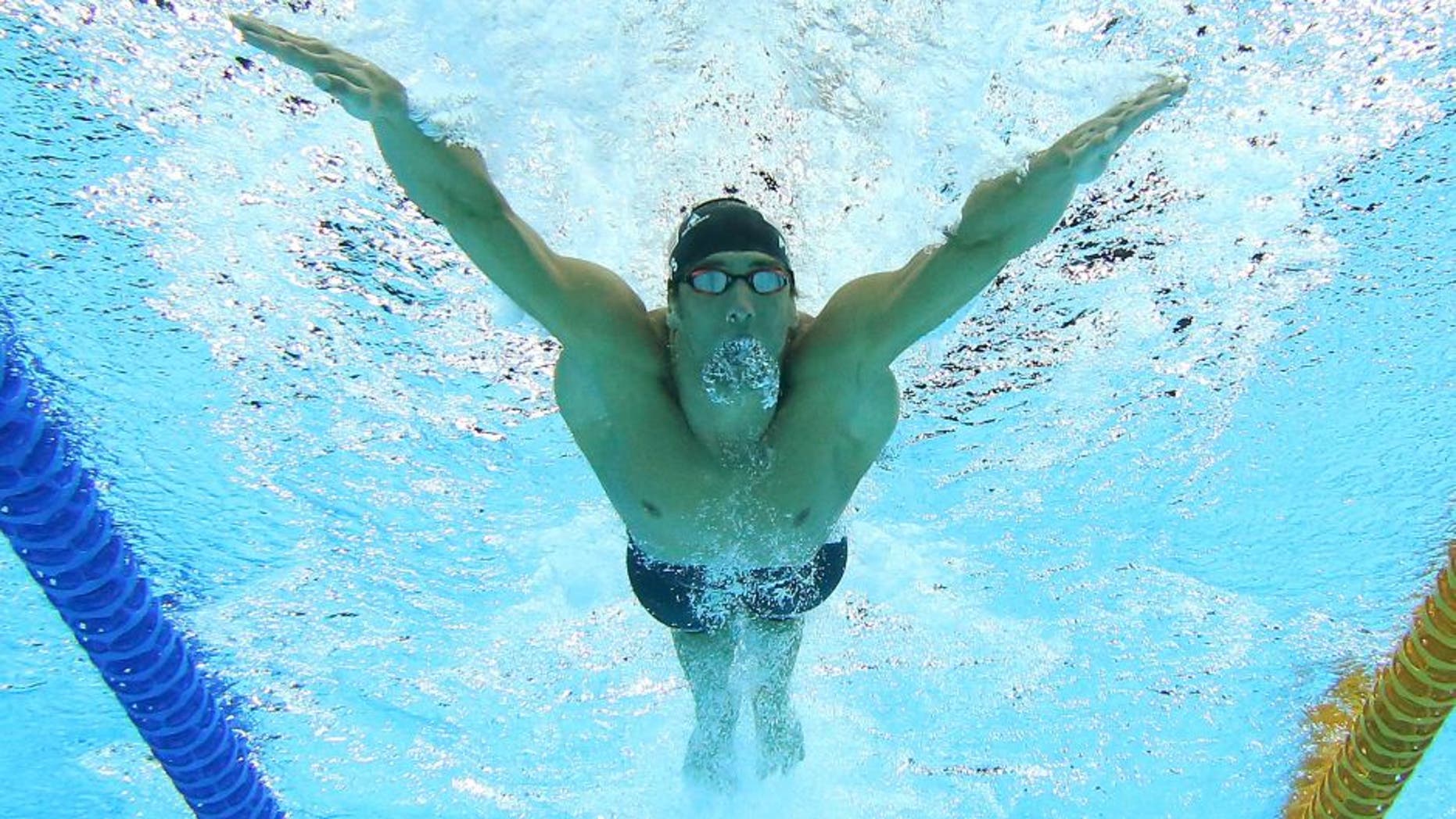 Any Olympic fan should know the Michael Phelps story well, as he's been the biggest star of the past four Olympics and the rare Olympian who stays in the public spotlight (not always for positive reasons) in the years between the Summer Games. As Phelps embarks on his final Olympic journey, starting with Sunday night's 4x100 freestyle relay and ending one week from tonight (Aug. 14) with the 4x100 medley, here's a refresher on all things Michael Phelps.

Age: 31
Hometown: Baltimore, MD
Club: North Baltimore Aquatic Center
Coach: Bob Bowman (United States swimming men's head coach, 2016)
Olympic medals: 22 (18 gold, 2 silver, 2 bronze)
World championship medals: 33 (26 gold, 6 silver, 1 bronze)
Olympic events (prior to 2016): 24 - He's only failed to medal in two events; his first race, as a 15-year-old, in Sydney's 2000 Games and in London, when he finished a stunning fourth in an event he dominated for a decade, the 400 IM. His Olympic history:
2000 Sydney (15 years old - youngest American male Olympian in 70 years)
5th place: 200m butterfly
2004 Athens (19 years old)
GOLD (1): 100m butterfly
GOLD (2): 200m butterfly
GOLD (3): 200m IM
GOLD (4): 400m IM
GOLD (5): 4x200m freestyle relay
GOLD (6): 4x100m medley relay
BRONZE: 200m freestyle
BRONZE: 4x100m freestyle relay
2008 Beijing (23 years old)
GOLD: (7): 200m freestyle
GOLD (8): 200m IM
GOLD (9): 400m IM
GOLD (10): 100m butterfly
GOLD (11): 200m butterfly
GOLD (12): 4x100 freestyle relay
GOLD (13): 4x200 freestyle relay
GOLD (14): 4x100 medley relay
2012 London (27 years old)
GOLD (15): 100m butterfly
GOLD (16): 200m IM
GOLD (17): 4x200 freestyle relay
GOLD (18): 4x100 medley relay
SILVER: 200m butterfly
SILVER: 4x100 freestyle relay
4th place: 400m IM
World records set: 37 (29 individual, 8 relay)
Current world records: 7
400m IM (2008 Olympics)
4x100m freestyle (2008 Olympics)
200m butterfly (2009 world championships)
4x200 freestyle relay (2009 world championships)
100m butterfly (2009 world championships)
4x100 medley relay (2009 world championships)
Record facts
The 2009 world championships were the only major meet at which non-textile suits were used and legal. Of the 16 men's Olympic races, 10 have world records set in 2009.
Phelps is the youngest swimmer to break a WR, when he set the 200m fly mark as a 15-year-old.
With 18 gold medals, Phelps not only has the Olympic record, he has twice as much as the handful of athletes in second place with nine golds.
In London, Phelps set the world record for most medals won by an athlete in an Olympics. He now has 22. Soviet gymnast Larisa Latinya is second, with 18.
One of the most clutch athletes ever
Phelps won the 100 fly in Athens by 0.05. In Beijing, he was dead in the water, behind Milorad Cavic at the flags and looking like his quest for eight gold medals would fall two short. Then Phelps took a crazy half-stroke that appeared to be totally unadvised. Somehow he got to the wall first to win by 0.01 seconds, the closest finish in Olympic history. And then, of course, Phelps was part of a relay that would turn out to be the greatest comeback in the history of swimming. We all remember anchor Jason Lezak diving in 0.59 seconds behind world-record holder Alain Bernard, a margin which would be impossible to overcome. Or so we thought. Lezak hung with Bernard on the first 50, swimming in his wake, but at the 60-meter mark any comeback looked done. On NBC, Rowdy Gaines was already mourning Phelps' lost chance at eight gold medals. Before he was done with that sentence, Lezak kicked it into gear right around the time Bernard began to tire. For the last 35 meters, Lezak chased him down, only passing him on the final stroke to give the Americans a stunning 0.08-second win. (We describe things as "stunning" a lot. This was even more than that. This was literally unbelievable.) Lezak had swum the fastest replay split in history. What we forget is that Phelps ledoff the relay with an American record 47.51, a time that was just 0.01 seconds off a world record. Of course, one lane to his left, Eamon Sullivan of Australia actually broke the world record, but the fact that Phelps was able to stay within three-tenths of Sullivan was a victory that helped lead to the victory.
Family life
Phelps' mom, Debbie, a former school principal, is at every major competition Michael swims, usually accompanied by Phelps' two sisters, Whitney and Hilary. Since the last Olympics, the Phelps contingent has grown by two: His fiancee, former pageant queen Nicole Johnson, and their three-month old son, Boomer, who is already famous for his dapper duds and the noise-cancelling headphones he wears to block out the loud cheers that come whenever her father swims.
Retirement
Before the London Olympics, Phelps stated it would be his final competition. He kept saying this throughout the Games and, after his final race, appeared relieved that his swimming career was over. It was clear that it wasn't. Phelps was too young, too good and making too much money. What he needed was a break and he got a deserved one. He made his return in 2013.
Troubles
Phelps most infamous moment came after the 2008 Olympics when a picture of him holding a bong to his mouth - right as he appeared to be taking a hit - appeared in a British tabloid. Phelps accepted responsibility for the incident, which happened at a house party at the University of South Carolina - and was suspended in addition to losing a key sponsor - Kellogg's.
After his breakout Athens Olympics in 2004, Phelps was arrested for a DUI nearby his Baltimore home. That story made waves but not nearly as much as Phelps' second DUI, which came when he was speeding in a Baltimore tunnel with a BAC almost twice the legal limit. He pled guilty and accepted probation. At the time, Phelps said he was in a "downward spiral" and was thankful that the second DUI snapped him out of it. He went into rehab for 45 days and hasn't had a drink since.
After the DUI, Phelps was suspended for six months by USA Swimming. Also, even though the suspension had lapsed months earlier, Phelps was also kept out of last year's world championships. It seemed unfair but I think it was the best thing that could have happened to Phelps. It seemed to sharpen his focus on Rio and he was able to send loud messages to his competitors from afar. After his key rivals won golds in Russia at the world champs, Phelps, who was swimming in an event at the same exact time, would go out and beat those times hours later.
Training
From 1998 until the day after the Athens Olympics, Phelps says he never took a day off, whether it be practicing in the pool or doing dryland work. In the Beijing buildup, he compromised with Bowman for a still-rigorous, but less-crazy, program. And then Beijing happened. What do you do when you peak at age 23? How do you handle becoming the greatest Olympian in history and trying to live up to that at the next Games? Not well. Phelps was lackadaisical in the lead-up to London and says he "didn't care" about those Olympics, which makes his 4 gold, 2 silver performance all the more impressive. Since his comeback, he's down to two-to-four hours per day. It's been different this time around with new goals, a new mentality and a new outlook on life.
What does he listen to before his races?
The headphones Phelps wears as he walks on deck before a swim are practically part of his uniform. What does he listen to? It's pretty much the playlist you'd expect from someone who was a teenager from 1998-2004. There's a lot of hip-hop, including some Eminem classics (he played 'Til I Collapse before winning one of his golds in Beijing). Now the list has evolved a bit, with Lil' Wayne, Aviici and, I'm guessing now, Drake (though maybe not - if high BPM is the goal, some of Drake's ballads wouldn't theoretically work.)
Does he really eat 12,000 calories a day?
In the summer of 2008 you couldn't flip open the computer without seeing a different story about the non-human regimen of Phelps. The most popular one became his insane diet, which reportedly had him eating 12,000 calories a day. (To put that into context, you could eat 10 Big Mac Extra Value meals - including fries and a Coke, to use an example from major Olympic sponsors - and still not hit 12,000.) Phelps has denied this in a roundabout way. Now, Phelps is into grilling, Mexican food and lean protein.
What's going to happen in Rio?
For an in-depth look, check out our Phelps preview. But, long story short, Phelps is a contender for five golds in his six races - assuming he swims Sunday night's 4x100 freestyle relay, which he almost certainly will. But it's that race - the sprint freestyle relay - in which Phelps and Team USA don't have much of a chance at gold. He's considered a shoo-in for the 200 IM (I'm less confident) and the other two relays and will have dogfights in both of his butterfly events, with South Africa's Chad Le Clos in the 100 and 200 and Le Clos and Hungry's Laslo Cseh in the 200. Our final prediction was four golds, two silvers.
What's next for Michael Phelps?
These next eight days are what's next. After that, Phelps will have plenty of time to figure out the rest of his life.