The Buccaneers got the steal of the NFL Draft in TE O.J. Howard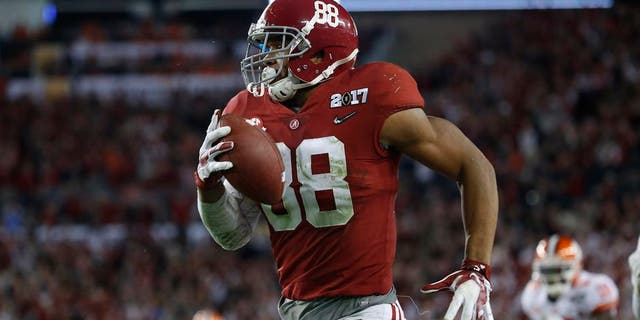 NEWYou can now listen to Fox News articles!
The Tampa Bay Buccaneers made one of the biggest moves of the offseason when they signed DeSean Jackson in free agency. He's the deep threat that Jameis Winstondesperately needed, expanding the offense entirely as a big-play weapon.
Now, the Buccaneers are doubling down on surrounding Winston with the addition of O.J. Howard the NFL Drafts top tight end by a wide margin.
Howard was rumored to go as early as No. 6, but he wound up slipping all the way to 19, falling in the lap of the Buccaneers. Despite the Bucs already having Cameron Brate at tight end, the value of drafting Howard was too good to pass up. Hell wind up being the biggest steal of the draft.
Getty Images
By inserting Howard as a dynamic tight end who can play anywhere on the field, the Buccaneers have the potential to put up huge numbers offensively. They probably wont match the division-rival Falcons, but Tampa Bay has a good chance of finishing the season as one of the leagues best offenses.
In 2016, the Buccaneers offense finished 18th with Doug Martin having an abysmal season and Mike Evans being the only reliable wide receiver for Winston. Brate was their second-leading receiver, and he caught only 57 passes. Thats how one-dimensional the Buccaneers offense was last season.
Howard adds another element to the mix that they didnt have a year ago. Brate was primarily an in-line tight end, which Howard wont be as much of next season. He can split out wide, run routes from out of the backfield and burn defenses on seam routes.
Howard would have been a good value in the top 15, or even in the top 10. At No. 19, hes an absolute steal. He can do it all for the Buccaneers and will be one of Winstons favorite targets next season. This was a terrific pick for the Buccaneers.