The 6 fantasy football running back committees to watch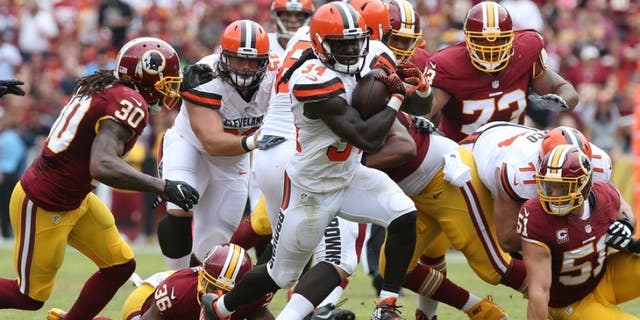 Welcome back to our weekly look at fantasy running back committee situations. The foundation for this recurring piece will be workload - mainly snaps and touches. Touchdowns and yards are great, but without the volume, you can't count on them.
Remember that byes continue in Week 5, with the Jaguars, Chiefs, Saints and Seahawks off.
Atlanta Falcons
Devonta Freeman: 35 snaps; 13 carries, 57 yards, TD; three targets, two receptions, seven yards
Tevin Coleman: 29 snaps; eight carries, 19 yards; four targets, three receptions, 14 yards
In the first three games, Freeman was on the field for 54.8 percent of the Falcons' snaps. Against the Panthers, he saw 58.4 percent of the snaps. Not much changed, except for the Falcons going to a more aerial attack against a Panthers' defense that can stop the run but struggles against the pass.
In Week 5, the Falcons will visit a Broncos' defense that has allowed a mediocre 4.2 yards per carry. Again, both Freeman and Coleman will be playable, but Freeman is the better play.
Cincinnati Bengals
Jeremy Hill: 40 snaps; 21 carries, 71 yards; one target, zero receptions
Gio Bernard: 36 snaps; 10 carries, 18 yards; four receptions, three yards
Zzzz ... not much fantasy production for the Bengals' backs, but Hill got the ball a lot more in a game where the Bengals had a lead for most of the time. Makes sense, right?
So far, Bernard has been on the field for 146 snaps to Hill's 130, but Hill has 61 touches to Bernard's 44. This season's workload has tilted more in favor of Hill than last year's did, but not by much (58.1 percent of the touches vs. 54 percent). In Week 5, the Bengals will visit a Cowboys' defense that allows 4.5 yards per carry but plays at a slow pace to limit the opponents' possessions. Hill seems more likely to get into the end zone in this matchup.
Cleveland Browns
Isaiah Crowell: Snaps TBA; 15 carries, 112 yards, TD; four targets, three receptions, 22 yards
Duke Johnson: Snaps TBA; nine carries, 53 yards; eight targets, six receptions, 31 yards
In the two games since WR Corey Coleman got hurt, Johnson has had a pair of 15-touch games. He's the PPR RB2 you thought you'd get when you drafted him. They can't throw the ball to Terrelle Pryor on every down, right?
Crowell has been the big story in Cleveland's backfield, getting an average of 15 carries per game and ranking second in the league with 386 rushing yards. In Week 5, head coach Hue Jackson will once again look to establish the run against a Patriots' team that has allowed a subpar 4.3 yards per carry. Fire up Crowell as a high-end RB2.
Jacksonville Jaguars
T.J. Yeldon: 54 snaps; 14 carries, 71 yards; five targets, four receptions, 46 yards
Chris Ivory: 18 snaps; eight carries, 29 yards; one target, zero receptions
There's not much of a committee here, but we listed it because we thought Week 4 would again be a fairly even split, and it certainly wasn't. Maybe we shouldn't take too much away from one game, and Jacksonville.com isn't quite ready to call this Yeldon's backfield. It sure looks like he's taking over, though.
However, Ivory seems to be on the field in short-yardage situations. Also, the Jags had four plays inside the 10-yard line against the Colts -- three passes and a Blake Bortles run. This team hates to run in the red zone, and that matters if you want to put your faith in Yeldon. The Jags will return to action at Chicago in Week 6, and Yeldon will probably be in flex-ville (RB2 in PPR leagues). Ivory is a non-factor for fantasy owners until further notice.
Oakland Raiders
Latavius Murray: 34 snaps; eight carries, 19 yards; two targets, two receptions, five yards
Jalen Richard: 12 snaps; two carries, 15 yards; three targets, one reception, five yards
DeAndre Washington: 11 snaps; five carries, 30 yards; three targets, three receptions, 16 yards
There was an NFL Network report Sunday morning about Washington taking away Murray's work. Murray was on the field plenty, but his touches went down for the fourth consecutive game (15, 14, 11, 10). You can still start him in Week 5 against the Chargers, with the hope that Week 4 is his floor. He's become a shaky proposition, though.
Unfortunately for Washington, he's sharing the rest of the snaps with Richard, and he lost a fourth-quarter fumble vs. the Ravens. You can't trust him yet.
Philadelphia Eagles (Week 3 stats included)
Wendell Smallwood: 24 snaps; 17 carries, 79 yards, TD
Darren Sproles: 24 snaps; two carries, minus-one yard; six targets, six receptions, 128 yards, TD
Kenjon Barner: 12 snaps; eight carries, 42 yards, TD
Ryan Mathews: 8 snaps; two carries, minus-five yards
Mathews' low workload against the Steelers was the result of an ankle injury that was aggravated in Week 1 (he originally hurt it during training camp). Head coach Doug Pederson said last week that Mathews will be "the guy" when healthy. Will that be this week at Detroit? Let's see what happens when the undefeated Eagles return to the practice field.
Extra points: The Dolphins' RB snap count last Thursday was Jay Ajayi 14, Damien Williams 13, Isaiah Pead nine and Kenyan Drake seven. This might be the biggest stay-away in fantasy football history ... Terrance West was on the field for 39 snaps Sunday to Buck Allen's 24, and West had a huge day with 21 carries for 113 yards and a touchdown. However, Kenneth Dixon's return appears imminent. It's hard to imagine the Ravens demoting West after such a strong outing, but they really like Dixon, and this situation could get messy again as soon as this week ... Remember the rumored increase in workload for Detroit's Dwayne Washington? He hurt his ankle in the second quarter against the Bears. We'll monitor Washington's status as the week progresses ... If you thought DeAngelo Williams would still be relevant upon Le'Veon Bell's return - he's not. Williams got a garbage-time touchdown on Sunday night, but had five touches. Forget him unless you're handcuffing.