The 18 most miserable fanbases in sports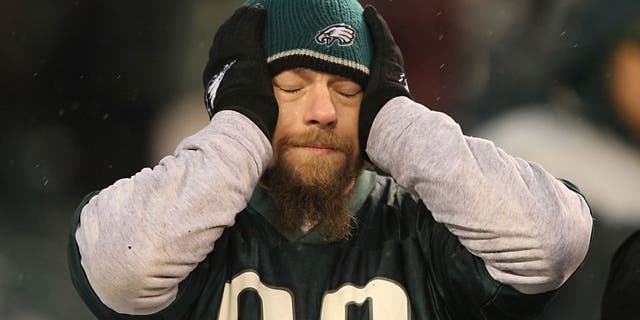 A miserable fanbase doesn't mean the fans themselves are miserable. It means said fans are forced to endure something miserable -- an awful product on the field that makes them constantly question why they even bother caring about something as trivial as sports.
The 18 fanbases listed below (with three listed in every major sport) are often long-suffering and starving for a title. But they're also victims of high expectations, bad management or plain ol' bad luck. This isn't necessarily a list of the worst teams (some fanbases don't care enough to be miserable) or the franchises with the longest title droughts (ditto).
No, this is something more than that -- teams that are good but not great, teams that have been waiting for something -- anything -- for which to celebrate. These fans are Charlie Browns in a world full of Lucys. One day, they'll be able to kick that ball. Or at least that's what they have to tell themselves to sleep after yet another failure of a season.
NFL
1. Philadelphia Eagles
While the rest of the NFC East compares Super Bowl rings, the Eagles are standing in line, alone, outside the club, wondering if being the best team in the division over the past 15 years counts for anything. (It doesn't, even though Philly has the most playoff appearances over that time, more than Washington and Dallas combined. Though New York, which has three fewer playoff appearances, did win two Super Bowls during that stretch.)
And even though the titles of the Redskins came 25-30 years ago and the Cowboys haven't been in the Super Bowl conversation in about 20 years, those fans can at least can grab onto those glories. All Philadelphia has is memories of Donovan McNabb in the Super Bowl and a collective resolve to correct anyone who misappropriates the Santa Claus story.
2. Buffalo Bills
I don't know which is worse: Losing four straight Super Bowls (the first of which was lost by inches on a kick) or currently having the NFL's longest playoff-appearance drought (the Bills haven't made the playoffs since 1999!). At least the weather's nice.
3. New England Patriots
Look, no one's shedding any tears for Pats fans, but that doesn't mean they don't experience a perverse sort of fan experience. Their team has been the class of the NFL for 15 years, with one of the greatest coaches and quarterbacks in history (and the greatest coach/QB pairing -- sorry Walsh and Montana) and four titles to show for it. By all accounts, they should be celebrated as the dynasty they are, like Jordan's Bulls teams or the Bird Celtics and Magic Lakers or the Big Red Machine or the Yankees of old.
But Pats fans don't get to enjoy it as much because the first time they tell a stranger their favorite team, they'll hear a chuckle and a joke about Deflategate or Spygate. Pats fans should be on top of the world. Instead, they're always on the defensive. And there's something sad about that. Sadly hilarious, but sad nonetheless.
MLB
1. Baltimore Orioles
Until Peter Angelos seemingly torpedoed his franchise simply to keep the Nationals out of Washington, the O's were one of baseball's crown jewels. Now, the team hasn't won a title in 33 years and recent resurgences don't change the fact that since winning the World Series in '83, the O's are strangers to the playoffs and when they get there, they're 3-12 in ALCS games.
Other great fanbases get rewarded with titles. The O's, recently, have not. Cal's streak was cool, though, and Camden Yards is still the best of the "retro" ballparks. Still, Baltimore deserves better.
2. Chicago Cubs
The only reason the Cubs aren't No. 1 is because one gets the distinct feeling that its fans enjoy reveling in the team's misery. Oh, don't get me wrong, with Theo Epstein and Joe Maddon turning this team into a World Series favorite this year, there will be more prayers coming from Wrigley Field than the Vatican. But Cubs fans have the right attitude -- staying on an even keel so they're not continuously disappointed because, really, how can one be disappointed while knocking back a cold one in the greatest stadium in baseball?
3. Atlanta Braves
The team's fans not selling out playoff games almost kept them from this list, but I get it. Why get excited for an inevitable disappointment? Make the NLCS or World Series and they will come.
NBA
1. New York Knicks
By my count, Phil Jackson is the 43rd would-be New York savior. The majesty of Madison Square Garden can't detract from the fact that the Knicks' owner, James Dolan, is one of the worst in sports and doesn't seem to be getting any better. Some leagues are just better when certain teams are great and the NBA is one of them. It just feels different when the Knicks are in title contention. Unfortunately, that hasn't happened in about 20 years. One small consolation though: At least the Nets are worse.
2. Cleveland Cavaliers
You get the No. 1 pick in the year that happens to feature the hometown superstar (why does no one talk about that lottery being rigged?), watch him grow into a mature superstar who can't quite get it done in the big games, experience him tearing out your soul by going to Miami and winning two titles, only to come crawling back home to give Cleveland what it deserves, just about the same time Golden State is putting in one of the greatest runs in NBA history. It'll happen one day, Cleveland. We hope.
3. Los Angeles Clippers
At least Donald Sterling is gone.
NHL
1. Toronto Maple Leafs
It doesn't seem fair that the longest Stanley Cup drought belongs to a Canadian city where hockey truly matters. The Leafs last made the Stanley Cup Finals in 1967 and haven't been back since, a drought with which only the St. Louis Blues can commiserate.
2. Washington Capitals
In a town known for choking, the Caps are king. Despite having one of the greatest stars in the game playing in his prime, a President's Trophy (and another one coming this year) and constant expectations for a great playoff run, the team has won a total of four playoff series since making the Cup Finals in 1998 and hasn't won more than one series in the same season during that stretch. This is the year, though, those rocking the red insist.
3. Vancouver Canucks
Twice the Canucks have been within one game of bringing home their first Stanley Cup and twice the team has lost that Game 7.
NCAA Basketball
1. Missouri Tigers
Mizzou has the second-most NCAA tournament appearances without a Final Four bid (25). A football-related move to the SEC figured to pay basketball dividends given the mediocrity of the conference, but then Frank Haith did his Frank Haith thing and, after a promising start, was canned after some NCAA violations.
To add insult to injury, Mizzou fans, long unhealthily obsessed with Kansas, don't get their two annual games with their rivals after bailing on the Big 12, instead playing a schedule against the Vanderbilts and South Carolinas of the world. Oh, and because of violations under Haith, Missouri officially has fewer wins since the 2013-14 season (19) than KU does since the week of Thanksgiving. This Thanksgiving. That's gotta hurt.
2. Notre Dame
It seems as if Mike Brey's team should always be better than it is. And then, when the team is good, it plays an A+ game against a 37-0 Kentucky team and loses in the final seconds in a tournament that was theirs for the taking. It'd have been the first title: Despite having two of the biggest wins in the sport's history (Digger Phelps' teams upending UCLA) and the ninth-most wins in NCAA history, the Irish have only one Final Four appearance to show for it.
3. Wake Forest
On Jan. 25, 2009, the Deacs were ranked No. 1 in the AP poll. Since then, the team has gone 102-139. (It'd take all week to figure this out, but I can't imagine a team has ever had a worse stretch immediately after a No. 1 ranking.) Since firing Dino Gaudio, Wake is 74-121 and a staggering 23-77 in the ACC. Currently, the team, now under Danny Manning, has lost 11 straight and an all-time worst 22 consecutive road games.
All told, the Deacs are 2-52 in their last 54 ACC road games (which is the worst in conference history), a run of ignominy that boggles the mind. This from a team that boasts two alums as the greatest players in the NBA (Tim Duncan and Chris Paul) and has long been considered a "basketball" school, especially after a solid 20-year run from 1990-2010.
NCAA Football
1. Georgia Bulldogs
Why Georgia? Plenty of college teams are way worse -- take two schools mentioned above, Kansas and Wake Forest -- but no one really cares about football at those schools, except in the odd year where they're good or when Charlie Weis is getting run out of town. So, our list has to be hardcore football schools that haven't been playing very good football or, in the case of our No. 1 team, have been playing fine football but just can't put it together for one season to win the dominant SEC. Mark Richt had 10-plus wins in nine of 15 seasons in Athens and got canned, which should tell you something about expectations at Georgia.
2. Nebraska Cornhuskers
Plenty of schools would kill to have Nebraska's success since 2004, when the ill-fated Bill Callahan experience began. In those 12 years since, the team has three 10-win seasons, five nine-win seasons and a 5-5 bowl record. Again, plenty of teams would kill for those stats. But that's not good enough at Nebraska, a place with perhaps the greatest (and nicest) fans in college football and a school that wants to have national-championship expectations every year.
3. Boise State Broncos
It was fun while it lasted, wasn't it? Now there's a Boise State threatening to gum up the power-conference works every year and only rarely is it Boise State.