Texas school investigating vicious hit on referee during high school football game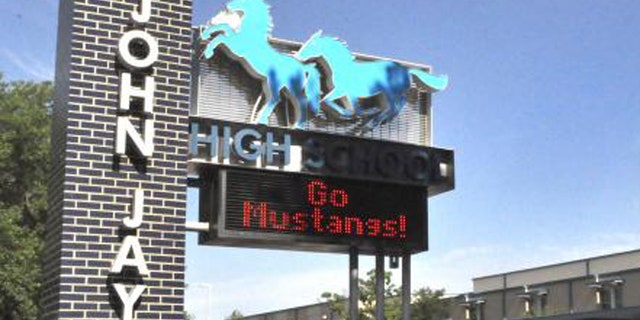 A Texas school district is investigating after video showing a series of vicious – and apparently intentional – hits on a referee by two high school players during a game on Friday went viral.
Northside Independent School District is looking into a play in which two John Jay High School defensive players hit a ref with about a minute left during a 15-9 loss to Marble Falls.
"The bottom line is, Northside will not tolerate this type of behavior," NISD spokesman Pascual Gonzalez told KENS5 on Sunday. "It does appear the athletes intentionally tackled the referee, but we have not confirmed it."
"The first thing we want is that those two kids never play football again"
Before the start of the play, the two players are positioned several yards behind the referee, who has his back turned to the players and is focused on the play. Once the play begins, one of the players, wearing No. 12, runs at full speed into the back of the ref, tackling him to the ground. As that player gets off the referee, the other player runs in and jumps on top.
The names of the players and the referee have not been released.
"This incident is extremely disturbing, not the sportsmanlike behavior we teach students at Northside ISD," Gonzalez said. "We are cooperating with the UIL investigation. We will handle this incident on Tuesday morning and schedule a due process hearing, which will include formal interview with coaching staffing, the students themselves and other athletes – anyone who has knowledge of whatever was seen."
Marble Falls coach Matt Green told the San Antonio Express-News that John Jay coach Gary Gutierrez apologized for the events after the game and appeared upset with the conduct of the players.
"I've coached 14 years and I've never seen anything like it," Green said.
The officiating chapter that oversees the refereeing crew is currently obtaining statements from those involved.
"The question of what instigated that is what we're trying to figure out," Northside ISD athletic director Stan Laing told the San Antonio Express-News.
The referee was "very upset'' and "wanting to press charges,'' Austin Football Officials Association secretary Wayne Elliott told The Associated Press.
Elliott said he was seeking guidance from the state officials association.
"The first thing we want," Elliot said, "is that those two kids never play football again.''