Texas newspaper apologizes after quoting Dominican MLB player in broken English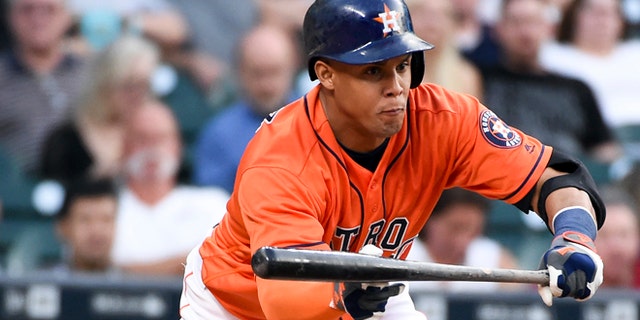 All-Star baseball player Carlos Gómez is used to taking criticism for his flamboyant manner on the field, but he feels slighted at how he was quoted by a newspaper columnist, and now the newspaper's editor is apologizing for it.
The Houston Chronicle quoted word for word the Dominican player's broken English. Gomez, who is a non-native English speaker and arrived in the U.S. in 2002, said the quote made him feel "disrespected."
"For the last year and this year," the newspaper quoted Gómez as saying, "I not really do much for this team. The fans be angry. They be disappointed."
Gómez, who speaks English with an accent, over the weekend told ESPN Radio's bilingual One Nación show, that he felt insulted by Chronicle columnist Brian T. Smith.
"That person knew exactly what he was writing, and he did it intentionally to ridicule me," he said. "I don't wish for him to lose his job because he may be a father and have a family, but he should have thought it through better before writing something like that. Because he not only made fun of a Dominican, but of every Latin player who makes an effort to learn English."
Smith did not respond to an email by Fox News Latino seeking comment.
Houston Chronicle editor and executive vice president, Nancy Barnes, when asked by the journalism blog Journal-isms about the matter, responded by email, "We sincerely apologize for any offense that was taken. Our writers are encouraged to adhere to AP style rules ... I reviewed the rules myself after this arose and found the guidelines on quotes to be less than adequate for a community like ours, full of immigrants from all over the world, and for whom English is often a second language. I've asked some top editors to review this policy, research best practices, and recommend guidance for all of our writers in the future. We always want to be respectful of those we are interviewing."
Gómez told ESPN that he had never spoken to Smith before and that he only found out about the quote because other beat writers who cover the Astros apologized to him because of it. "They showed me the column," he said. "I took him to be a bully."
The next day, Gomez posted a comment to Twitter: "Your intentions in your article were of real poor taste," he wrote. "I am confident and proud of who I am."
This season, Major League Baseball instructed all teams to hire full-time Spanish-language translators to translate for players from Latin America whose English may not be up to conducting interviews.
According to ESPN.com, however, Gómez prefers not to use the Astros' translator.
"As a baseball player, I like to express myself the way I want to, not that I say something and an interpreter makes it prettier," the sports site quoted him as saying. "I would like it if a reporter sits and listens to me and then writes things – but in a professional way, not in a way to make fun of me like he did."
Gómez, who joined the Astros in a midseason trade, has a batting average of .182 with no home runs in 132 plate appearances.