TCU won't risk health of its dynamic duo to chase Big 12 title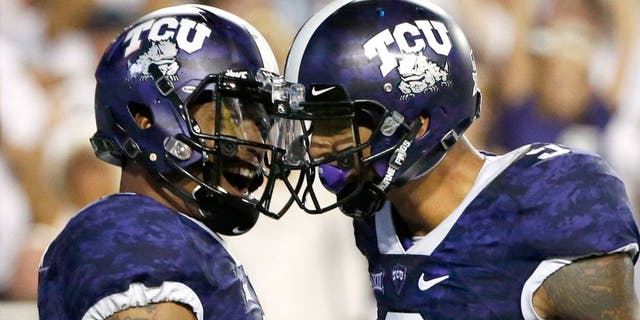 TCU quarterback Trevone Boykin, left, and wide receiver Josh Doctson are both questionable with injuries for Saturday's game at Oklahoma. Ron Jenkins Getty Images
TCU's College Football Playoff hopes are all but gone after Tuesday's rankings dropped the Horned Frogs to No. 18.
But TCU still has a shot at winning a second consecutive Big 12 title in just its fourth season in the league. It would feel much better about its chances with college football's most dynamic pair, quarterback Trevone Boykin and receiver Josh Doctson, on the field Saturday at No. 7 Oklahoma. That might not happen with Boykin (right ankle) and Doctson (left wrist) nursing injuries.
TCU coach Gary Patterson said Tuesday that the well-being of his two seniors won't be compromised to chase the title.
"Our kids want to win a conference title. But I don't think you do it at the sake of playing somebody when they're not ready to go," Patterson said Tuesday during his weekly press conference. "You see what you're going to have. But I think the (other) kids are going to be more mentally ready to handle it."
Boykin, a top Heisman contender until faltering two weeks ago in a loss at Oklahoma State, sprained his right ankle during the first quarter of Saturday's close call against Kansas. He was not able to return. Doctson hurt his wrist in the first half of the Oklahoma State game and did not return.
Doctson is expected to see a specialist for a second time to better determine if he can play Saturday. Patterson said Doctson will need to have the wrist "permanently" repaired at some point. Patterson said he will have a better idea of both players' status on Thursday, but that it could be until game time before he knows if his stars will suit up.
To claim the Big 12 title, TCU must beat Oklahoma and Baylor (Nov. 27) and No. 6 Oklahoma State must lose its last two games to Baylor on Saturday and then Oklahoma (Nov. 28).
"Our goals are the same every year -- to give the seniors the best season they can possibly have, within what you have," Patterson said. "We've got some restrictions right now, through injury and everything else, that probably has limited that a little bit. But anything can happen. This group is not going to quit. They're not going to throw in the towel. No matter what everybody thinks the odds are. We've had plenty of odds against us for many years, so that's beside the point."
(h/t Star-Telegram)
MORE NEWS: Want stories delivered to you? Sign up for our College Football newsletters.