TCU likely to turn to senior walk-on QB in place of suspended Boykin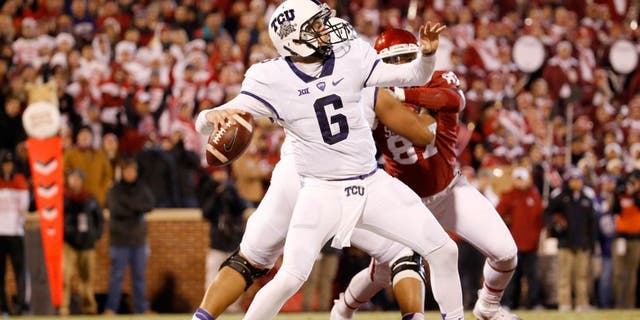 NEWYou can now listen to Fox News articles!
In the wake of Trevone Boykin's suspension for Saturday's Alamo Bowl against the Oregon Ducks, TCU Horned Frogs senior walk-on Bram Kohlhausen appears to be coach Gary Patterson's choice to start at quarterback.
Kohlhausen last saw action in the latter part of the 30-29 loss at Oklahoma on Nov. 21. He rallied TCU from a 30-13 deficit only to fall a two-point conversion short of knocking off the Sooners. Redshirt freshman Forest Sawyer, who got playing time in the OU game as well as the Kansas win that Boykin missed with an ankle injury.
"Probably, if they were asking me, Bram, for the simple reason of the last game both of them played in," Patterson said Friday via the Fort Worth Star-Telegram.
Kohlhausen lost his father to cancer on Nov. 7. He traveled to Houston to be with his family, and returned to TCU just a few days later to prepare to play against Kansas.
"He's one of those kids that walked-on, had a chance to play as a quarterback in the system," Patterson said. "I said, 'Take all the time you need,' and was back for Tuesday's practice. He's committed to TCU."
Boykin was suspended after being arrested and charged with assaulting a public servant -- a third-degree felony stemming from a late-night incident at a San Antonio bar.