TBT: A year ago today, Kobe Bryant scored 60 in his NBA farewell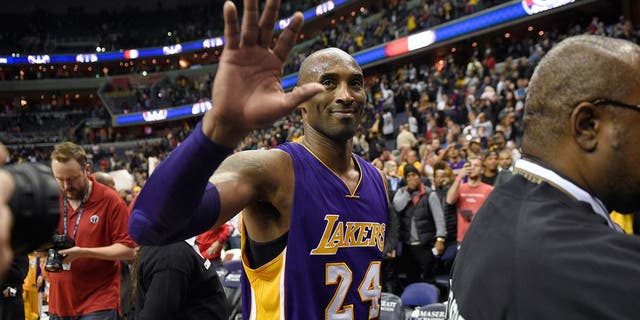 NEWYou can now listen to Fox News articles!
No one really knew what to expect from Kobe Bryant on April 13, 2016. He was enteringthe final game of arguably the worst season in his illustrious career, but the then-37-year-old had shown flashes every so often of the Black Mamba, like when he scored 35 points in only 27 minutes three days earlier.
Even the Los Angeles Lakers icon didnt really know what he had to give in that final game against the Utah Jazz. But he soon discovered it was about to be a very special night one way or another.
"After the first couple minutes, I was like, 'Oh, [expletive],'" Bryant said to ESPNrecently, reflecting on that game. "It became apparent really, really quickly that this night was not going to go down with me just playing OK. It was either going to have to be an epic one or the worst one ever, because they were just going to keep throwing me the damn ball and the crowd wanted me to shoot every time almost to the point where I felt bad for my teammates, because if they took a shot, the crowd was ready to boo. So it was like, 'Oh, [expletive]. I gotta go.'"
Bryant, who was rarely hesitant to hoist up any and all shots, had the ultimate green light that night. And he took full advantage, taking a mind-blowing 50 shots on his way to a 60-point game in a five-point victory the perfect encapsulation of a career that defined in-your-face basketball.
But who could have predicted that performance, especially when you consider Bryant missed his first six attempts that night admitting after the game that he was battling nerves at the outset. But those butterflies would soon vanish, replaced by a desire to give LAfans a show they have come to expect from the 20-year veteran.
It was vintage Bryant, hitting a tough baseline jumper, for the first of his 22 field-goal makes. He hit contested midrange shots, reverse layups, pull-up 3s. You name it, Kobe did it as the crowd roared after each and every make.
But this was far from a farewell game that lacked drama. Kobe did what he did so many times throughout his career, rallying the young Lakers squad that had trailed by 10 with 2:36 left in the game. Bryant mustered the energy to score 13 unanswered points, as he willed himself to one more victory.
"When we got back into it, I said, 'OK, I've got one more push here,'" he said, "and the shots started going in toward the end and the game got closer and it was like, 'OK, I can't feel my legs, but I've got to have enough to knock one more down.' And then I knock one more down, and it's like, 'OK, I've got to have enough to knock one more down.' "
But the shot he said he continues to remember after all these months was a contested 3 from the left side with a minute to go.
"That 3, I swear to God, I thought it was short as [expletive]," Bryant says. "Like, really, really short. I couldn't even feel my legs when I jumped. As soon as I started going up, they disappeared. [I was thinking], 'Oh, [expletive].' Then I thought it was going to be short and left. So you see me kind of holding that follow through, trying to lean that [expletive] in. You see it go through, and it kind of swoops in. So I was like, 'Holy [expletive], it went in.'"
When the dust settled, Bryant had taken the most shots in a game since Michael Jordan put up 49 attempts in a loss against the Magic in 1993. Kobe had taken15 more shots than the rest of his teammates combined.
But its unlikely any of them or the fans were complaining after watching Bryantdrop the mic literally and figuratively on a brilliant career.