Tax fraud trial of Leo Messi and his dad scheduled, conflicts with Copa America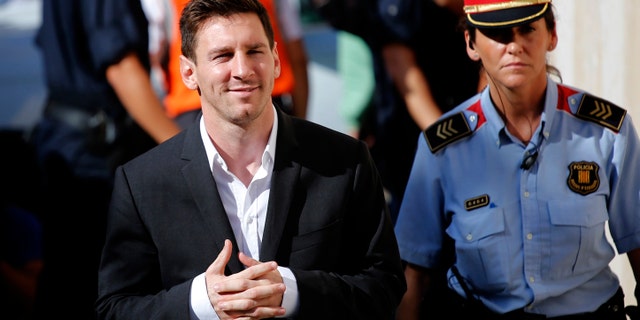 NEWYou can now listen to Fox News articles!
MADRID (AP) – Lionel Messi's tax fraud trial has been set for May 31-June 3, conflicting with the start of the special 100-year anniversary edition of the Copa América soccer tournament being held in the United States.
The Copa América Centenario will kick off June 3, meaning the five-time world player of the year will not have the best of preparations ahead of Argentina's opening game.
Messi's lawyers are expected to try to change the trial dates.
The playmaker was already expected to have a shorter preparation ahead of the tournament if Barcelona reaches the Champions League final, which is scheduled for May 28 in Milan.
Argentina plays its first game on June 6 in Santa Clara, California. Then on June 10 in Chicago before travelling to Seattle for a match on June 14.
Messi and his father, Jorge Horacio Messi, have been charged with three counts of tax fraud and could be sentenced to nearly two years in prison if found guilty.
They are accused of defrauding Spain's tax office of 4.1 million euros ($4.4 million) in unpaid taxes from 2007-09.
The attorney's office called for a prison sentence of 22 months and 15 days for Messi and his father, along with a fine in the amount defrauded, payment of all legal proceedings and the loss of any possible tax benefits for a year and a half.
The case is centered on the alleged unlawful activities of Messi's father, but authorities said the Barcelona player knew enough to also be named in the case.
The Barcelona court said that although Messi was unfamiliar with tax issues, there was sufficient evidence to believe he could have known and consented to the creation of a fictitious corporate structure to avoid paying taxes on income from his image rights. Authorities said some of the income came through companies located in tax havens.
Spain has recently been cracking down on tax evasion as part of its fight to repair the country's public finances after a prolonged recession triggered by the collapse of its once-booming real estate sector.
Messi is not the only Barcelona player set to appear in court in the coming months.
Brazilian striker Neymar has been asked to testify in an investigation into alleged irregularities involving his transfer to the Catalan club.
Neymar's parents, former Barcelona president Sandro Rosell and current president Josep Bartomeu also will have to appear before a judge on Feb. 1-2.
Last year, Barcelona defender Javier Mascherano admitted to a court that he failed to pay nearly 1.5 million euros ($1.6 million) in taxes owed for 2011 and 2012.
Like us on Facebook
Follow us on Twitter & Instagram