Barcelona crushes Getafe as Messi and Suarez score two goals each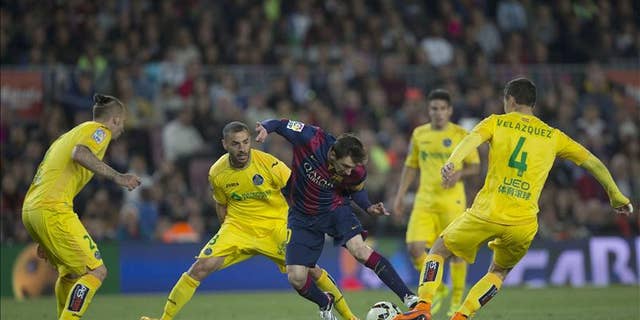 Barcelona (EFE) – Lionel Messi and Luis Suarez each scored a pair of goals here Tuesday in FC Barcelona's 6-0 thrashing of Getafe.
The victory leaves first-place Barça with 84 points after 34 matches, five points ahead of Real Madrid, who have played one fewer match.
Getafe, with 36 points, sits in 13th place in La Liga.
The 65,000 Barcelona supporters who turned out for the contest at the Nou Camp were treated to a spectacular exhibition of their heroes' offensive prowess.
Messi, Suarez and the third member of Barça's lethal front line, Neymar, were in top form, especially in the first half.
Essentially ceding the ball to Barcelona, the visitors hunkered down in front of their goal with the aim of forcing the home side attackers to the outside.
The strategy collapsed after Suarez drew a penalty in the area and Messi converted to put Barcelona up 1-0 just 10 minutes in.
The Madrid squad got a chance to equalize thanks to a poor clearance by Bravo, but Barcelona's Chilean goalkeeper recovered in time to preserve the lead.
Velazquez's header off a corner in the 24th minute also created some problems in front of the Barça goal, yet the opportunity turned out to be the prelude to disaster for Getafe, as Suarez scored a minute later on a pass from Messi to make it 2-0.
Suarez's takeaway then set up a strike by Neymar in the 28th minute to push Barcelona's margin to three goals. Two minutes later, Xavi found himself with the ball in front of the Getafe goal and made it 4-0 with a beautiful curling shot.
Suarez's second of the night came in the 40th minute and a shell-shocked Getafe went to the locker room trailing 5-0.
When play resumed, Barça picked up where they left off and Messi rounded off the rout with his second goal in the 47th minute.
Like us on Facebook