Super Bowl LI caps off the greatest year of sports ... ever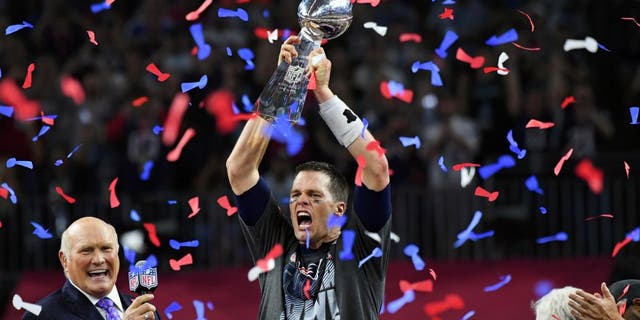 Put it in the books -- we're never seeing another 12-month run of sports as good as that.
We can't see another year of sports like that. It was too entertaining, too shocking, too fun. Every single major sports title was won improbably, in a wildly entertaining game or series, all with huge historical stakes. I can't wrap my mind around it.
Is it an impossible-to-prove hypothesis? Of course it is. And even though I'm writing this article I'm not entirely convinced this past year can stand up to 1986 -- which had the Bears capping off their near-perfect season with a trouncing of the Patriots, the Mets winning the stunning World Series over the Red Sox (Buckner!), Argentina winning a super fun World Cup final over West Germany in Mexico, the amazing Larry Bird/Celtics title run, Louisville beating Duke by 3 in the NCAA title game, and Jack Nicklaus winning the Masters at 46.
But even that year, with its historically great teams, didn't have all that many great finals. The Super Bowl was a blowout. No one was beating the Celtics, and the Lakers didn't even make it to the Finals. The Canadians wiped the floor with the Flames. Oklahoma won the Orange Bowl in a rout.
Not this past sporting year. It's hard to imagine another year ever where every single major championship game not only managed to live up to the hype, but exceeded it. Every single championship series, every single title game, they were all classics. Every time a big sporting moment happened, it rose to the occasion.
Not only were they entertaining, they were iconic. The greatest regular season team ever, the Golden State Warriors, losing to the Cavaliers has become part of our lexicon, "blowing a 3-1 lead" the new way to express taking a horrible loss. Kris Jenkins hit a buzzer beater for Villanova that blew the minds of every college hoops fan. Clemson stunned Alabama in one of the greatest college football title games ever. Leicester City won the most improbable Premier League title of all time, as they went off at 5000-1 preseason odds and managed to stun the soccer world.
We had Simone Biles and Katie Ledecky dominate the Olympics, Michael Phelps capture history, Dustin Johnson win his first major at the U.S. Open, Djokovic grab the career Grand Slam, Andy Murray win Wimbledon again, and Serena Williams lock down the G.O.A.T. status. (If you want to count this year's Australian Open, we also had Federer beat Nadal in a major and Serena beat Venus in one last go.) Phil Kessel (!) won a Stanley Cup. The Patriots were down 28-3 in the third quarter of the Super Bowl and won the game in overtime, the first time a Super Bowl has ever gone to overtime.
The [expletive] Chicago Cubs won the World Series.
I can't imagine another year like that. Title games are supposed to be boring. They're always a letdown.
Not this year. Every time we came together for a big sporting moment, we got a classic. Don't get used to it, either. It doesn't normally happen like this.