Strictly Not Watching: Andy Murray doesn't plan to tune in to mum's dance competition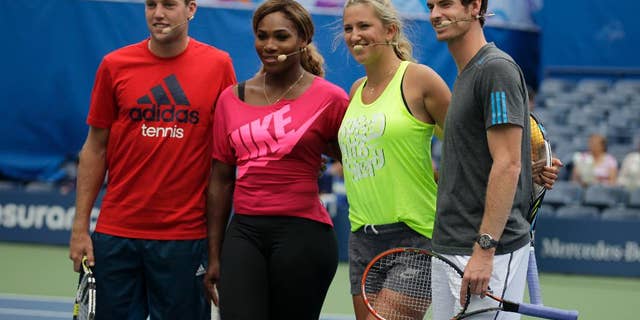 NEWYou can now listen to Fox News articles!
NEW YORK – Andy Murray isn't one for reality TV — even if his mother is starring on it.
British Fed Cup captain Judy Murray is set to compete this season on the BBC's "Strictly Come Dancing," the show that inspired "Dancing with the Stars" in the U.S.
"If it makes her happy, then I will support her. I'm not really into those shows, but she loves it," her two-time major champion son said Saturday as he prepared for the U.S. Open.
"I mean, she watches it all of the time, talks about it all the time," he added with a grin.
Not that he plans to tune in.
"Probably not, no," Murray conceded.
His mother must be an avid dancer, right?
"I don't believe I have ever seen her dance, to be honest," Murray said. "It will be interesting."
What Murray is a fan of is the NBA, and with an offseason home in Miami, he has Heat season tickets. The Scot didn't appreciate the implication that he might give them up now that LeBron James has left town.
"We don't do that," Murray shot back. "In the U.K., you don't change teams when someone leaves."
Murray took a day off from practicing Friday for a busy slate of spectator sports. He followed Northern Ireland's Rory McIlroy at The Barclays in New Jersey, then attended the USA Basketball exhibition at Madison Square Garden at night. It was the first time he'd observed professional golf live.
"It's like pretty much any sport," Murray said. "When you watch them up close, it's impressive."
— By Rachel Cohen — www.twitter.com/RachelCohenAP
___
BEATING THE SPREAD: Victoria Azarenka's greatest athletic accomplishments: Winning the Australian Open twice. Reaching the No. 1 ranking. Spreading her toes?
Azarenka missed the French Open and most of the spring because of a left foot injury. The runner-up to Serena Williams the last two years at the U.S. Open, she's seeded just 16th this time because of the layoff.
Part of her rehab was seemingly the simplest of physical actions.
"The big thing that I had to learn (was) how to spread my toes," she explained Saturday. "That's not a joke. It's for real. Because, you know, spending so much time in the shoes, some people cannot really spread their toes. I could not do it on my left foot. I had to learn that, and it took me about two weeks, because it was constant, mental thing. It wouldn't move."
When it finally happened, she recalled with a smile, "I ran and I screamed in the hallway, like I don't know — I never been so happy in my life."
— By Rachel Cohen — www.twitter.com/RachelCohenAP
___
U.S. Open Scene follows tennis' hard-court Grand Slam tournament in New York as seen by journalists from The Associated Press. It will be updated throughout the day.