Stewart wants to return for Daytona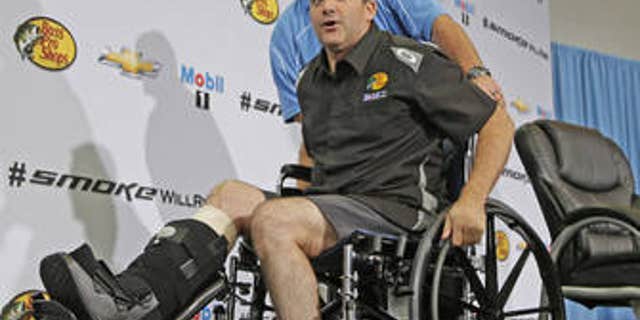 NEWYou can now listen to Fox News articles!
The Tony Stewart #SMOKEWillRise tour made its second stop since the driver was sidelined by a Sprint Car accident Aug. 5 -- this time with the driver along for the ride.
Stewart, 42, addressed the media gathered Tuesday at Stewart-Haas Racing about his the prognosis for his broken leg, when he expects to return to racing and what he thinks of co-owner Gene Haas' decision to enlist Kurt Busch for a fourth team in 2014.
"This is probably one of the hardest things I've had to deal with," Stewart said of the injury that occurred when he crashed his sprint car in August in Iowa. "This is definitely the worst injury I've had in my life and my racing career. It's definitely been a big change from being one of the busiest drivers on the schedule to being in bed seven days a week, 24 hours a day."
Stewart said he is feeling a lot better and doesn't anticipate any further operations on his leg after having made huge gains in the past four weeks. Ninety percent of his stitches were removed last Wednesday, and doctors are expecting a full recovery.
"I want to be ready for Daytona," Stewart said. "As far as when (the doctor) will give me the green light, I don't know what that will entail. I'm sure a lot of that will be the bone is healed 100 percent or as close as it needs be to do what I need to do. The rest of it I think will be up to us therapy-wise to get the rest of into shape.
"I can promise you we'll work really hard on that side to accomplish that goal. But the doctor will ultimately make the decision when we are clear to get back in a racecar."
The next step in Stewart's return to competition, - which he expects to come at the end of January or the beginning of February, will be physical rehabilitation. His next doctor's appointment is Sept. 25, and he's already been warned "there'll be a lot of crying involved."
But Stewart said he'll do whatever is necessary to get back on the track.
"The injuries are not just compound fractures," he said. "That was probably the easiest part. There is tissue damage. There is skin damage that's involved -- and that's been the first part of the process the doctor was concerned about before even the bone. They put a titanium rod in, and that's all they've done bone-wise up to this point. The first part of the healing process was getting the skin to heal together, which I admit I've been as squeamish with as anybody you've ever seen.
"I damn near passed out at every doctor visit I've been at so far with the surgeon. I go in there with the attitude that I'm not going to look at my leg, and as soon as they get the wrapping off of it -- I've got to look. Then I sit there with a wet cloth on my forehead trying to regain consciousness."
Stewart said he's been vague with his doctors about what the time frame for recovery might be simply because he understands at his age the extent of what's involved to return to normal.
"I've tried to protect myself from myself by not getting too far ahead and not trying to do something too early that I'm not supposed to do," Stewart said. "I'm really trying to guard against setbacks right now. A setback would really be bad."
Still, Stewart has refused to lead a sedentary life. He acknowledges he was too aggressive with his 100-plus race schedule this season and that it led to fatigue by the time the Brickyard 400 rolled around last month, but that's not going to stop him from doing what he loves to do.
"It's just life, guys," Stewart said. "Things happen every day. You can't spend your whole life trying to guard against something happening. If you do that, in my opinion, you've wasted your time. We are all here a short amount of time in the big picture, and I'm somebody that wants to live life. I'm not somebody that wants to sit there and say, 'I've got to guard against this and I've got to worry about that.'
"If I got in a race car and didn't wear a helmet and didn't wear seatbelts, then that would be dangerous, and that's being foolish. We don't do that. But I'm going to go live my life. I'm going to take full advantage of whatever time I've got on this earth. I'm going to ride it out to the fullest and I'm going to get my money's worth -- you can bet your butt on that."
Stewart also did his best to defuse allegations that a riff exists with Haas. He said expanding to four cars was always the game plan but that doing it in 2014 was sooner than he expected.
"This is the first time that (Gene) has really had a partner," Stewart said. "I think going through the process, Gene didn't think much about talking to me about it until it got further along. A week after the accident was the first time he came and talked to me about it -- granted I was in the hospital the week before -- so that's probably why he didn't talk to me about it sooner.
"But a lot happened in a very short amount of time. When he spoke to me about it, that was really the first opportunity he had. It moved along very quickly. My only concern was the sponsorship about it and the time frame of building the team."
Although Stewart and Kurt Busch, who will drive the fourth car in 2014 for SHR, have had their differences in the past, Stewart acknowledged that the 2004 champ will be "a huge asset" to SHR.
"He's a guy you know can go to every racetrack and has the capability of going out and being fast and being able to possibly win the race every week at every discipline," Stewart said. ""As far as having a fourth team, there was nothing in my mind to discourage me because I knew from Day 1 that Gene wanted this to be a fourth car eventually. I had no dream that he had it in mind for 2014 until three Mondays ago."
It was clear that Stewart was starting to feel like his old self. Not surprisingly, Stewart was very candid about the one thing he has missed most about track life. Very simply put, the entourage.
"The hot girls, there's no doubt," he said. "I mean, lying in bed, there's not much traffic going through my room. I thought surely through three Cup championships, an IndyCar championship and winning the USAC Triple Crown in '94 I could surely get one hot nurse in this whole thing -- and I got (manager) Eddie Jarvis. But yeah, I miss the girls at the track to be honest."